Game Recap: Cubs 0, Cardinals 3 -- Fuggetaboudit!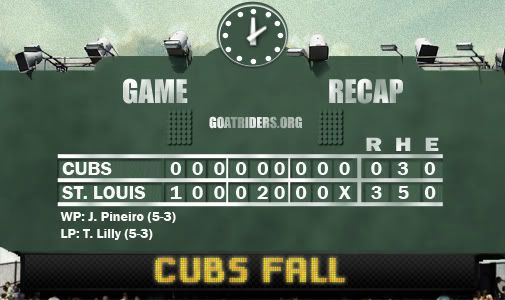 Well that was fun, huh?
Ted Lilly put up a pretty decent line last night. Usually, 3 runs in 7 innings will do it. But the offense had trouble scoring one run, let alone 3 or 4, against the Dominating Force of Joel Piniero!!!
Piniero had 14 strikeouts in his last 45.1 innings pitched this season, but somehow managed to get five Ks last night. I guess he was just on or something. Maybe on something?
Despite the loss, there were a couple of notable performances from a pair of Cubs that had been in a bit of a rut lately.
Kevin Gregg handled the top of the Cardinals order with relative ease in the top of the eighth, allowing just one hit (a double to Pujols). 12 of his 17 pitches were strikes.
Also, Mike Fontenot's hitless streak is over. He had a two-out double in the top of the fifth inning.
Unfortunately, it was one of only three Cub hits. That's alright, they were just savin' 'em up for tonight's game against Carp. Let's even this one up, huh?
Go Cubs!