Game and Series Recap - Cubs 6, Cardinals 3 (1 to 2) -- What's-its in the outfield!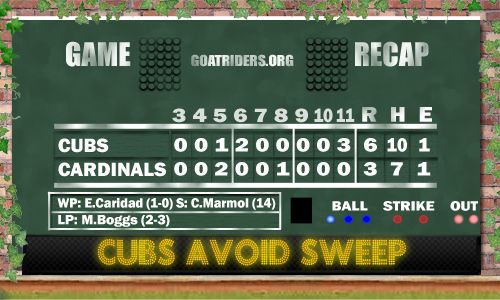 Let's take a moment to talk about what happened with the Cardinals, before moving back on to how bad Milwaukee sucks.
It's nice saving face and avoiding the sweep, especially when your team is starting to look more and more like the New York Mets.
Apparently, all a $2 trillion payroll gets you these days is an outfield of Bobby Scales, So Taguchi, and Micah Hoffpauir; a middle infield featuring Mike Fontenot and Andres Blanco; and a win for perennial All-Star Esmailin... Caridad? Whatever.
As we end the season series with the Cardinals, we have one last moment to talk about the Tale of Two Teams. Because really, on top of the storied history of this rivalry, things went really well for one team, and poorly for the other.
Call it a lesson in how to handle a bad economy in professional sports.
While Jim Hendry was giving himself (another?) heart attack this offseason. He signed Aaron Miles (after the Cardinals let him walk; RED FLAG!). He traded Mark DeRosa. He got Aaron Heilman. He signed Ryan Dempster, and of course, he signed Milton Bradley.
While on the one hand, that looks like a lot of moves, the Cardinals appear to have done more at this point in the season.
They added Matt Holliday. They grabbed John Smoltz. They acquired Mark DeRosa and Julio Lugo. In the end, the Cards did just as much to reshape their team this year as the Cubs did. They just did it at the right time.
What does this mean for next year, when the economy may or may not rebound? Does it make sense to trade Milton Bradley as quickly as possible? Should we pay Chone Figgins whatever it'll take to get him here? Do we sign Doug Davis before Spring Training begins?
Or should we start the season with what we have, and let things play out?
The Bradley thing may be a non-recoverable situation. But for a team that has been weighed down by enormous contracts for the past few years, maybe it makes sense to exercise a little restraint before we let Jim start writing a bunch more checks.
Just saying. And oh yeah, go Cubs!
Record: 76 - 72
Playoff Chances: real slim
Cranky Right Fielders Suspended: 1
Worst We Can Do: Have to wait one more year. But we're good at that, aren't we!