Game Recap: Cubs 5, Phillies 12 -- Saw that coming.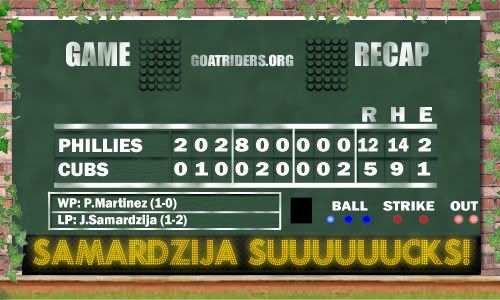 Even though the Worldwide Leader was providing video to a national audience, I have to say--this game was difficult to watch. I myself was done around the same time as Samardzija was.
Since I didn't watch the entire play-by-play, let's look at the box score, which should be telling enough.

Samardzija: 3.1 IP, 7 ER
Marshall: 3.1 IP, 5 ER
Not surprising. Having said that, it's almost infuriating how much this team is jerking around these two quality young arms. Fact: Jeff Samardjiza is not ready to pitch in the major leagues! Fact: Sean Marshall is a reliever! Guh.
Here's another good one, related to pitch count:
Pitches-strikes: Marmol 12-9
At least we know the kid's CAPABLE of throwing strikes. Now if only he could chill the eff out and do it when the game is on the line. I wonder if Marmol will get any better when the Cubs have a new manager (read: next year).
On offense, no one really stood out. Theriot got three singles; Fuld got a hit in his pinch hitting appearance; Fukudome had another double. A bunch of "meh," really.
So here we are, another game back. That whole thing I mentioned yesterday about "running out of time?" Yeah, that's still in effect.
Go Cubs!!!