Game Recap: Cubs 3, Phillies 4 - This one's on Lou.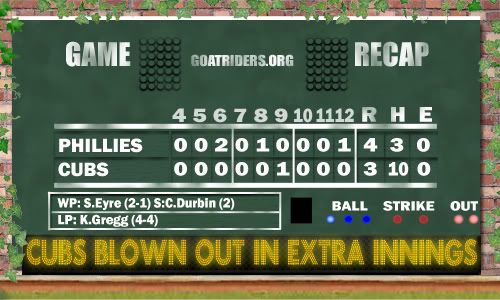 Last night's game was another one of those playoff-type contests, the kind of game that reveals the true identity of the team you're rooting for.
The offense scratched out a decent number of runs against a solid starter and decent bullpen--and in the postseason, you're sometimes gonna need to find a way to win with just three runs scored. Those runs scored on good situational hitting rather than pure mashing, on a couple of timely singles with runners in scoring position (one of which had been bunted over), along with a sacrifice fly.
Maybe you disagree with me, but in last night's game, I myself can't blame the offense. Happ, Park, Madson and Lidge are all quality (except for maybe the last guy--who we scored on), and we still managed to plate a few runs.
(As for Walker, Eyre, and Durbin, perhaps we should have come through with one run at some point, but then again this game should never have gone into extras. More on that in a minute.)
Then there's the Cubs' pitching, starting with the starting.
If anyone's whining about the two runs Rich Harden allowed, then those people are just plain stoopid. Richie had a no-hitter going for a good while, walked the #8-hitter (kinda dumb but whatever) and then gave up a homer to Jimmy Rollins. Look, the Phillies have a good offense; they're gonna score runs. I'll take 2 ER in 7 innings every time out.
That brings us to the bullpen. And to that end, I've really got just one question.
When your set-up man walks a guy and hits a batter, and the opponent has three consecutive lefties due up, how do you not get your LOOGY warmed up the moment the HBP happens?
Of course, Lou left Carlos in, and we all know what happened.
As for letting Kevin Gregg pitch two innings, if you check his game log on a site like Yahoo! Sports you'll see that he's actually done it before this season. It's hard to blame Lou for trusting Gregg there.
But for pulling Harden on one of his good nights after just 87 pitches? And for leaving Marmol in, against a lefty, after his having demonstrated to everyone everywhere that he didn't have any idea where the ball was going last night? Those decisions are a bit more questionable.
So once again, we see what this team really is: an offense that might score two or three, but certainly not five or six runs against quality pitching; a starting rotation with some great arms; a bullpen with some questionable ones; and a manager that doesn't know how to manage those relievers.
We're running out of time here, guys.
Go Cubs.