Game Recap: Cubs 5, Reds 3 -- Quasiblowout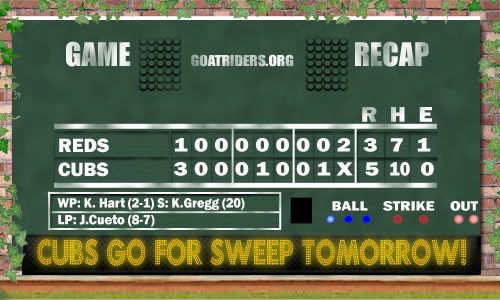 The Story:
This game looked like it was going to be a complete and utter thrashing during the bottom of the first inning. The team had hit for the cycle within the inning, and the bases were loaded with one out for Koyie "Iron Man" Hill.
Stupidly, Koyie swung at the first pitch. Arguably, the rout was over.
Regardless, the Cubs continued to battle, and good pitching kept the Reds in check throughout the game. Nice win!
The Star:
Fortunately for the Cubs, Kevin Hart was able to settle in after a mildly shaky top of the first. Hart's final line: 6 IP in 94 pitches, 5H, 1BB, 4SO, 1ER. Smashing!

The Other Stuff:
If not for the gutty performance from our starting pitcher, Alfonso Soriano might have to have been named the Player of the Game for today. The Fonz went 3-for-4, including a solo shot to deep left on a low breaking ball. I don't know what's gotten into him, but I am very much in favor of it. Whatever it is. (Common sense? Nah.)
Also adding on to the late Cub lead was Milton "The Rumors Are False!" Bradley (Note: despite rumors that stated otherwise, it appears that Milton will remain a Cub this season). It's encouraging to see him go deep every once in a while; he and Aramis Ramirez now have the same number of homers.
Also, speaking of A-Ram, Clutchy McClutcherson continued to rack up RBIs today, driving home two runs on a first inning homer. God, it's good to have him back.
The starting pitching and offense were solid, and for the most part, the bullpen was too. Aaron Heilman had a rare bad outing, serving up two jacks to Reds hitters before KG came in for the one out save. But Marmol struck out the side, and Guzman was super kewl.
Now let's sit back and enjoy the Phillies' drubbing of the Cardinals. Ladies and gentlemen, it appears as though tomorrow may present the Cubs with an opportunity to assume first place in the Division.
As in, OMGWTF?!?!?!?!?!?!?
Go Cubs!