Game and Series Recap: Cubs 10, Phillies 5 (1-2)-- Should we get off the ledge?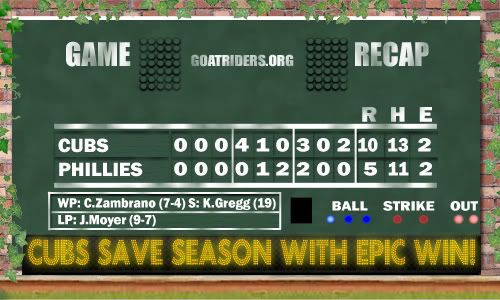 I guess all it takes to wake up the Cubs' bats (other than two days of suck) is an ancient lefty soft-tosser. Something about the line-up being predominantly right-handed, need a lefty power bat, can't get it? Whatever.
Anyways, the Cubs won today! Woo hoo!
Lots of Cubs had multiple hits today (Theriot, A-Ram, Bradley, and Soriano). Also, Ryan Theriot stole three bases. I guess that means he'll get picked off twice tomorrow.
Despite the offensive onslaught, only two of our 13 hits went for extra bases (both doubles), and only one of our runs scored with two outs. So, still no soul-crushing big hits, still no clutch performances, but 11 singles and 9 walks should get you somewhere.
Z was actually really hittable today, giving up 10 hits in his start, along with three walks. But it was good enough for today, thanks to all the Cubs that got themselves safely to first over and over.
---
As far as the series goes, I for one think these three games were pretty indicative of what we can expect from the team here on out.
Some days they'll slap a bunch of singles off a crap starter having a bad day, and some days all those pokes will roll right to infielders and will mostly turn into outs. Against top line starting pitching (guys like Rodrigo Lopez and Joe Blanton), the Cubs will have trouble scoring runs. And the whole time, the pitching will be more or less good enough to give the team a chance to win.
We will continue to hold out hope for this offense. It'd be great if Soto could heal up by, say, tomorrow. The Baker/Fontenot platoon at second base looks pretty alright. If Bradley can get better, and Soriano can stay hot... well, then, who knows what might happen.
Getting Dempster back soon will make the pitching that much better. I hope the Cubs quit jerking Samardzija around and just stash him in Iowa for the rest of the season when Demp does come back (we need him to start, not handle mop-up).
Beyond those things, what else can you really do?
Current Record: 48-45
Position in the NL Central: 2nd place, 1.5 games out
Best Possible Record: 117-45
Worst Possible Record: 48-114
Record needed to win 110: 52-5
On Pace For: 83-79