Game Recap: Cubs 1, Phillies 4 -- Game of the Season?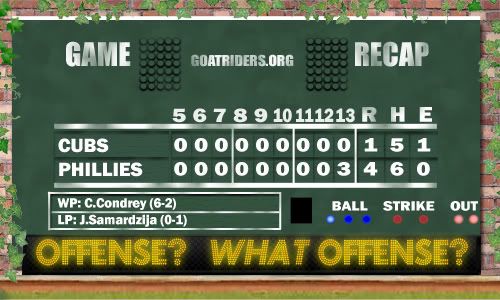 We here at GROTA have spent a lot of words trying to convince the reader that the regular season is just that. The Cubs don't look good now, sure, but if they can just figure out a way to slink into the playoffs, etc. etc.
Tonight's game had every bit of a playoff atmosphere. We got an outstanding performance from one of our extremely talented starting pitchers (who apparently is way better at night on the road than at home during the day? Whatever.). The bullpen did its job as well, shutting down one of the best offenses in the sport for a really, really long time. And it all happened on the road, in front of a hostile crowd, against one of the best teams in the league.
But once again, a common theme from this season reared it's ugly head.
The offense failed.
Based on their performance tonight, I think we can safely say that the Cubs' pitchers can hold their own against damn near anybody. They got through the likes of Utley, Howard, and Ibanez over and over throughout the night.
But the offense just didn't look good. Maybe I'm overreacting (actually that's a near certainty) and maybe I don't really know what I'm talking about (another near certainty). But this offense didn't seem to have hard hit balls find gloves for outs. It's not that their bloops hung too long, or their long balls just missed.
At-bat after at-bat, ESPECIALLY in the late innings, they simply looked inept. Dribblers slowly died in the infield; hackers swung at crap well off the plate. Were
there really any fly balls to speak of after Blanton left? Like, at all?
To me, this was the best look at how the Cubs would respond to a playoff game we've seen all season. And as one might expect, the pitchers performed, and the hitters simply didn't figure it out.
Of course, there's plenty of time left for these guys to figure it out. For example, I have NO idea what Reed was doing in the leadoff spot. Or, I think it really hurts to have Jake Fox essentially stuck sitting on his ass because Soto is out. And, it sucks having to deal with Koyie Hill's essentially automatic outs every few innings. And then there's the whole Milton Bradley thing.
Is there hope yet? Sure. But it's gonna take a lot to convince this Goat that the Cubs are ready to win in October.