Game Recap: Phillies 10, Cubs 1 -- Mulligan?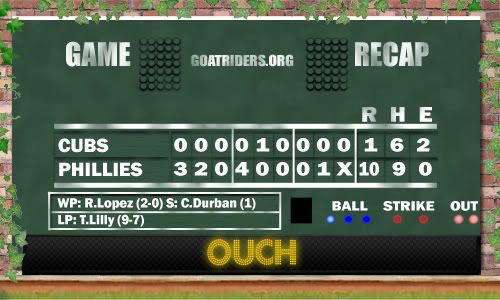 Fact: this game sucked.
Ted Lilly did not pitch well. He gave up home runs with men on base, as well as many hits overall.
On the positive side, the bullpen did pitch well. Jeff Stevens, Aaron Heilman, and Angel Guzman allowed one hit (a Ryan Howard solo shot) and no walks over the last four innings of the game.
Now, back to the negatives.
The offense sucked. They had six hits. Half of those were collected by Alfonso Soriano. The other three were doubles by Kosuke Fukudome, Ryan Theriot, and pinch-hitter Andres Blanco.
That means our 3, 4, and 5-hitters all posted oh-fers. The same goes for the 7 and 8 spots (Font and Hill) as well.
So, yeah. Not a good game. My consolation for you this morning? Remember this--just as 11-3 drubbings of the lowly Nationals count as one win, 10-1 beatdowns at the hands of the Phillies only count as one loss. If it were 10-9, or 1-0, a loss is a loss.
Let's try calling this one a bad night and see where it gets us for the rest of the series.
Kurt
Ah yes. A 10-run drubbing, also known as "the reason dopey Cub fans feel vindicated for doubting." You know, I know, even the Phillies know that, more often than not, Ted Lilly's not going to get his ass kicked the way he did last night, not by the Phillies nor by anybody else.
Still, Philadelphia has a scary offense. Actually, though, I think their pitching is overrated -- at least by Kyle, who complimented them in his Series Preview. If they weren't desperate for arms, they wouldn't have sprung for Pedro.
Anyway, as a fan I'd almost rather get blown out than see the team lose a close one. Last night wasn't really painful -- it was comical. A loss tonight, however, would be painful. So, memo to the Cubs: don't lose.