Game Recap: Cubs 4, Twins 7 - Randy Not So Wells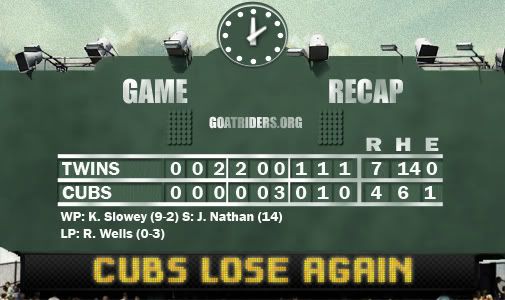 (Reminder: You need three outs to end an inning. Just wanted to make that clear before we got underway with the recap.)
The streak is over, unfortunately.
As it turns out, Randy Wells, the Cubs' FIFTH starter, is human after all.
The four runs the Cubs scored today would have won either of the last two games, with insurance to spare. And of course, there's probably a certain way you pitch to a team when you've got a bit of a cushion. But either way, it sucks that the Cubs couldn't get that shutdown pitching on the day they score four runs.
Oh, and also, Milton Bradley threw a caught ball into the stands even though there were less than three outs in the inning. (What?! You didn't hear?!)
................

Rob here, real quick: I could not be more disappointed than I am right now. I am not saying the season is over, or that we have lost the division. But I am saying that there does not appear to be any hope to turn this around, unless about six of the guys from the everyday lineup just do complete 180s and start playing as well as they've been playing badly. Plus, yes, Fukudome is in free-fall.
I am not enjoying the 2009 season whatsoever, and will not do so until we are leading the division. God bless ya if you feel otherwise, but then again, if you don't care that the Cubs are playing like a bunch of turds what fell out of a tall cow's ass, then maybe you're playing an Enabler role for them.
....................
GO CUBS!