You shouldn't lose to the Pirates. (Game Recap: Cubs 2, Pirates 3)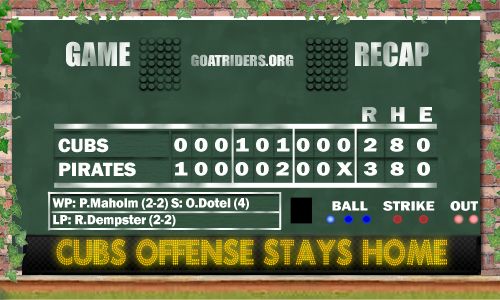 Check it out, I'm a poet:
Cubs lose. Offense sucks.
Demp gets another tough loss.
Against... the Pirates.
The two runs came on solo shots, one each from Alfonso Soriano and Geovany Soto. The three runs Dempster gave up also came in via homer -- a loner to Andy LaRoche and a two-run dinger to Ryan Church.
The Cubs struck out five times in tonight's game, and every time they did I got pretty pissed off. Of course, hitters will strike out, but tonight's Ks were almost all in big spots in the game. Pretty frustrating.
I'll rank them in order of impact, as defined (quite subjectively) by myself:
5) With two out and nobody on, Ryan Theriot strikes out in the top of the eighth.
It was late in the game, and the 2010 Theriot is supposed to be more like the 2008 one, who rarely struck out, instead of the 2009 guy who too often swung for the fences. But even if Theriot avoided the out here, it would have been tough to bring him home with two outs already in the inning.
4) With two on and two out in the top of the seventh, Xavier Nady swings and misses at an Evan Meek heater.
We had a great chance to score here, and Meek could not figure out how to throw his breaking ball for a strike. But Nady couldn't do anything with that knowledge, and the inning ended without the Cubs having scored any runs.
3) One at-bat prior to Nady's K (runners on 1st and 2nd), Alfonso Soriano struck out on a 3-2 Meek fastball -- after being ahead 3-0 at one point.
The Pirates couldn't afford to allow a runner to get to third base with only one out in the inning, so Soriano had to know he had three strikes coming -- and that's exactly what happened. He took the 3-0 fastball (dead center at 93), fouled off the 3-1 (Meek came a bit inside -- it was a good pitch), and whiffed on the 3-2.
A productive out would have moved the speedy Marlon Byrd to 3rd base for Nady, putting more pressure on Meek against Nady, and of course a hit would have scored a run, and put another runner in scoring position for Nady. The K was painful there.
2) Mike Fontenot leads off the top of the ninth by swinging and missing at a letter-high fastball fastball from Octavio Dotel on a 3-2 count.
Simply taking a ball way out of the zone would have put the leadoff man on against a shaky closer with our three, four, and five hitters due up. In my mind, this game was over as soon as Font swung and missed here.
But I'm even more pissed about a strikeout that happened much earlier.
1) In the top of the fifth inning, with Marlon Byrd on 2nd, Aramis Ramirez, our cleanup hitter -- the artist formerly known as Clutchy McClutcherson -- struck out swinging on the fourth pitch of his at bat.
Foul tip. Called strike. Ball. Swinging strike.
A perfect demonstration of ineptitude.
Aramis Ramirez looks straight up terrible, folks. He's never slumped like this.
And the worst part is, it's not even bad luck really. It'd be one thing if his line shots were finding gloves, or if his hard hit grounders were all being hit right at people. But Aramis is just swinging and missing WAY TOO MUCH, and hitting weak crap every time else. He's hitting .149 on the season.
He looks terrible. And if it weren't for the first half of last year, this would be a perfect time to say, "I don't know what the Cubs will do this season if he continues to play this way." Because we all know what it felt like watching the Cubs without Aramis Ramirez last year.
On that note: Guess who will almost certainly be exercising his 2012 player option worth $14.6 million?
(Editor's Note: Feel free to check out an article I -- Kurt -- wrote for a Pirates blog known as Rum Bunter. It's a pretty cool site)