Game Recap: Cubs 7, Astros 2 -- A Soriano Story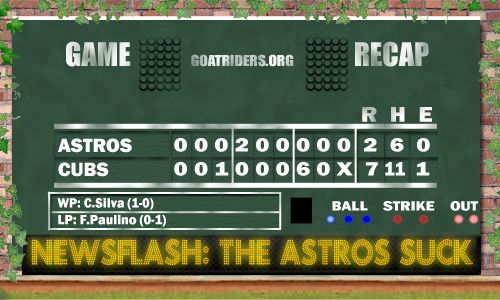 Today's game was one that could very easily have ended with a Cub loss rather than a win. It all came down to the performance of one player, a dude that has managed to steal headlines from across the Cubs' blogsphere and Twitterverse.
It looked as though Alfonso Soriano might be due for another turdtastic performance today after his at-bat in the bottom of the 2nd inning in which he struck out on three pitches, the latter two of which were both low-and-away breaking balls thrown well out of the zone. But he'd do his best to make up for it in his next at-bat, singling to left to lead off the bottom of the 5th inning. Unfortunately, Carlos "Why Yes I Have An RBI To My Name Thank You Very Much" Silva sucks at bunting, so the effort went for naught on a 1-5-3 double play (seriously -- not good on the bunting effort, Silva).
But the Fonz was not to be held down, no sir! In the bottom of the 7th, he got hold of a bad pitch from Felipe Paulino (honestly, look at the at-bat on Gameday, that thing was dead center) and drove Marlon Byrd home from second with a double to tie the game.
What happened next, however, was a play that was THISCLOSE from making Soriano the goat for today's game, despite the two hits he had already collected.
After Mike Fontenot walked, Koyie Hill was given the sign to bunt. And on the first pitch of the at-bat, Soriano took off. Unfortunately, Hill had taken the pitch, and Soriano appeared caught.
But the Fonz kept running. The ball went to second, and then to third... but the throw was high. And just like that, Soriano slid in safely, and was saved from another round of what likely would have been some seriously intense booing. More importantly, the Cubs were saved from a devastating out that may have completely shifted the game's momentum into the Astros' favor. Might the Cubs have won anyway? Perhaps. But the win certainly would have been a lot tougher to pull off.
Later in the 7th, a Theriot bunt, Kosuke sac fly and D-Lee home run would bust the game wide open, securing the Cubs a win. With that, you can book it, folks: Carlos Silva has now pitched 13 innings and has a 1-0 record, to go along with a scintillating 0.69 ERA.
If ESPN carries any highlights from today's game, they'll probably be clips of Derrek's three-run jack, and the error attributed to Byrd in the top of the 4th inning that eventually allowed two Astros to score. But make no mistake: today's game was all about Soriano. And thanks to a little -- or you might even call it a lot -- of luck, the Cubs won.