Game Recap: Cubs 6, Brewers 8 -- Scratching and clawing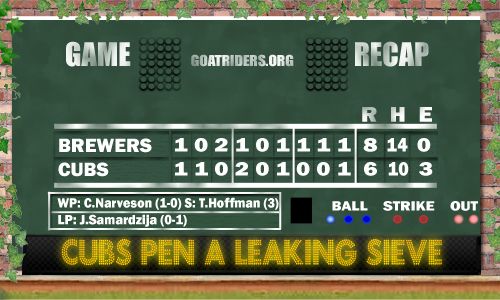 I listened to this game on the radio today, which was actually pretty fun. I like Ron and Pat. And really, who doesn't?
I forget the inning, and I forget who it was that said it, but at some point in the game one of our esteemed radio hosts pointed out that when these two teams meet, they often compete in a way that feels like they're scratching and clawing at each other.
I felt that was an apt description. Check the box score: one run top one, one run bottom one; one run top four, two runs bottom four; one run top six, one run bottom six; and so on and so forth. The game had the back-and-forth of a quality boxing match.
For the Cubs, Scratcher and Clawer Number One from today's game was Carlos Zambrano. He didn't have his best stuff, walking a batter in each of the first three innings, as well as giving up a double and a homer over the same stretch. And usually, walks plus extra base hits equals early exit.
But Z fought back, eventually throwing 123 pitches (!) over the course of five stressful innings. And when he finally reached the dugout, instead of assaulting the Gatorade, he drank it, presumably to ward off some cramps he may have been feeling (and who knows how early in the game they started).
(Indeed, Kurt has previously posed a question that goes something like: if I told you a Cub was continuing to pitch after having been stabbed in the shoulder with a knife, which Cub do you think that would be? Despite his occasional display of a lack of maturity, the young man is our toughest player.)
Opposing starter Jeff Suppan was also pulled after five innings, with the game tied at four, making this one a battle of the bullpens -- a battle that we would eventually lose, once Jeff Samardzija and John Grabow worked their magic on the scoreboard.
Let me throw a hypothetical situation out there for you: suppose our entire pitching staff, from top to bottom, from Peoria to Chicago, were healthy. Which twelve dudes would you want on the major league team?
There are several locks: Z, Demp, Lilly, and Wells in the rotation, and Marshall and Marmol in the 'pen. Beyond that, give me Tom Gorzelanny in the fifth spot, Carlos Silva in long relief (I don't see this guy throwing much more than 90 pitches in a game ever), Berg and Russell specializing against guys with the same handedness as they have, and Gray and Caridad doing their best to fend off Cashner from taking a spot on the roster.
Maybe that's an obvious discussion, but I hope you realize the consequences of it: Jim Hendry absolutely wasted $8 million on Aaron Mi -- I mean, John Grabow this offseason.
And a few thoughts on the offense today: kudos to Geovany Soto for getting on base three times, kudos to Tyler Colvin for coming up with two hits and scoring twice, and major kudos to Marlon Byrd for knocking the cover off the ball in the third inning. And how about Alfonso Soriano actually drawing a walk in one pinch hitting at-bat? Crazy, man.
Regardless, the series is won. Yippee skippe. Bring on the hapless Astros, who thankfully managed to win a game today. Lord knows a team like that can't possibly manage to win two in a row.