Okay, fine, you win
First, the back-story:
Way back on April 23rd, I wrote an article titled "The Litany Against Lou Piniella." The summarization of this letter was that, because of his choice in batting order and his blunders with the bullpen, Piniella was to be on our Not to be Trusted list. I concluded the article with this:
Therefore, Mr. Piniella, the Goat Riders of the Apocalypse can no longer endorse you as the manager of the Chicago Cubs. We will question your every move, scrutinize your every mistake, and shout loudly to the heavens your every idiotic blunder.
But I most say, sir, that it is not yet too late. We do not hate you, nor do we wish to see you fired. We believe that - like Saddam in the South Park movie - you can change. We may still choose to support you at a later date. Or we may take the next step and demand that you be let out to pasture before your senior moments cost the Cubs a pennant.
April the 24th was practically two whole months ago! All sorts of crazy crap can happen in two months of baseball!
Less than a week later I posted my first of several roster-fixing articles.
Yesterday, I posted an image that caused quite a ruckus. The implication of my harmless photoshop? Fire Lou Piniella. That's when STUFF EXPLODED! HOLY CRAP!!
So, fine, okay, forget it. Let's try this revised image instead: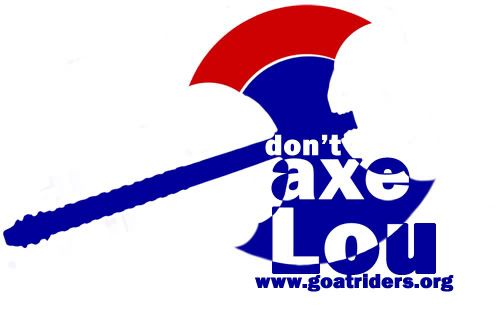 See? Everybody happy now? It says don't axe Lou!
Here's the thing. Any Cub fan who says that a manager's impact is minimal has a short memory. (In fact, maybe you should go get checked up ... Dusty's reign wasn't that long ago, dude.)
The manager writes the lineup. And whether he bats Corey Patterson and Neifi Perez ahead of Derrek Lee or he bats Soriano leadoff, that sort of thing impacts how many runs a team scores each game. Maybe it's minimal, but have you seen the minimal amount of offense the Cubs are producing?
If I was the manager of the Cubs I would be entering the "contact a voodoo witch doctor" stage of the season. I'd be calling in the hypnotists. I'd start plying my opponents with booze and whores. Lou Piniella has gone the route of leaving Soriano in leadoff and alternating between Lee and Bradley at 3rd and cleanup.
The manager -- I know, this one will blow your mind -- has some degree of say-so about the 25-man roster. And a 25-man roster with your only backup third baseman being your starting second baseman coupled with an 8 man bullpen mixed in with your only backup right fielder being a first baseman kind of leaves me sick to my stomach.
Why this hasn't been asked more often befuddles me but is it possible that the team's offensive troubles might be related to the lack of available hitters on the roster at any given time? Just saying.
The manager is responsible for keeping his players focused and driven. A common comment I've come across consistently ... uh, conclave my concise collateral ... (asenine alliteration)
Ahem. Sorry about that. People like to correctly point out that the manager doesn't weild a bat (unless he's knocking heads in the clubhouse after games) and can't really help it if his team fails to even remotely perform. But have we already forgotten that over the span of about a week we witnessed the meltdowns of Dempster, Lilly, and Zambrano which fell hot on the heels of Milton Bradley's journey through Crazy Land?
Again, memory loss much? Wasn't it just 2004 when the last "most talented Cubs team we've ever seen" self-destructed in a cloud of injuries and player meltdowns as Dusty adapted an "us v. them" mentality that extended to Moises Alou and Kent Mercker threatening the broadcast team in the booth? If Lou Piniella isn't responsible for, you know, managing his players then who the hell is?
At this stage I am awed by the support Lou is receiving from Cub fans. He is seemingly loved unconditionally. He's the teddy bear of baseball with those cute button eyes who makes that notoriously loud farting sound when hugged ... yep, that's our Lou.
So forget it. Forget I suggested the Cubs fire him. But all I know is that, historically, teams that have dramatically underperformed have turned it around when new managers are brought in mid-season. Just ask the hated '03 Marlins or, for that matter, the '09 Rockies.
Still, accountability needs to occur here. Jim Hendry needs to man up. It is inexcusable that the team's only off-season option to play backup third base was a concussion victim who couldn't tie his own shoelaces without barfing. Likewise, Neal Cotts as the only lefty out of the pen? Who the hell thought that was a winning plan?
At the same time, Lou has lost me now and forever. You won't read the words "fire Lou" consecutively on this website again, at least not written by me, but if this season turns into the turd continent it appears to be becoming, just remember where you read it first. Last year was his year. This year he's passed his expiration date. I say again then that if the Cubs win anything it will be in spite of him -- and Jim Hendry for that matter.
But seriously -- does he have to kill your kittens or something?
A manager should not be judged by how he looks when the team is winning. Even the worst get to the Series -- Dusty Baker almost did it in back-to-back years. No, a manager should be judged by what he does when things aren't working out, when losing is the norm.
Can somebody -- anybody -- tell me what Lou Piniella is doing to fix this mess? Jason? I know you and Leah are as pissed about the "fire Lou" thing as anybody ... what's he doing right now that deserves my support?
And if it's true that a manager has little-to-no impact on how a team performs, then why have one to begin with? Cut costs, fire the guy -- or never hire him to begin with, and spend the extra money on another player.