Game Recap: Cubs 5, Brewers 4; FINNISSSH HIMMM!!!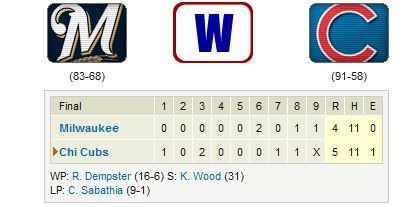 Tonight was the death blow.  If the Cubs win tomorrow, it's the cheap shot.
It actually wasn't easy.  In fact, it was rather dramatic.  Sure, the Cubs started off by doing what they do best - pummeling an otherwise unbeatable CC Sabathia - but then they finished the game off by doing that other thing they do best - getting past by the skin of their flippin' teeth.
First and foremost, the lineup did what it was supposed to do.  Hitters 1-4 were responsible for 8 of the team's 11 hits.  Derrek Lee, Aramis Ramirez, Alfonso Soriano, they all drove in runs.  In fact, at one point the Cubs were up on the "Unbeatable" C.C. Sabathia by a score of 3-0, right up until Prince Fielder decided to lunch... er, launch a two-run homer into the bleachers.
But then, when all hope was lost, Alfonso Soriano stepped up and hit his own dinger, giving the Cubs a comfortable 2-run lead.  Which was promptly ... well, squashed by Prince Fielder, who, uh, sat on a Carlos Marmol heater and knocked it into the bleachers.  And yet, again, dissatisfied with a mere 1-run lead, Hank White made a pinch hit appearance in the bottom of the 8th and gave the Cubs a huge insurance run.
Naturally, the 9th inning was as dramatic as you'd expect it to be.  Kerry Wood continues to scare the crap out of skittish Cub fans everywhere.  After striking out the leadoff hitter, Wood surrendered a single to pinch hitter Mike Lamb, before getting out number 2, only for Ray Durham - of all jabrones! - to hit a run-scoring double.  Wood then gave up an infield single to Ryan Braun before turning things back over to the 3-4, 2 homer, 3 RBI Prince Fielder.
As Wood reached back and heaved pitch after pitch, eventually reaching a ... well, full count on the fat man, I could only imagine Cub fans everywhere yelling the following: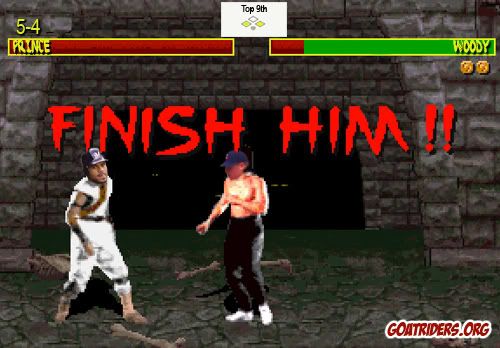 I was on IM with Jason at the time, saying "huh, full count?  Wood should toss him a sick breaking pitch because, worst case scenario, he walks him and faces a less-dangerous hitter."  Wood then tossed a sick breaking pitch and struck Fielder out to end the game.  Yep.  Sometimes I'm very good at pretending that I know what I'm talking about.
Real credit has to go to Ryan Dempster.  Clownsevelt has been putting in a year-long effort to prove that he's ace material.  On this Cubs team, he remains the 3rd option for any playoff series, but tonight he proved to me that he could out-duel anybody else's #1 guy.
The magic number is now down to 4.  The Cubs are on a 5 game winning streak.  The Brewers are down for the count.  There's two weeks left of baseball before it gets really exciting.  This is what we've been waiting for, folks.  I don't know about you, but I'm enjoying it.