Game Recap: Cubs 4, Cardinals 3; Your GROTA Guide to Panic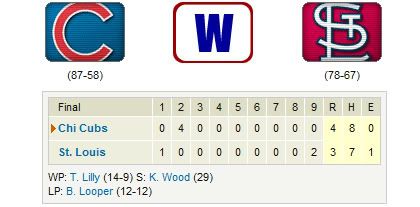 Lou Piniella said it, but we said it first.  The Cubs right now are playing like a team trying to lose.  And their closer - who at one point had been as close to automatic as anybody we'd seen in a long ass time - is in a funk at the time of year when a funky closer is the last thing you want.
All that said, the Cubs had to win it tonight, and they did, but not before instilling panic in the hearts of Cub fans everywhere.  In my case, it was an especially rough 9th inning because MLB.TV and the Yahoo Sports ticker conspired to scare the shiz out of me.  I couldn't get the game feed on MLB.TV, and the Yahoo Ticker froze up after Wood had gotten 2 strikes on Aaron Miles.  When it un-froze, it reported that there was a runner on 2nd with only one out, and Josh Phelps was up.  Then it went wonky again, and, before I knew it, the game was reported as having ended and the Cubs were the victors.  Maybe it was scarier than it had to be, but it was still scary.
Despite Kerry Wood's continued Rod Beck-like turn, the Cubs held a pretty firm lead most of the night.  All 4 of their runs stemmed from the 2nd inning when every Cub got to bat at least once and they accounted for 4 of their 8 hits and 1 of their 4 walks.
Meanwhile, Ted Lilly was lights out, except for the 3rd inning when he gave up 3 2-out singles that would have resulted in a run that might have made all the difference this game, except Alfonso "He So Selfish" Soriano threw out ex-Cub Cesar Izturis at home.
Lilly went 8 innings on 90 pitches for his 14th win of the year.  He allowed only 5 hits, he walked 0, and struck out 5.  He looks now to be on pace for another 15 win season, which would make him the first Cubs lefty to win 15 or more two years in a row since back in the day when my dad was dodging the draft and I was but a glimmer in his bloodshot, unfocused eyes.
The Cubs play the rubber game tomorrow.  Will Rich Harden be on top of his game?  I'm not convinced he will be - the last time the Cubs gave him extended rest, he came back rusty.  That said, the man with the sub-2.00 ERA will be a tough arm for the Cardinals to beat.  If the Cubs are going to ever bust out of this insanely depressing slump, it starts tomorrow.