Cubs 101 - Pt 27 - All That Could Have Been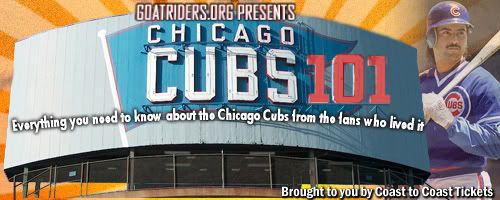 The year is 1993 and the Cubs are in the midst of something special. Among their cleverly-acquired free agent talent, the team is built on the broad shoulders of home-grown talent (that, or young players acquired through genius trades). The lineup is a modern-day Murderer's Row with no easy outs amongst them.
Their catcher is Rick Wilkins, who steals the job from Joe Girardi and goes on to hit 30 homeruns and bat .303 for the Cubs. Their infield includes Mark Grace (.325 AVG, 14 homers), Ryne Sandberg (.309 AVG, 9 homers), Jose Vizcaino subbing for an injured Shawon Dunston at short, and Steve Buchele (.265, 15, 65) at third. Their outfield consists of Rafael Palmeiro (.295 AVG, 37 homeruns, who replaces in the outfield a sore-kneed Andre Dawson during the '89 season and never looks back), Sammy Sosa (.261, 33, 93, 36 SB) in center and Joe Carter (.254 AVG, 33 homers) in right, with fourth OF Dwight Smith batting .300 and hitting 11 homeruns. Pinch hitter extraordinaire Glenallen Hill smashes 10 homers in less than 100 ABs.
But the real story of the '93 Cubs is their pitching. Leading the way is Greg Maddux, who wins 20 games for the second straight year while posting a 2.36 ERA. Behind him is Bob Tewksbury, who wins 17 with an ERA of 3.83. He's followed by Jamie Moyer, who wins 12 and posts an ERA of 3.43 -- Cub fans don't know it yet, but the Moyer&Maddux duo will dominate their rotation for more than two decades as the two aces combine to win more than 600 games. At the back of the rotation is Mike Harkey, returned from a self-inflicted injury, who manages to win 10 games, along with 24 year old Frank Castillo, who wins 5 games as the spot starter, but has a smokin' hot wife. The closer is venerable Lee Smith, who saves 46 with an ERA of 3.88 that season.
In other words, it's a team of young stars, several of whom go on to post Hall of Fame-type numbers, and, coupled with talent purchased from outside, these home-grown Cubs are world beaters. And of course, it never happened. (And granted, even if it had happened Carter certainly wouldn't have been part of the mix, as Green had dealt him for Sutcliffe and the '84 playoff drive. But work with me here, we're fantasizing.)
The truth is that while I just painted a pretty picture, we'll never know what those early 90's teams could've been like had Jim Frey not dismantled the organization through stupidity and cover-up trades. (Or, for that matter, had certain Cub prospects managed to stay away from a certain Cub star's latino-loving wife.) We'll never know who else the Cubs might have drafted, or developed, or stolen through brilliant trades, or signed as free agents. But still, looking back with my 20/20 hindsight I have to feel somewhat robbed by how things turned out.
The early 1990's was a rough time for Cub fans, in part because of the way the farm system was decimated, and because of how management (read: Jim Frey and Larry Himes) treated its star players, and because of the useless free agents brought in to the club. Instead of being treated to Cub teams battling it out with the Pirates -- and then the Braves -- every year for the NL East pennant, we got to watch Cub teams just bad enough to only win about 79 games a year, which is what they averaged from 1990 through 1993. It's hard to think about how many more games they would've won with the offensive contributions of Raffy Palemeiro and Joe Carter -- who would combine to hit 965 homeruns in their careers -- or with Lee Smith reliably closing tight games.
In other words, as we have harped on in the past, Dallas Green was a genius who built a winner. It's too bad that the Tribune didn't support him more because had he stuck around we may have never had the chance to suffer through 101 years of a championship drought.
Find quality deals on baseball tickets at Coast to Coast Tickets!