Cubs 101 - Pt 31 - The Great Talent Drain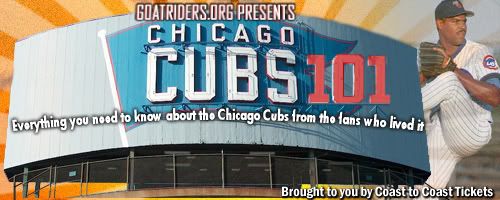 Along with billy goat curses, black cats, day baseball, and bespectacled yuppies with a lack of spatial awareness, one of the more compelling arguments behind the lack of Cubs success the past, oh, 75 years or so has been the poor performance of their farm system. It is true that throughout P. K. Wrigley's ownership, he did not make the farm system a priority. I have never figured out, though, how the "1969 Cubs" managed to emerge from the cesspool, for except for Fergie Jenkins, that was a homegrown bunch.
However, with the arrival of the Tribune and Dallas Green, for the first time since the Thirties, the farm system became a priority. Remember that, prior to 1984, home attendance revenues were paltry compared to most other teams. Most other teams had stadiums that held upwards of 50,000, so if they drew to 50% of capacity, they drew over 2 million. In those days, yearly attendance of 1 million was cause for great celebration at 1060 W. Addison. So, oddly enough, Green saw the Cubs as a "small market" team. The "market" itself was big enough, but the "revenues" were not. As we well know, the best plan for the "have-nots" is to build from the farm.
Green was in the catbird seat in his first draft - the #1 overall pick was shortstop Shawon Dunston. He also spent first round picks on guys named Tony Woods and Stan Boderick. No, I never heard about them either until I looked them up. His #1 picks the next three years were P Jackie Davidson, P Drew Hall, and OF Rafael Palmiero. Generally, Green hit about .333 in the "first innings" of drafts. A few guys (Dunston, Derrick May, Mike Harkey) had decent careers, a few (Davidson, Hall, Ty Griffin) were total busts, and then you have Raffy.
It was clear from day one of his major league career that Palmiero was special. Yes, he ended his career in infamy, smeared by steroids. Maybe part of his motivation was this: upon coming up with the Cubs, the man had innate plate discipline, incredible bat control, and solid baseball instincts. But he was dogged in the press from the start for what was termed a "lack of power". No, he did not hit home runs in bunches for us. But his first two seasons with the Cubs, when he was 21 and 22 years old, in 300 ABs, he hit 19 doubles, 17 home runs, and 42 RBI. Sounds like enough power to me. The one statistic about Raffy that has stuck with me to this day?
In 1986, when he was 21, in 78 plate appearances, he swung and missed exactly ONCE. One time. Uno.
So he, like Barry Bonds, did not NEED PED's to be successful in the big leagues. It would be another twelve years or so until another guy with his kind of batting skill would break into the MLB, guy named Pujols. And WE developed him.
Know who else we developed in the mid 80's, besides Raffy, Dunston, and Harkey? Greg Maddux, of whom you've heard about. Also Joe Carter, who actually was drafted the year the Cubs were sold, but whose name will always be linked with Rick Sutcliffe in Cubs lore, since they were traded for one another. Jamie Moyer, who as of this writing is still laboring as a 'crafty lefty' for the Phillies, came up along with Maddux in 1986. Mark Grace, Mr. Slumpbuster himself, came up in 1988. Jody Davis, an all-star catcher and key to the 1984 Division winner, was also home grown, as was his replacement, Damon Berryhill.
Dave Martinez, who ended up crafting himself a nice career as a fourth outfielder, was one of ours. Big Lee Smith, of whom it is impossible to refer to without the "Big" qualifier, was actually a 1975 draftee, but was one of ours. The final fruits of Green's labors became ripe in the 1989 Division winning season, as a rash of injuries caused manager Don Zimmer to bring up a squadron of young Cubs farmhands, including ROY Jerome Walton, Dwight Smith, Joe Girardi, Garry Varsho and Darrin Jackson.
So, to recap: the Cubs farm system bore infielders Grace and Dunston, outfielders Palmiero, Carter, Martinez, Walton, Dwight Smith, catchers Davis, Berryhill and Girardi, Greg Maddux, Jamie Moyer and Lee Smith. Throw in Ryne Sandberg (why not? The Phillies did) and hindsight being 20/20, but it looks to me like a totally home-grown nucleus of a dynamic team. No 50-homer guys, but lots of line-drive impact hitters, speed, great fielding, along with a staff ace, a wily lefty with durability, and an intimidating closer.
The Cubs should have been loaded for success, like the "1969 team" for five or six years, from about 1988 to up to the mid-nineties, with a few free agent acquisitions to fill in at third base and the back-end of the rotation.
Of course, the talent drain started when the original plan was scrapped, when the Cubs made the shift in 1984 from "have-nots" to "haves", when Carter was traded for Sutcliffe. Sure, we "won" that trade in the short-term. Sut won the Cy Young in 1984, should have won it in 1987 and made a case the next two years after that. But Carter became an offensive force for the next decade.
From there, our "winning" record on trades took a plunge. Beginning with the dumping of Lee Smith in 1987, a trade made as much in the local papers as it was made in the club offices, Cubs management totally scrapped their plan of development from within, and as a result doomed the franchise to yet another decade of futility.
Kurt Evans
As Rob pointed out, it was perhaps the trade of Lee Smith -- if not that of Joe Carter -- that began the Great Talent Drain. After all, take a look at those players again.
Lee Smith -- dealt in 1987 for Al Nipper and Calvin Shiraldi, two pitchers who would be gone from the Cubs before 1990. Smith meanwhile would close successfully into the mid 90's.
Joe Carter and Mel Hall -- dealt in 1984 for Rick Sutcliffe. Carter would be best remembered as the RBI machine who hit a Series-winning homerun while with the Blue Jays against ex Cub Mitch Williams.
Speaking of Williams, he was acquired as a "makeup" move for the loss of Lee Smith. The price on Mitch? Drew Hall and two players with Hall of Fame caliber numbers -- Jamie Moyer and Rafael Palmeiro. Williams, meanwhile, would be done as a Cub by the end of 1990, as would pretty much every other player acquired from Texas in the trade.
Dave Martinez would be traded in 1988 for Mitch Webster, who would leave Chicago after the '89 season.
Damon Berryhill would be ruined by injuries and traded from the Cubs in 1991.
Joe Girardi would be claimed in an expansion draft, only to return to Chicago well past his prime nearly a decade later.
Mike Harkey -- who Rob failed to mention -- would have one good season for the Cubs before suffering a career-wrecking injury, the result of a stupid backflip.
And, of course, perhaps the hardest drain of all -- Greg Maddux was chased from the Cubs, his recently won Cy Young trophy in hand, by Larry Himes after the 1992 season.
But hey, it bought us 1984, and 1989, and a lot of mediocrity in the early 1990's. It's amazing to see the house that Green nearly built and how quickly his predicessors were able to swoop in and demolish it. But a strongly-stocked Cubs farm system became quickly barren after he left and the many fruits of Green's labors bloomed elsewhere ... except for Grace and Dunston, who would stick around for the longest. But while those two were talented, fun to watch, and -- at their best -- All Stars, the men the Cubs lost were giants.
In many ways, the organization has yet to recover from their loss.
Let Coast to Coast Tickets get you to those Chicago Cubs games!