Cubs 101 - Pt. 64 - 2005 & 2006 - The Most Aggrevating Show on Earth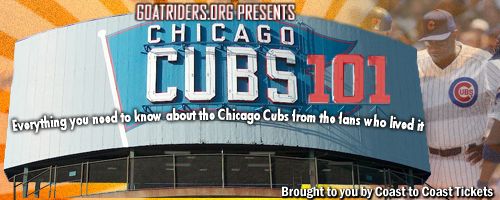 It's July 21st, 2006. The Washington Nationals are hosting the Cubs, with Chicago's former Franchise Mark Prior on the mound. It's the 4th inning of another brutal game -- the Nationals had rattled off 4 runs in the first 2 innings. Finally, though, Prior managed to settle down.
Prior first faces off against Felipe Lopez, who shoots a single into right field. Then, Nationals pitcher Pedro Astacio bunts Lopez over. At that point Prior walks future Cub Alfonso Soriano. It's his 3rd walk of the day, although he'd hit 2 guys previously (including the Fonz) and tossed 2 wild pitches. At that point Dusty slowly walks out of the dugout, gestures for the lefty, and Mark Prior departs.
It was Prior's 5th start of the season. The Cubs lost again, dropping to 37-58 on the season. Within 10 days from this point Greg Maddux would make his final start with the Cubs, getting a win against the Cardinals before getting dealt to the Dodgers on July 31st -- a day in which Mark Prior would give up 6 earned runs in 5 innings earning his 5th loss of the season. Sadly, although the Cubs were about 20 games out, in their second consecutive season of ugly-losing, with two whole months of mediocrity remaining, Jim Hendry chose to let Dusty Baker finish his contract with the Cubs. He didn't fire the guy.
Believe me, we didn't understand then, we don't understand now, and we will probably never understand how Baker kept his job. I'm sure there were tears involved. But from the final month of 2004 until the last, bitter days of September 2006, Dusty Baker had worn out his welcome. From burning out the arms of Wood and Prior to starting useless veterans over promising rookies, Dusty Baker made following the Cubs a painful excursion for better than two years.
Perhaps the worst example -- no, not the worst, just an easy one -- was when he insisted not only on batting the previously-mentioned inept Corey Patterson leadoff (because Corey was a center fielder, and those guys batted leadoff), but he also managed to get Neifi Perez slotted into the #2 spot of the batting order (because second basemen bat second) for the bulk of the '05 season. All together, Patterson and Perez combined to make 624 plate appearances that season -- the vast majority of them in games where Derrek Lee batted third. They would bat .253 with an OBP of .264 -- .264!! If I didn't see it myself I wouldn't have thought it was possible! And for that reason Derrek Lee, who would lead the league in hits, AVG, doubles, and finish in the top five in homeruns, would barely drive in 100 on the season.
Not to mention that, over this wondrous two-year-span, we'd experience LaTroy Hawkins, Jacque Jones, and Dusty himself accuse Cub fans of being racist for first booing and then being full-on outraged by their tepid performances. It apparently never occurred to them that perhaps we were upset because they sucked, because they failed, because they ripped our hearts out with the promise they never delivered on.
On October 1st of '06, the Cubs played their last game under the Dusty regime. It was ironically a come-from-behind victory. After that point Dusty slinked out of our lives, only to be seen occasionally as he ruined the hopes and dreams of Reds fans a few years later.
It had been just short of four years earlier when Dusty had given that press conference in which he asked "why not us?" It took him a while to answer it, but ultimately it became clear. Why not us? Because douchebags like Dusty would sooner run the team into the ground in the name of a job and some contrived form of "strategy" that in fact defied all logic and sense. Why not us because of assholes living on reputations and the output of steroid-enhanced producers.
Why not us. Don't make me laugh. The only thing I miss about Dusty is the hope he killed while he was managing the Cubs.
Cubs 101 sponsored by baseball ticket broker Coast to Coast Tickets.