Cubs 101 - Pt. 45 - The Abrupt Return to Mediocrity - nay, BAD!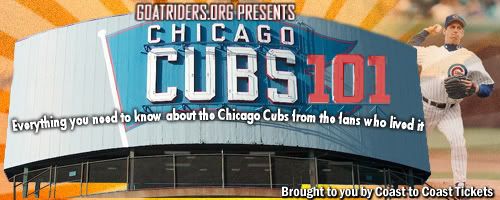 For fans of most other franchises, a second place finish doesn't portend to much. But we're Cub fans, and even if there wasn't the Wild Card device, we'd be giddy with excitement. Compound that with only the third post-season appearance in nearly 55 years, and the truth is that we had very high hopes for the upcoming 1999 season.
Sammy Sosa had just completed a 66 homer, 158 RBI season. Even if his production went down, say, 20% - we're still talking 50 bombs and 130 RBI! We'd take that! Other returning members of the potent offense include Oh! Henry Rodriguez in left, the OneDog, Lance Johnson, in center and batting leadoff, Mark Grace of course at first, the double play combo of Mickey Morandini and Jeff Blauser, and the Rejuvenation miracle of 1998, 40-year-old Gary Gaetti, at third. Gaetti, the former Cardinal, was key down the stretch the previous year with clutch home runs and throwing himself around with wild abandon in the hot corner. How's THAT for a pile of sports-related cliches in one sentence? Hee-yah!
Pitching also appeared to be a strength going into 1999. Steve Trachsel, the play-in game hero was back, along with 19-game winner Kevin Tapani. In what was the first of several major fleecings, Brant (OHHHNOOOO!) Brown was sent to Pittsburgh for workhorse Jon Lieber. The Shooter was back, and swing-guy Terry Mulholland. The key to the whole shootin' match, of course, was the health of newly christened Staff Ace and Next Big Thing Kerry Lee Wood, who as you recall pitched admirably in Game 3 of the NLDS, after having missed the entire month of September with a sore elbow. In that playoff game, Wood pumped fastball after fastball against the Braves, leaving his devastating curve on the shelf in fear of the pain it caused him. It would have been enough, except that his counterpart, an ex-Cub named Maddux, was better that day.
As you may remember, or can imagine, the Sports News of the Day all winter concerned the health of Wood's abused right elbow. A setback, then improvement. Hope, then fear, than hope again. Finally, early on in camp, Kerry took the dreaded Flight of the Damned to Birmingham, Alabama to meet with Dr. James Andrews, Reconstructionist to the Stars. The news was grim - the ulnar collateral ligament was toast - and that was all she wrote for Mr. Woody for 1999.
Now, the history of Major League Baseball - and in fact, all major league sports - is written in its injuries. Players go down all the time, and teams carry on. Very few men are even truly irreplaceable. From hindsight, the reason why the 1999 Cubs were mediocre - nay, bad - was solely a reflection of its talent. At that time, though, it seemed to casual observers that the talent was acceptable, but this team seemed to suffer from an impenetrable malaise due to the absence of their young star.
Keep in mind, since the era of the 1969 team, the Cubs were marked as a franchise with lots of power hitters, but always substandard pitching. Oh, we had our Rick Reuschels and Bruce Sutters and Rick Sutcliffes and Greg Madduxes. Of course, the reason why these four guys were so popular in Chicago was that they stuck out so prominently from the cesspool of untalented hurlers they were forced to team up with. When Kerry Wood came up, it seemed too good to be true. That fastball, coupled with that 12-6 curve, who was OURS for at least the next six years, until his first big free-agent payday...and we couldn't POSSIBLY be so stupid that we'd watch him walk away like Maddux had in 1993? We'd pay him whatever he wanted, because he was leading us to the playoffs EVERY year now...
...but there had to be a Catch? There ALWAYS is a Catch when it comes to us, and every major talent we come up with. The catch turned out to be the violent nature of Wood's delivery, which strained his elbow, until sometime in August 1998 it just snapped. We KNEW it was too good to be true, there was no way one of OURS was going to be able to throw that 100 mph heat and that 2-foot buckler forever. It was a bitter pill for the fanbase to swallow, and even though the "Tommy John" surgery had progressed to the point that we could someday hope for his return as a productive pitcher, we knew, at least, the days of the curve were gone, as well as the 100 mph heat, probably.
So we were bummin', and it didn't help matters any that the 1999 Cubs never really got started, and after a brief time in May in second, sunk down to the bottom of the division and stayed there all year. I know, at least myself, I projected my hopelessness about Wood onto the Cubs, and assumed they were playing with the same kind of misery I was feeling. Which, in retrospect, sounds stupid, but how else can you explain the pitching we saw in 1999?
The offense, outside of Blauser who ended up being an utterly complete bust with us, did its job. Sosa destroyed the NL a second straight year, Grace had nearly 100 RBI, and Glenallen Hill launched 20 rocket shots in part-time play (albeit with a little medicinal help, as it turned out.) All that aside, and believe me, I have seen some truly horrific Cubs teams over the years...the pitching in 1999 was the WORST I have ever witnessed. It was almost like Dean Wormer's final meeting with the Deltas in "Animal House".
Jon Lieber - 10-11, a 4.03 ERA. Congratulations! You're the top of your class!
Steve Trachsel - 8-18, 5.56
Kevin Tapani - 6-12, 4.83
26 year old bottom-feeder Andrew Lorraine was brought up, won his first start, a 3-hit shutout, pitched well his second game, lost a complete game in his third start, then took 8 more starts the rest of the year with a combined ERA over 10
The Shooter fell apart. Terry Adams took over the closer role for awhile, until Andy MacPhail had the bright idea of trading Kyle Lohse (yeah, HIM) for Rick Aguilera. You know him simply as gAguilera.
The whole bullpen that year is like a Major League Suck-i-teria - besides gAguilera, Dan Serafini, Micah Bowie, Matt Karchner, Bobby Ayala, need I go on? Ok, I shall...Steve Rain, Ray (Burger) King, Doug Creek, Rodney Myers...and the Immortal Felix Heredia, who I cannot recall ever holding a single, solitary lead while a member of the Cubs. One save in 15 opps in 1999. How did he get one save?
I saved the best until last, as is custom. 1999 was the Major League debut of one Kyle Lynn Farnsworth, aka Cap'n Tightpants, aka Dr. Feelgood, tormentor of electric fans, the scourge of trailer courts from Wichita to Terre Haute, owner of vicious Rottweilers and the star of The Dugout on AOL's Fanhouse. Employee #44 was given 21 starts, with 6 other relief appearances, in his rookie year. 7 of his first 8 starts resulted in Cubs wins! His last three starts resulted in Cubs wins!
So get a piece of paper, or go ahead and do this one in your head: 27 appearances, first 7 of 8 were wins, last three were wins. So there's a gap of 16 or so games that were all losses, every, single, one.
I have raged on this site for years about the need for Situational Hitting. In 1999, the Chicago Cubs had absolutely no ability to perform Situational Pitching. Whenever we needed a strikeout, we'd walk someone. Whenever we needed a double-play grounder, we'd give up a long fly. The 1999 Cubs had the singular inability that I have never seen, before or since, to throw the ball where it needed to be thrown. They finished the year with 95 losses, a 5.27 ERA, dead last in runs, earned runs, hits, strikeouts and home runs. They gave up the third most walks - how in God's name could two other teams have given up more walks that year? I am looking at the numbers as we speak, and I still can't believe it.
Gary Gaetti threw an inning that year - and he was NOT the worst pitcher on the team, statistically. That honor belonged to probably Bowie, who was given 11 starts that year, and finished with a 9.96 ERA. I believe that is STILL a ML record for highest seasonal ERA for pitchers, 10 or more starts.
In conclusion, the way I have always remembered 1999 in my mind is a season where the 25 members of the team played under a rain cloud all year because Kerry Wood was hurt. However, and perk up, statboys, because I'm about to throw you a carrot - sometimes numbers tell the truth. MacPhail and Ed Lynch managed to construct one of the worst pitching staffs of all time, based on the names involved. At least three of the names are synonymous with Pitching Fail, which is plain to see, ten years removed. In fact, I count six games in which we gave up at least ten runs that we WON that year! In the months of July and August, we gave up double-digit runs 21 times!
June 29, we gave up 17. July 1st, 19. July 2nd, big improvement, 14. July 3rd, 21, oops! Worst. Pitching. Ever. At the time, I was married to a Sox fan, and she and her evil troll proto-ethnic family tried to convert me to the Dark Side, and I was tempted, tormented, and tortured. By the next year, though, I didn't have that problem anymore. Oh, the Cubs still sucked plenty. The Sox fan left me, though, so she could devote all her energies cooking evil spells in her cauldron, or whatever it is evil South Side trolls do. New millennium, new life, new hope.
Check Coast to Coast Tickets for World Baseball Classic tickets and more!