Cubs 101 - Pt. 73 - The 2009 Chicago Cubs: A Living Retrospective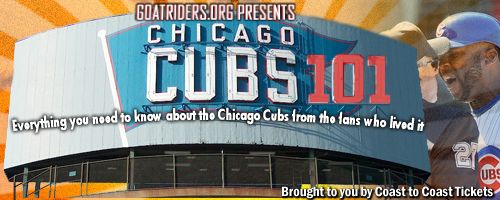 When this baseball season began, much like 2008, Cub fans were brimming with hope. The team had demonstrated some of the best pitching and also had, undeniably, the best hitters of the '08 campaign, and Jim Hendry had gone out and improved the team. Or so we believed. What we didn't realize at the time was that his so-called improvement was really a gutting.
First, Jim announced that backbone of the team and face of the franchise Kerry Wood was to not return. He punctuated this piece of news by trading for Marlins closer Kevin Gregg. Wood went on to pitch for the Cleveland Indians, where he'd save 20 and strike out 62 in 54 innings of work as of this writing. Granted, his numbers weren't spectacular, but he appeared to stay healthy all year long and, undeniably, they were better than Gregg's.
Second, Jim traded away multi-tooled Mark DeRosa to Cleveland. DeRo proceeded to hit more than 20 homeruns, to drive in 78, but to only bat .252 with an OPS of .760 thanks to an injury. Jim replaced the versatile DeRosa with Mike Fontenot at second base and Aaron Miles in the role of super-sub, who he signed to a ridiculous two-year deal. Despite his slow-down, DeRosa's numbers beat the holy hell out of Mike Fontenot's and Aaron Miles's in '09.
Third, Jim let center fielder Jim Edmonds fade into that good night, opting instead to sign Milton Bradley to a three year deal. Bradley was courted over a short list of players including Bobby Abreu, Adam Dunn, and Raul Ibanez. Bradley went on to lose his mind and most of his offensive prowess, while pretty much every other realistic option outperformed him on and off the field.
Once the season began, the Cubs responded by wearing a mediocre groove into the proverbial dirt and then they stayed there all season long. They never really took off as a team, they never really fell off, and while they bounced around as low as 4th place at points they never really scared any of us into thinking they were going to turn into a 90 loss team.
In other words, it was just one of those Meh seasons. Players never performed -- Geovany Soto followed his Rookie of the Year season by batting .217 with 11 homers, 45 RBI, and about 80 hair-pulling moments. Mike Fontenot managed 9 homeruns in 373 at bats while batting .236. Alfonso Soriano battled knee problems to bat .241 with 20 homers. Milton Bradley and Kosuke Fukudome were practically twins out there, batting .257 and .260 respectedly with 12 and 11 homeruns.
The team was also rife with injuries -- from Soto's sore shoulder to Derrek's neck spasms to A-Ram's dislocated shoulder to Alfonso's bum knee to Bradley's mind (and knee) to Dempster's broken toe and Zambrano's oblique and hammy and Lilly's knee and shoulder and Harden's whatever-it-was ... these guys got hurt. A lot. And so what began as a promising season turned into a total bust.
At the start of it, when we decided to write this project, we'd hoped to see the team shake off the shackles of the so-called Goat Curse. We were so very wrong to have expected that.
The 2009 Cubs, then, ended a lot like the 2008 Cubs, and even like the 2006 Cubs. They were disappointing, but in their own unique way. I suppose we should come to expect it, to live with it, to adapt from it. But we won't. 2010 is just around the corner, and we will hope, with everything we have, that Next Year is The Year.

Sponsored by Coast to Coast, where you'll find event tickets to every game!