Cubs 101 - Pt 42 - Slammin' Sammy Sosa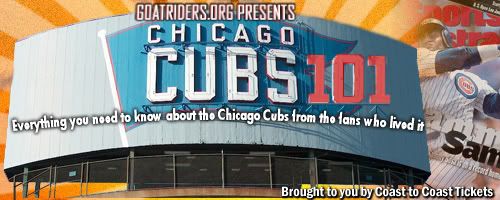 When we last left young Mr. Sosa, it was 1997 and he was feeling disrespected. Here he was, a two-time member of the 30-30 Club, and without doubt one of the most productive hitters in the majors, but he wasn't feeling like he was getting the money, the respect, and the LOVE he deserved from his management, as well as the national media. Oh what could he possibly do?
For one, he could drag his contract negotiations out into the public, forcing the Cubs to sign him to a 4 year, $40 million contract extension for 1998. Sammy was good for at least 40 and a hundred - even in the off-season of 1997-98, very few men could give you that. Many wondered though about the wisdom of giving so much money to a man who had, up to that point, never played a post-season game, never led a team to a title of any sort. In retrospect, though, it appears Andy MacPhail knew what he was doing, this time. The man who reported (late, as was his custom) to Spring Training, 1998, was just like Sammy Sosa, only bigger, stronger, thicker, and more determined.
Nobody ever accused Sosa of laziness, and it certainly appeared he spent his off-season not only remaining in shape to play ball, but in fact he was stronger than ever. Recall he was a rail-thin youth when he first appeared in the big leagues, not unlike Alfonso Soriano today, he was a tightly-wound coil of fast-twitch muscles. If he had not hit the weightroom and doubled up on his "Flintstones vitamins", and continued to get his 100 RBI from his 35 homers for the next five-six years, he would have had a substantial major league career. Probably near 400 homers, by the time most athletes begin their normal decline after age 32 or 33 (which, doing the math, would be around 2001, the end of his 1998 contract).
But let's try to understand Sosa's thought process - in 1996, Andres Gallaraga led the NL with 47 homers, hitting in the outer-space air of Colorado. Mark McGwire led the AL with 52. In 1997, Colorado's Larry Walker hit 49 to lead the NL, while Junior Griffey hit 56 to lead the AL. Perhaps another type of individual would have been satisfied with his 35, 40 homers a year. But Sosa was a man who wasn't satisfied; he wanted to be the best! Disappointed he did not achieve acclaim for his power/speed combo, he went all-in to the power side, and did not look back until he had compiled five years of utterly unheard of damage to the home run record books.
In fact - McGwire, who was a few years older, retired soon after his second NL title in 1999. Barry Bonds, who of course holds the current single-season (as well as career) home run titles, was far more consistent for a far longer time, but only had the one outlier year when he hit his 73. Sosa only led his league twice - in 2000, when McGwire tailed off, and in 2002, when Bonds tailed off. But that is misleading - Sosa hit 66 in 1998, and did not win; he came back with 63 in 1999, and did not win; and in what was probably his greatest year ever, he hit 65 in 2001, but of course it was not more than Bonds' 73.
So, in the five years between 1998-2002, get out your calculators: 66, 63, 50, 64, 49. That's 292 four-ply jacks in 5 years - and no, nobody else has ever done that. Probably, nobody ever WILL. And certainly, Sosa became a legend here in Chicago, in the right field bleachers. Chip Caray got to say "belted!" hundreds of times in his behalf. The man ended his career with the astronomical total of 609 homers, and over 1,660 RBIs, the vast majority of those were in the service of the Cubby Bear. But the irony of it all is, he STILL never got the love from the baseball world at large that he always strove for, and in my case, although statistically Sammy Peralta Sosa did more for the Chicago Cubs than any other man who has ever lived: I disliked, distrusted, and dismissed him from day one.
On this date in history, especially after the news came out in early 2009 that Sosa was one of the 104 players who failed so-called "anonymous" PED testing in 2003, it is an easy position to take, to say that you mistrusted Sosa. I hated him from the start - I hated that a GM I despised, Larry Himes, shoved the great Sosa down our throats, especially when he hadn't, as of our acquisition of him, accomplished a damn thing. I hated when he attempted stolen bases at inappropriate times; I hated when he swung from his ass when a mere base hit would put us ahead.
It was clear to me in 1998 that something was amiss. Although steroids never really crossed my mind; the man was SWOLLEN, he sweated uncontrollably, and this is a man from the Dominican Republic, who ought to be used to warm weather. I don't begrudge him some dampness in St. Looie in July, but Philly in May? I saw him hit home runs in person several times in that five years. Sitting here, writing this, I am shaking my head. Other great hitters could put some distance on the ball. When he connected, the force, it was inhuman. When he hit one, unless he didn't get enough height on it, there was no way that the ball COULDN'T go out! I saw him hit a ball that struck the very top of the electronic screen in Miller Field that did serious, irrepairable damage. A 5 ounce piece of rawhide, string, and cork was propelled with such force that it bent metal over 500 feet away. No WAY that was natural.
Maybe it is enough for you, the reader, to simply accept your good fortune as a Cub fan that this Freak of Nature was pushing the laws of physics on your behalf. I'm sorry, maybe I think about things too much, read into things that I shouldn't, but Sosa's brutal power just seemed to be yet another item in his ill-begotten legacy; he was going to be the greatest slugger ever, At All Costs!
God knows I want to win a World Series as bad as the rest of you, and there are some serious costs I would pay for such a treasure. But not All Costs, and Sosa was definitely an All Costs guy.
So the man went out in the year 1998 and smashed 66 home runs, drove in an ungodly 158 RBI, battled McGwire neck-and-swollen neck for the title until the next to last day, when Big Mac swatted 4 in 2 games to leap past Sammy, 70-66. As you recall, we squeaked into the playoffs by the slimmest margin possible, even with all of those ribbies. Sosa went out the next year, slapped up 63/141/.288, and finished NINTH in the MVP race...why? Part of the reason is because the Cubs sucked - losing nearly 100 games! Most of the blame goes to the pitching staff, but Sosa always chipped in with his poor baserunning, misguided throws, and lack of situational hitting. I don't know if he felt he was exempt from fundamentals, or if he simply never bothered to learn them. But the fact remains - for all the homers and RBI in his career, teamwise he had precious little to show for it. I mentioned his 2001 season - 160 RBI, a .737 Slugging Percentage, 146 Runs Scored, even 116 walks. Possibly the greatest Cub season ever - more than Andre Dawson's 1987, Ernie Banks' 1958&1959, right up there with Hack Wilson's 1930!!
What do you notice about those five years? Yep, no titles. Not one stinkin' division.
I have heard, albeit not lately, people compare Sosa to two great names from the past, Mr. Banks and Mr. Billy Williams. Sosa played in the playoffs in 1998 and 2003, and neither Banks or Williams played in any. Therefore, Sosa is the better man!! Well, my fine Krausened friends, up until 1968, only ONE NL team made postseason play; now 4 teams make it. (Article MMCMXLVII, "The Dumbing Down of America"). And while I might be able to argue that the distraction of the Great Homer Chase of 1998 may have worked against us, that we made the playoffs in SPITE of it...well, I have tried, and failed, so grudgingly I shall give him his due.
But in 2003, Mr. Sosa was a desperate man, who besides taking PEDs, was walking to the plate with a corked bat. His production "slipped" from 64 dongs in 2001 to 49 in 2002, and he was struggling much of 2003 with his power stroke. After getting caught cork-handed in early June, he came back from a week's suspension resembling his old self, staying hot throughout July. But down the stretch that year, I remember great pitching from the starting staff; a true leadoff man who caused havoc on the basepaths, and the emergence of Aramis Ramirez as the keys to our success, not Sammy Sosa.
Of course, when his tenure ran out with us at the end of 2004, the relationship between him, the Cubs, and their parent Tribune Corporation had eroded to the point that any dignity he might have had left after 13 years was stripped away skillfully in the newspapers, radio, TV and the internet. Baseball, maybe more than any other competitive enterprise, feeds off of its own statistics. The statistics say that the three most productive offensive players in Cubs history are Cap Anson, Ernie Banks, and Sammy Sosa. Anson was the embodiment of the team for the first 50 years of its existence, and Banks was and has been Mr. Cub since 1953. Sosa was shooed out of town, with only a leaked video tape marking his departure.
Obviously, I'm not the only Cubs fan in the world who never bought his act.
In a way, it was kind of sad that when the time came, and his name finally bubbled to the surface as a PED cheat, that there wasn't a major national firestorm, like there was for Bonds, Roger Clemens, A-Rod, even Raffy Palmiero. Nobody was shocked; nobody fell to their knees crying, wondering why, oh why, Sammy? Just like most of the rest of his career, save 1998, the world shrugged its shoulders.
Kurt
On the other hand...
Imagining that you, the reader, are a neutral party with no strong feelings one way or the other to Sammy Sosa, I will note to you that Rob's opinion on the subject is incredibly unpopular. There are a plentiful number of otherwise-intelligent Cub fans who will grow red with rage at the criticisms dished by Rob toward Sosa. Me, I don't hate Sammy, but I recognize him for what he was... an imperfect, heroic villain who wanted to be recognized and loved, even if his means were short-sighted and his goals were to win the small battles rather than the larger games.
But this isn't philosophy time. This is Sammy Sosa, MVP of the 1998 Chicago Cubs, chaser of Maris, putter-upper of the Nintendo Numbers, and all-around hero. His was the first jersey I ever owned (the second belonging to Ernie Banks).
Something Rob noted in his criticism is that Sammy, despite his Ruthian numbers, never won -- or even saw -- a World Series. I could be wrong, but I think that, for Rob, that's worse than Sosa getting caught with a needle. But I don't believe that Sosa's RBI were empty calories, I don't think his numbers counted for less, I merely believe that like Ernie before him Sosa was surrounded mostly by duds. Blame the Tribune for his inability to win, not him. He didn't tackle and injure any of his teammates before they evaporated in October of '98, and he wouldn't be the first -- nor last -- of Cubs to fumble in the clutch of October games.
But what he did do, and do well, was hit the holy hell out of the ball. Especially in '98, and again in '99 and '01, Sosa was a crusher. He hit 20 homeruns in June alone in 1998 -- ironically (or perhaps fittingly, ask Rob) the Cubs went 12-15 that June, despite the fact that they started the month off with 7 straight wins.
He also grated on his teammates. With his selfish play, and his boombox -- and did we mention his selfish play? -- Sosa never won the clubhouse Mr. Popular contest. But make no mistake. The Cubs would never have had the chance to lose 3 straight games to the Braves in October had Sammy Sosa not bludgened the opposition that year.
The question is, in the shadow of the positive test he gave in 2003 -- and clearly, we now have a timeline as to why he stopped producing, and started using cork, as he probably quit juicing after the test -- is 1998 cheapened somehow? Should we no longer have happy memories of past glories? I say no. Sammy wasn't clutch like David Ortiz once was, and he wasn't lovable like Ernie Banks has always been, and he wasn't a warm clubhouse presence like Rick Sutcliffe was. He didn't have to be, though.
But for those like Rob who remember the failures more than the triumphs -- because, really, what triumph can be greater than failing to win a World Series? -- cut them some slack. Sosa wasn't perfect, and his imperfections were perhaps worse than we wanted to acknowledge. Our heroes aren't so great that they don't have flaws, and our villains aren't so terrible that they have never committed a charitable act. Sosa's shoulders should be broad enough to carry both titles, hero and villian, comfortably.
Don't miss Cubs playoff tickets - bookmark Coast to Coast Tickets!