Cubs 101 - Pt 29 - Shawon Dunston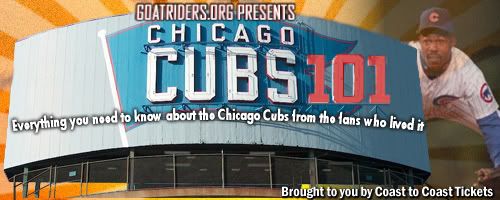 It was 1982 and the Chicago Cubs were in the rare position of having the first pick of the draft. Imagine then the level of talent that must have been on display for such a wily judge of potential like Dallas Green to pick ... Shawon Dunston.
Dunston was a high school selection, straight from Brooklyn, who was a five-tool player perhaps best compared with 1998's first round selection Corey Patterson. He was seen as being defensively competent, with the ability to flash a hot bat - he hit .632 his senior year in a tough league - and run wild on the bases. Of course, in the end, he never met his ridiculous potential.
I say his potential was ridiculous only because of one of the guys picked after him that year -- Dwight Gooden. Dunston must've been seen as something special indeed to have leap-frogged over the greatest pitcher of that decade. I realize that we have already fantasized about what could have been, but imagine a Cubs rotation that included Maddux, Moyer, and Gooden. Imagine Dwight Gooden playing outside of New York, away from the temptations that would destroy his career. But instead the Cubs picked a shortstop with a rocket arm who walked about as often as Stephen Hawking.
But don't get me wrong. As a nine-year-old falling in love with the Cubs (and entirely not preoccupied by the crazy notion of "on base percentage") Shawon Dunston was right in my wheelhouse. He was fun. He was flashy. He and Mark Grace had a unique chemistry. He also was the inspiration of the legendary Shawon-0-Meter (for which we have bitten in the creation of the Zambran-0-Meter), which monitored his batting average over the course of the 1989 season.
At one point Dunston was batting as low as .145 in '89 and into June he was batting around .180 before he took off and had a great second half. He'd bat .311 in June, .356 in July, and .294 in both August and September (all while walking 13 times in total). From that point on, he was a favorite of this Cub fan who was justifiably too young to recognize that he was pretty mediocre. Alfonso Soriano is reminicent of Dunston when it comes to his hesitance to adjust for the good of the team. Dunston's legs and arm, coupled with his bad back, suggested to one and all that he would make a better outfielder (which was a dire Cub need at the time) than shortstop. But Shawon insisted, publicly as well as privately, that he was born a shortstop, and would not entertain the thought of playing anywhere else. But he began missing balls because of his inability to bend and lay out, and coupled with his offensive inconsistency, his value with us dwindled.
By the time Shawon left the Cubs (for the first time) it was after the 1995 season and we'd already seen more than our fair share of Cub hero departures. Still, I was pretty devastated. After all, just like Mark Grace, and Ryne Sandberg before him, to me he had always been the Cubs shortstop. From the first game I ever saw in 1987 until the heartbreaking final out in 1995 Shawon Dunston had been firing baseballs over to Mark Grace. So when the Cubs brought him back to rejoin Grace (and an unretired Ryne Sandberg) in 1997, it was a happy time for this Cub fan -- little did I know his return would be greeted with a 14 game losing streak to start the season and a mid-season trade to the Pirates after he'd finally agreed to try playing the outfield.
Dunston would finally finish playing baseball in 2002, as one of Dusty's boys in San Francisco. He left the game after having played parts of 18 seasons in the major leagues and it's hard to call any 18-season career a disappointment. But Dunston left with one of the worst on base percentages ever for anybody who's had more than 4,500 career plate appearances. Still, that probably wouldn't be so bad if he hadn't played as the leadoff man for the Cubs more than 200 times in his career.
Let Coast to Coast Tickets get you to those Chicago Cubs games!