Cubs 101 - Pt. 61 - The Self Destruction of Sammy Sosa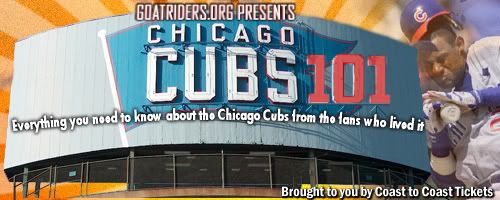 As was mentioned in the Slammin' Sammy Sosa chapter, before the start of the 2003 season Sammy Sosa had just completed an unprecedented five-year assault on National League pitching, the MLB record books, and the bounds of credibility. Once again, let's recap his homer totals from 1998-2002: 66, 63, 50, 64,&49. As American human beings, we tend to take things like this for granted, and thus fully expected our very own chemistry experiment to come back in 2003 and resume launching baseballs like mortars. And yes, I haven't forgotten that we enjoyed a great deal of success that year.
But a funny thing happened on the way to the NL Central crown that year - Slammin' Sammy suddenly became Warning Track Sammy. Was it age? Was it injury? Was it an improved level of pitching quality? Was it the announcement that the player's union had agreed to a round of "anonymous" steroid testing to determine if further measures were necessary for the future?
On April 15th, the normally fast-starter had one homer. He then went on a three game streak - was he "back"? Uh, not exactly - his streak was against the notoriously miserable Cincinnatti staff. After they left town, back in the doldrums he went - 5 homers as of May 1st. He was hitting for a high average, but only 6 homers as of May 10, when he went on the disabled list for back spasms. Upon his return, no homers, so there he sat still at 6 homers on June 3rd, as the Cubs started a three-game series against the then-lousy Tampa Bay Devil Rays.
With men on 2nd and 3rd, and one out in the first inning, Sosa came to the plate, and shattered his bat while grounding weakly to second base, plating a run. Or DID he? Home plate ump Tim McClelland noticed something odd about the shattered remains, and held a piece to his nose like that Cheech-and-Chong skit where they are handling a piece of frozen dogchit.
If it looked like cork, and smelled like cork, and tasted like cork? McClelland tossed Sosa out, pursuant to rule 6.06(d). The runners returned to 2nd and 3rd, and died on the subsequent PeeHands Alou pop fly. The lost run was hardly the issue, though. For all the defenders who overlooked Sosa's bulging veins and profuse sweating, here was evidence that he WOULD cheat to gain an advantage. Oh, Sammy offered up the excuse that he had mistakenly picked up his "batting practice" bat that he used to give the fans a show. Only the feeble, meek and mild bought that particular line, but even if it were true? Why in God's name would you take batting practice with a bat that you wouldn't and couldn't use in an actual game? What kind of preparation techniques are in play here?
His subsequent suspension was in retrospect beneficial, for the second half of the year was far more productive than the first half for him. He hit a homer on the first day back en route to a team-leading 40. Perhaps his back was in need of rehabilitation, or perhaps after the miserable shame of being caught with a corked bat, Sosa redoubled his efforts to gain an advantage, legally or otherwise.
The next and last year of Sosa's tenure with us started more quickly than 2003, but in mid-May, the infamous Sosa Sneeze occurred before a game in San Diego. The big achoo reaggravated the bad back, and the rest of 2004 was spent in a swirling vortex of sitting out games, performing below his lofty standards, and contradictory statements traded between player, coaching staff, and announcers. This one humble sneeze, paired with the worst Cubs meltdown since the summer of '69, served to wipe out all the goodwill of a dozen seasons of statistical excellence.
The term "thrown under the bus" became popular that summer, and Sammy Sosa was absolutely thrown under the bus by his team and its parent company. In mid-September, articles started appearing in the Tribune questioning the need for Sosa, and the tone towards him in the Trib and on WGN TV and Radio was decidedly cool. Finally, video tapes of him leaving the park early on the last game of the season were "leaked" to the press, thus providing the final proof that Sammy Sosa is a Bad Man and Bad Teammate. Jim Hendry traded him after the year to the Orioles for Mike Fontenot and a bukkit-o-warm-spit. Few fans wept.
Certainly he was not the first player traded away at an end of a tenure in which he hit over 500 homers for a team. Hank Aaron and Willie Mays instantly come to mind, yet those two men were revered, and fans walked away from the teams that traded them. Why not Sosa?
He put in two fairly decent years with Baltimore. He was not asked back. He signed a minor-league deal with Texas, hit 20 more homers in 2007. He was not offered anything for 2008. Recently we all braced for the media crapstorm that seemed certain after the so-called "anonymous" PED test of 2003 were leaked, and Sosa was named as one of the positive testers. After all, we heard about Roger Clemens and Miggy Tejada and A-Fraud and the rest for months on end. But, the media simply reported it, and fans everywhere shrugged and said "Doh!" like a universe of Homer Simpsons.
How could a man with his track record of putting up stats be treated with such disrespect in the end? How could one of the two great heroes who "Saved Baseball" in 1998 suffer from such little fan loyalty? How could a man with indisputable Hall Of Fame numbers simply fade away?
I believe it is very simple. Americans are very individualistic, except in certain occassions. Baseball fans want to believe that their heroes are "team players", who push aside the individual desires that we all share, in the name of unity and victory for all. Many of our favorites are no less selfish than Sosa was, but they play the press better and talk a better game. Case in point, one of Sosa's contemporaries, a longtime corner infielder? Sosa, for his part, kept it real. He made little pretense about playing 'to win'. He would say it, from time to time, but you could tell he was simply repeating a rote phrase someone taught him early on. In his actions on the field, during warm-ups, even in the clubhouse, Sosa was only in it for himself, which was ok as long as he was hitting 60 dingers a year. Once he started to decline, like a once-prized stud bull who could no longer answer the bell, fans simply forgot all about him.
Sosa never really engendered the kind of player worship that the true greats enjoyed, and it was all his fault, not ours.

Kurt
For me, it was Sammy's on-the-field actions that led to his destruction, not his off-the-field me-first antics. It's hard not to forget how, during the 2004 season, Sosa's hitting style disintegrated into huge, helpless whiffs. Where before he sat patiently and waited for his pitch to hit, as he was confident that he'd always smash the ball, his swing became more and more wild.
The worst of the worst, after his helmet shattering, cork-finding, shame-bringing antics of '04, came in the last two months of the season. As the Cubs pushed for a playoff spot, with Sosa playing the role of the team's biggest hitter, the offense surely suffered from the vortex of suck that he gave them at the plate. Sosa batted .218 in August, with 33 strikeouts in 28 games, and in September/October he elevated to a craptacular .237 with 24 strikeouts in 25 games. It seemed that during every close game, Sosa would become a strikeout machine with runners on. He never changed his approach, he never softened his swing, and consequently he wasn't even remotely an asset to the team as they struggled and eventually fell out of playoff contention.
And so his relationship ended with the Cubs. Jim Hendry traded him to Baltimore for spare change. Impressively, Sosa almost certainly felt befuddled by the betrayal. He'd had permission to not play that final game. He'd given the fans his heart, soul, and body for more than a decade. But he was also an unmitigated, undeniable douchebag. Thus, more than any other Cub in recent history, Sosa's departure was an unpleasant one. I for one was glad he was gone, even if his replacements have all since been disappointing.
Looking for Cubs tickets in Chicago? Check Coast to Coast's online MLB marketplace!