Cubs 101 - Pt. 49 - McStiff Eats Ass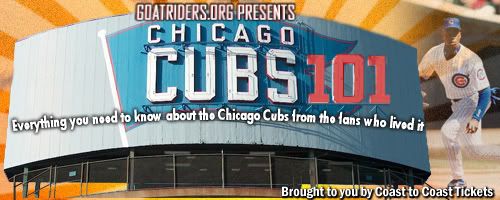 It is possible that someone out here today isn't familiar with the notion of "McStiff Eats Ass". It was coined initially by our good friend Fork Lift, and I look forward to his contribution later on in this chapter. Simply put, it refers to the listless attitude and meager contribution that one Fred McGriff provided for us, loyal die-hard Cub fans, starting with his initial acquisition by GM Andy MacPhail prior to the end of the 2001 season. First, though, we must present the surprising success of the 2001 Cubs as background for the ass eating that in all likelihood was our eventual demise that year.
The 1999 and 2000 seasons were best known for the miserable pitching that more than cancelled out a fairly strong (and most likely steroid-fueled) offensive display by Sammy Sosa and his supporting cast. The media, which loves nothing more than recycling themes, basically presented the entire Cubs roster as the supporting cast for the defending NL homer champ Sosa, a lot like they loved to refer to Michael Jordan's teammates as his 'supporting cast' in the previous decade. The Cubs could and would score runs in 2001, but after the staff ERA's of well over 5 the previous two years, which led to our flirting with the 100-loss mark, Cub fan hopes were typical. The more optimistic called for a pennant, as they did every year. The more pessimistic just wanted to win more than 70.
2001 proved to be the first full year for Kerry Wood since his 1999 elbow surgery. Jon Lieber and Kevin Tapani also came back, along with young, wacky Julian Tavarez and newly acquired Jason Bere, who was a promising prospect with the Red Sox until injuries slowed him. This was our unspectacular rotation, which unfortunately was far and away the STRENGTH of our pitching staff. The Cubs bullpen the past two years was beyond abysmal, actually I grasp for words to describe its utter lack of quality.
Baseball, as does life, occassionally provides us with surprises, and when the Chicago Cubs of the National Baseball League rolled out an unstoppable 7th-8th-9th inning relief tandem the first two-thirds of 2001, nobody could have been more surprised than I. Surprising because it was built with spare parts that nobody wanted; the lame, infirtm, has-beens and never-wasses. Our crack 7th inning guy was Kyle #44, Cap'n Tightpants, Kyle "Rottweiler" Farnsworth, a man who before this time never even hinted at an ability to throw balls in strike zones. Our 8th inning anchor was Jeff Fassero, a former starting pitcher of modest ability who truly personnified the label "journeyman". Our closer was Tom Gordon, of whom Stephen King wrote about, because he was formerly the star closer for the Red Sox, before arm problems laid him low.
But even more improbable than Gordon, Fassero, and Cap'n Tightpants was our long reliever, one Todd Van Poppel, a name and a man synonymous with "first round bust" and "wasted potential". Before landing here that year in a last-ditch gesture of non-roster futility, he managed to piss away chances in most of the cities in the AL. In 2001, with us, he posted a 4-1 record with a 2.52 ERA in 59 games pitched. This sounds like a decent season, true. But for a man who we invited to Spring Training the year before as one of about three dozen "non-rosters" in a desperate act to find ANYONE who could stand on a pitcher's mound without shatting himself, this was ROI above and beyond anyone's dreams.
Bolstered by what was to be Sammy Sosa's greatest season (64/160/.328 and it is just insane to actually type that), the 2001 Cubs pitching staff started hot, got us in first place in mid-April, hit a lull in mid-May against NL powerhouses Houston and Arizona (this was the year Bob Brenly took them all the way), and got back on track until mid-August. Lieber won 20 games that year, including a 78-pitch complete game effort against Cincinnatti that was every bit as impressive as any 20K game Wood ever pitched. Wood himself bounced back well with a 12-6 record in 28 starts. Bere and Tavarez broke even for the year, gobbling up a lot of innings. Only Tapani, at the end of his career, suffered some bad luck and lost more than he won in 2001.
It is a real boon for starting pitchers when they can rely on their bullpen. The pressure is off of them to complete games - they knew in 2001 that if they can carry the game into the seventh inning, that Farnsworth, Fassero, and Gordon more than likely would take it home. And so it was that the team that had lost more than 90 games in consecutive years was in a wild dogfight for the NL Central lead in mid-2001, and pitching was carrying the day. For outside of Sosa's mammoth output, the Cub lineup was miserable. For example, the CF platoon was Gary Matthews (junior) and Michael Tucker, two names that put the "meh" in "mehdiocre". Who was Ron Santo's heir apparent at third base for 2001? The pride of Lockport himself, Ron Coomer. Crappy Sox fan. Mark Grace was gone now; our next best offensive threat was Matt Stairs. (shaking head miserably) But I have saved the very best for last...
Ladies, gentlemen? Your starting catcher for the 2001 Cubs...
(duck under a table now, for your own safety)
...the sweaty drug abuser himself, the man, the myth, the slacker that rode on Daddy's coattails his whole stinkin' useless life...T-O-D-D Hundley!!
When we discuss Eating Ass in terms of Big League Baseball, specifically the New Millenium Cubs, the conversation starts here. A certain product of the Steroid age, he was several years removed from his outlier 41-homer season with the Mets when he was signed to a gigantic salary by Andy MacPhail the previous offseason. All Turd did with us is start slow, then slump from there. Excuses were made, uniform numbers were changed, allowances were granted, and Hundley still gave us only 31 RBI and a .187 batting average for the 6 million American dollars he earned that year. It was not a HARD .187, either. He was immobile behind the plate, he let 4 out of 5 basestealers reach base. Simply one of the worst performances ever turned in by a major league player.
Despite all that, it was thought that merely adding one more big stick in the lineup could take pressure off of Sosa, and so it was with great pleasure that MacPhail announced on July 16th that the Cubs had agreed, in principle, with the last-place dead-end Tampa Bay Devil Rays to trade for perpetual All-Star first sacker Fred (Crime Dog) McGriff, who would hit over 30 homers that year, and would almost certainly welcome a move from a last-place basement dweller to an exciting club in the thick of a pennant chase?
Except McStiff, as he was immediately christened on the blogs and the talk shows, invoked his No-Trade clause. No, the erstwhile spokesman for the Tom Emanski video series on Baseball and Life and connesuer of fine foam caps decided he wanted to stay close to his family and his mamma. Now, immediately, what came to mind to me was that, obviously, McStiff had lost whatever competitive edge he may have possessed at one time. He was more than happy drawing a paycheck and bopping worthless homers in a sterile lifeless dome. He didn't WANT to come win a title for the Best Fans in Sports, fine, then. Screw Him!! There was still two weeks left before the trading deadline...go find another bat to help Sosa!
MacPhail would NOT be deterred, however. And, at the last moment before the deadline, McStiff reluctantly waived his No-Trade rights, and dragged his tired, sorry ass up here to go through the motions, for us. Yes, he did hit 12 homers for us, but most of those were in the last two weeks of the season, by which time the magic had run out, the bullpen had imploded on itself, Fassero wore out, Kyle #44 walked guys in bunches, and the team sank into third place, where it would finish the season, despite Lieber's 20 and despite Sosa's 160 ribbies.
It seemed to me that the players on that 2001 team knew they were missing something, and they were looking for a spark to put them over the hump. What they got instead was a reluctant participant, who did not infuse the team with new energy, and ended up writing himself a sour final chapter in what was most likely a clean, productive career as a power source. He didn't want to be here, and to all of us, that meant McStiff eats ass!
And so, another year with career years from at least two prominent Cubs was wasted. To me, I remember that year as a prime example of the risk you take when you don't exploit every possible opportunity you have to be great.
Forklift: I have been a Cub fan since 1967. In that time there has never been anyone - ANYONE - who has disgraced a Cubs' uniform more (in my eyes) than McStiff.
First, he showed his lack of fortitude in not wanting to leave a crap team for a contender. Then once he finally acquiesced, and graced us with his presence, he became a statue at first base, dropping everything but sweat.
The following year, he once again put the "dog" in "Crime Dog". The defining moment of his brief, but not brief enough, Cub tenure was after Don Baylor got fired. Bruce Kimm came in as interim manager, and he said the Cubs "owed" McStiff the opportunity to hit 30 home runs, so that way he could have 30 home run seasons with 5 different teams.
Think about that for a second. He hit 30 home runs with 5 different teams. Which means a lefty bat with power that moved around with alarming regularity. Must be a real character guy. With the exception of Tampa signing him in hopes of his hitting his 500th home run in a Rays uniform (and maybe getting some gate in the process), no team that ever had him took him back, in spite of his many travels.
So it's "owed" to a human yeast infection who winds up spending less than 2 seasons with the Cubs, thus denying September call-up Hee Seop Choi an opportunity to see some additional major league pitching. All for some idiotic record that shouldn't even be noted inthe first place.
McStiff eats ass.
Sponsored by CTC Tickets, your place for Chicago Cubs games and college baseball tickets!