Cubs 101 - Pt. 54 - The Abbreviated Mark Prior Era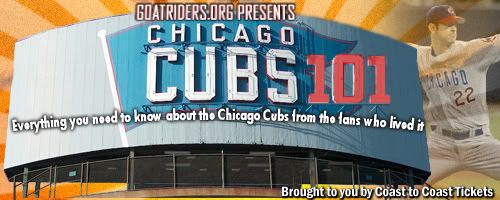 If, as an organization the Chicago Cubs had a solitary example of failure, it would be Mark Prior. His entire career is a perfect metaphor for the path the Chicago Cubs have taken as an organization. It began strongly, with immense promise and hope, it experienced an astronmical rise to the height of success, and then abruptly it fell rapidly leaving fans everywhere wallowing in our own despair. And it almost never happened.
The Chicago Cubs had the second pick of the 2001 draft the year they selected Prior. That tied them for the worst record in baseball, with the Phillies. Had the Cubs not lost 3 of their final 4, then Prior would have been pitching for Philadelphia in the years to follow. But even with the Cubs securing the 2nd pick through their attrocious performance, there was still some debate as to who they should pick. After all, the Cubs had by that point been about three decades removed from having a reliable third baseman, and a young player named Mark Teixeira was available. Still, Prior had by then earned a reputation as being the best college pitcher ever, and it was a no-brainer that the Cubs would select him.
The question shortly became one of not if he'd pitch in the majors in 2002, but when. The Cubs decided to put him on the fast track and Prior only made 9 total minor league starts in his first season -- going 5-2 with an ERA of 2.29 split between West Tennnessee and Iowa -- and he made his debut against the Pirates on May 22nd. Although it was really still as if Prior was pitching against a minor league team, we were still impressed with his initial success -- he stuck out 10 in 6 innings. Unfortunately, though, the 2002 Cubs were not good. And even with Prior on the mound pitching successfully, the '02 Cubs lost 95 games and Prior only managed a 6-6 record in 19 starts. He was shut down for the year on August 31st after hurting his hamstring, which was probably a good thing since Don Baylor and Bruce Kimm were both keen on pitching his arm off. Prior would average -- average! -- 106 pitches per game as a 21-year-old rookie, including a 135-pitch-outing on August 4th.
Still, we were told that Prior had perfect mechanics and he could handle the work-load. Then in 2003 he ascended to ace-like status, winning 4 games in April alone. Still, Prior would miss the second half of July due to a collision with Marcus Giles -- a collision that would later be blamed as being responsible for pretty much everything. But at the time, Prior returned from his short break in top form and he delievered the most dominating stretch of pitching I have ever seen. From August 5th until his final game on September 27th, Prior went 10-1 with an ERA of 1.52 in 82.2 innings. He tossed 2 complete games and for the entire stretch he looked as if he was toying with his opponents. In the playoffs he would out-duel Greg Maddux and carry a lead into the 8th inning of Game 6 of the NLCS against the Marlins. But there was a problem.
Despite it all -- regardless of his 18 wins, and his second-half dominance, and the way he was holding his boot to the throat of the Marlins -- Mark Prior was a 22-year-old kid. He was immensely talented, he was undeniably talented, but he was "just a kid" nevertheless and when the foul ball distracted him, and his defense failed him, he -- and the Cubs -- fell apart. Mark Prior was never the same after that.
In 2004, we though the'd be fine. But he started the season with a sore Achilles and wouldn't pitch until June 4th. That was when the previously durable Prior went through a stretch of early departures. In '04 he pitched 5 games in which he didn't even make it through the 5th inning, and there were 5 more where he only lasted 5 innings exactly -- and he only made 21 starts in total that season. He'd finish '04 with a 6-4 record and a 4.02 ERA.
The following season, as a 24-year-old, Prior had his second-best (and his last half-decent) season with the Cubs. He'd make 27 starts, toss 166.2 innings and strike out 188 while winning 11 and losing 7. He'd miss 1 month (the bulk of June) after taking a line drive off his throwing elbow. The following year he made only 9 starts, go 1-6, and post a 7.21 ERA. And that was the end of Mark Prior's career, although he remained a Cub during the '07 season before departing for San Diego.
So, ultimately, the best pitcher in college history gave the Cubs 106 career starts, 42 wins, and 1 taste of what it might've been like had he been handled differently. By the end Cub fans turned on him in full -- in a way they didn't even turn on Kerry Wood, who experienced similar arm problems -- basically calling him out for not being able to pitch with pain.
Prior, meanwhile, had exploratory surgery (with reported structual damage, but not of a kind typical to pitchers), and he'd have more surgery once leaving the Cubs in 2008 when he suffered a shoulder tear during rehab with the Padres.
Mark Teixeira is still playing, having now hit 234 homeruns in his 7 years of play. But he wouldn't have been the answer to third base anyway -- he's only started there 11 times in his career as of this writing.
As for Mark Prior, he was released on August 1st this season (2009) by the Padres who have finally given up on him. I imagine he's done pitching. He may not be the biggest bust ever, but he has to be in the Top Five -- and it's worse in some ways because of how unbelievably good he was at the beginning. It is, however, very typically Cub that even the memories of the fun years (like 2003) are tainted by the knowledge that things would never get better, and players like Prior would never deliver on their promise.
Rob:
Kurt gave you the 'what' when it came to Prior. The 'why', I believe, is a simple premise to grasp.
When Mark Prior, the man with the Golden Calves, was drafted by the Cubs second in the 2001 Free Agent Draft, the so-called "Greatest College Pitcher Ever", there was no way this could end badly for us. Finally, after decades of drafting bust after bust after miserable bust, this was the no brainer to end all, the rock-solid lead pipe lock of all locks, and the most amazing stroke of luck to ever fall into our laps.
Unlike Kerry Wood, he possessed a "perfect" delivery. Very few moving parts, perfect balance on those enormous lower leg muscles. Also, unlike Wood, Prior was managed carefully throughout his career. He never pitched 180 pitches in a high school game. At an early age, he was mentored by former big league pitcher, coach, and renowned kinseologist Dr. Tom House. From his first professional appearence, he dominated every level he appeared in, on through his full big league season in 2003. How could he possibly fail?
But fail, he did. In my eyes, the degradation and ultimate failure of Mark Prior is the single most egregious example of "Cubness" this franchise has ever experienced. Lou Brock, Rafael Palmiero, Joe Carter, Greg Maddux, Ken Hubbs, the list goes on and on, but the story of Prior beats all.
So, what happened? How did this can't miss physical marvel go from 18-6 to out of baseball in six years? How did the G.O.A.T. become the Towelmaster?
I know what I believe, but before I divulge, let's look at a minute at Johnnie B. "Dusty" Baker, Manager of the Chicago Cubs from 2003 though 2006. It is the overriding popular notion that Dusty killed Mark Prior (and Kerry Wood, too). Certainly, Baker didn't do Prior any favors. Baker's track record as a man who wrings young pitchers out does seem to have merit. He had Jason Schmidt and Ryan Jensen in his last year there, 2002, and both men did come up lame soon afterward. But he also had Russ Ortiz, Shawn Estes, Kirk Reuter and Livan Hernandez, and actually rode those four harder than he ever rode Schmidt and Jensen.
Now, with the Reds, Edison Volquez has gone down, and Aaron Harang has had a miserable couple of years. But Johnny Cueto is still pitching, and Bronson Arroyo is no worse than he ever was.
With the Cubs, yes, both Wood and Prior turned up lame on his watch, and Matt Clement's fortunes took a dive after 2004. But, as we've discussed before, Wood first came up lame in August 1998, long before Dusty set his shingle out here. Furthermore, Carlos Zambrano had some fine years playing for Baker, and Ryan Dempster actually built himself up from square one during the last part of Baker's tenure here. Yes, Baker infamously let Prior go over 130 pitches a few times in games that ultimately didn't matter. The big sin there is that you and I knew those games weren't worth it, but Baker didn't. But to hear some bloggers go on about it, you'd think Baker sat there whittlin' sticks game after game while Prior chucked balls until his arm hung limp.
He threw 135 pitches in a 2002 game, his rookie year. He threw 131, 131 and 132 in three games in September, 2003, when we were actually in a pennant race. He threw 131 pitches in a 2005 game. If those five games were responsible for Mark Prior's demise, then sure, take Dusty Baker around the woodshed and whale on him.
I don't know all there is to know about the fascinating field of Pitcher Abuse Points. I do think that, not counting all the towels he threw on the sidelines during his frequent DL stints, that Mark Prior has thrown far fewer pitches in his career than your typical 'established' MLB starting pitcher. He always got his four days rest, he was not forced to adhere to some strange warmup ritual, and it was somewhat bad luck for him that he pitched on teams with lousy bullpens, thus his manager was loath to take him out early, instead opting to squeeze an extra inning out of him whenever possible.
In fact, I am willing to stand here and credit Dusty Baker, rather than bash him, for the successes that Prior did have from 2002-2005, because in hindsight, Baker's whip got the most out of a guy that, if left to his own devices, would probably always opt for the easy way out.
For, plainly speaking, and I believe we have all seen the circumstantial evidence that proves this, Mark Prior is a wuss.
The season he was drafted, he and his agent, Scott (the Anti-Christ) Boras orchestrated a holdout, presumably for money. Prior did sign the largest draftee contract at the time, but during the process, it was made clear by his camp that even if he were to have signed early, he would not have pitched Rookie or Short-season A in 2001, because "his arm was too tired from pitching in the College World Series". Excuse me? Dozens of pitchers who participate in the CWS are drafted annually, and very few of them opt out of making their professional debuts in the same calendar year.
In 2003, in the middle of a torrid race, he collided on the base paths with Marcus Giles, a man probably 70% the size of Prior. He tumbled on the ground like a damn hall monitor, missed several games, and later in his so-called career traced all of his troubles back to this incident. He claimed he experienced shoulder instability as a result - however, he declined to undergo surgery to repair any instabilities until after the 2007 season, after his first year as the property of the Padres.
Starting in 2004, and every year afterwards, each Spring Training became another chapter in the long-running soap opera The Mark Prior watch. See Mark go down with achilles discomfort, abdominal strains, with flu, with shoulder discomfort, with elbow discomfort. Marvel as Mark throws simulated game after game, thrill as his days on the DL pile up. Wonder as the team doctors and other specialists brought in specially for Prior examine him time after time, and find no structural damage.
There could only be two explanations - either Prior suffered from a physical malady that modern medicine hasn't sussed out yet, or Prior simply couldn't perform at less than 100% physical fitness. There are clues that suggest the latter. He would fall apart during games when the rest of his team would fail him - most spectacularly in Game 6 in 2003, but it happened several other times in the next few years. He did not seem to possess a competitive nature, and/or real baseball instincts. He didn't seem to grasp the ebb and flow of baseball. He sure didn't understand the difference between "pain" and "injury". All big league pitchers, starters especially, will tell you that they feel pain throughout most of their careers, that throwing a baseball nearly 100 mph and making it move 1 to 2 feet is an unnatural act, and is going to cause a measure of pain. Guys like Rick Sutcliffe would take forever to pitch a game, due to the pauses he had to take to wait for pain to subside before attempting another toss.
Prior never seemed to understand this. Nobody but him could tell you what he himself felt during his career, but Cub fans expected him to shove his feelings aside and 'gut it out' for his teammates, his salary, and most of all, for us. But time and time again, he showed that when things weren't perfect, when he was feeling pain, when his team wasn't catching everything hit at him, and when the conditions weren't ideal, that he couldn't deal with it.
Thus, the team with the perfect climate, the biggest pitcher's park, and the least amount of stress took a flier on him. But after 2 1/2 years of constant rehabbing and setbacks, even the Padres cut him loose. Certainly after his $10.5 million initial signing, the man never has to work in his life. Hopefully, for his sake, he's holed up somewhere in a hyperbaric chamber, where the worries of the world can't possibly get to him.
Coast to Coast Tickets has a large selection of tickets to Chicago Cubs games.