Cubs 101 - Pt 28 - Amazing Grace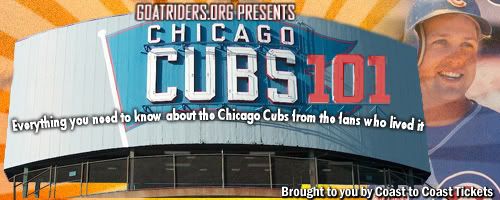 It is perhaps a sad state of affairs when the team most people my generation associate with the Cubs is either a greedy steroid freak or a light hitting first baseman who never hit more than 17 homeruns in a season and never drove in 100 runs while batting in the third spot of the lineup for most of his career. Still, if I had to associate my fandom with one Cub hitter from the 90's, I could do a lot worse than putting it on Mark Grace.
Grace was a hitter whose name was onomotopoetic -- he was a blonde-haired, blue-eyed smooth swinger who was easy on the ladies' eyes. He started with the Cubs in 1988, a 24th round pick of the '85 draft -- and a replacement for the fallen Leon Durham, whose drug addictions surpassed his awesome talent -- and he then proceeded to bat .296 or better for the next 12 years ... except for 1991 when he was in the midst of a divorce.
Ah, and here we find the one chink in Gracie's armor. He did not invent the term "slumpbuster", but thanks to Jose Canseco and "Juiced", Grace perfected it. Jose went out of his way to mention that Grace was Not Juiced, but perversely brought up one of Grace's supposed game-related habits to somehow justify his own aberrant behavior. Seems that whenever Mark would be in the throes of one of his infrequent batting slumps, he would "go out and find a fat chick and just lay the wood to her, then go out the next day and go four-for-four".
It is easy to once again write Canseco off as an opportunistic clown, but once again, there's a grain of truth to his ramblings. His marriage to his first wife, whom he met while he was a Peoria Chief, and whom I personally knew...well, Mark and Michelle were the Jon and Kate of the 90's. Fame got to the both of them, eventually. Mark knew the ladies, absolutely, although the union only unravelled when his wife started becoming 'enamored' with a few of the actors and athletes they would meet. So Gracie dined on his share of road beef. When Jim Riggleman was managing Gracie, no nurse, travel agent or dental hygenist in the 312 or 773 was immune to their charms.
All of that doesn't make him any more succeptible to criticism than 95% of big leaguers. He was amusing, he was a leader, and he was as loyal to the team as fans were to him. He was also the key third to a memorable infield that also consisted of Hall of Famer Ryne Sandberg and glove-and-gun shortstop Shawon Dunston. Dunston-to-Sandberg-to-Grace was perhaps never quite as memorable as Tinker-to-Evers-toChance, but it wasn't through a lack of effort on their part.
I can remember many occassions in which Shawon Dunston would recklessly field a grounder only to wildly gun it over to an outstretched Mark Grace who would manage to snag it for the out. Grace would often trot back to the dugout while shaking his glove hand, sore from the hard throws. All told Grace would win four gold gloves in the 90's, while also leading all of baseball that decade in hits and doubles. He was the kind of old school hitter who almost never wore batting gloves and would choke up on a 2-strike count with the hopes of sending a bloop single into the shallow outfield. In other words, he played the game the right way.
Like a lot of Cubs, though, Gracie is probably best remembered for how he exited after the 2000 season, but we'll save that for another time as our rough-shod timeline still has us in the early 90's. But I will say this about Grace before closing - he's about one of half a dozen guys who should have been career Cubs. He's the kind of ballplayer it's easy to love -- he played the game right, every single day, sometimes hurt, sometimes hung-over, but aways with everything he had. For a long time we'd hoped he would collect enough hits to enter the Hall of Fame but he came up about 500 short of the necessary number. Still, he was one of the great Cub first basemen even if he never led the league in homers or topped 100 RBI.
Sponsored by Coast to Coast Tickets, your Chicago Cubs tickets source!