Cubs 101 - Pt 13 - Leo the Lip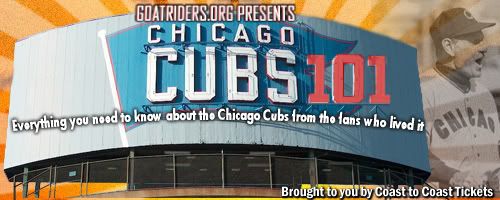 He was the first "baseball man" to manage the Cubs in arguably 40 years. He'd been managing for 25 years when the Cubs brought him on in 1966 at the tail end of the College of Coaches fiasco. When he signed on, he brought with him more than 1,300 career wins, 3 NL pennants, 1 World Series win, and the attitude needed to turn the Cubs around. Not that it happened over night.
Much as we learned when watching the Cubs play in 2007, it takes time to purge bad baseball. Despite the numerous talented players on the 1966 Cubs overcoming bad habits and a long, loooong track record of losing was not an immediate thing. Despite having an aging Banks along with a young Santo, Williams, Holtzman, Hands, and Kessinger it also took some wrangling on Durocher's part to improve the squad and build them toward success in 1967 and beyond.
Durocher was a baseball man who knew how to make savvy personnel decisions. This was a new and unusual thing for the Cub fan of the 1960's. In previous years and decades Cub fans had seen the aforementioned College of Coaches fiasco, they'd witnessed P.K. Wrigley drop $20,000 a year on a "hex man" who he'd seen work wonders at a pro wrestling event, and they'd gotten used to the mediocrity that the Cubs are still known for to this day. But Durocher came to Chicago with a strange and wondrous plan - he would build the team with actually talented players! Wow!
The ink probably was still wet on Leo's contract when the Cubs netted their first really good trade in about half a decade. They acquired Randy Hundley and Bill Hands in a deal with the Giants. In April of 1966 Leo would land his other important piece - Ferguson Jenkins, in a trade with the Phillies. Add them to a puzzle of already talented players and you may understand why the Cubs of the late 1960's were so much better than anything the team had seen since the 1930's.
The only problem was that Durocher was already old when he came to Chicago - he was 60 when he signed on. He was in his twilight years and his passion for the game seemed to flow and ebb. In 1969 alone he actually left the team at points to celebrate his fourth bachelor party and he later blew off two games in order to visit his new wife's children at the legendary Camp Ojibwa in Wisconsin. Not exactly the kinds of things that endear a manager to a team or their fans, but that was Durocher and it was also why his team would eventually turn on him.
By the '69 season, Leo had been managing the Cubs for 3 years and they'd had back-to-back winning seasons. Then, as the '69 season unfolded, Durocher began to get on his team's nerves with his antics. Read the previous paragraph again -- he left on two occasions in a pennant race. Then add in the fact that he started his regulars without giving them rest and burned through his rotation without care or concern and you may understand why the Cubs flamed out in September and why the team turned on him in later seasons.
By the time he lost his gig with the Cubs in 1972 the team was in full revolt. He made the same mistake that others have made in recent years -- he got into a pissing match with Ron Santo. Note to anybody reading this: never get into a pissing match with Ron Santo. It's not that Ronnie will rip you a new one, but the millions of Cub fans who identify with him as Cub Fan #1 will spring to his defense, much as Santo's teammates did in 1972 when Durocher tried to paint Ron as being selfish. Leo tried to smear Santo's name, his teammates sprang to his defense, the worst Anti-Leo nay-sayers were dealt, and still Durocher was fired after 90 games.
Years later, Durocher owed up to his biggest mistakes. He apologized to the team for the way he managed them in 1969 and he took the blame for the squad's burn-out. And maybe it's also very much so Cub to play baseball for more than two decades without any direction, only to finally turn to a hardened, winning, baseball-man of a manager who turns out to be old, cranky, selfish, and increasingly senile.
Yep. That's the Cubs for you. They were lost before Leo and they became lost again because of him. Still, he delivered the team some of their most talented players and 5 years of winning ball. We'd have to go back to the 1930's to find a Cubs organization that won more than they lost for that long a span of time. Not to mention that since Leo left Cub fans have considered it a special occasion when the team wins more than they lose in even consecutive seasons. But the point of baseball isn't to win more than you lose, it's to win the World Series. We're still waiting.
are on sale now through Coast to Coast Tickets!