Cubs 101 - Pt. 62 - the Boom and Bust of "K"orey Patterson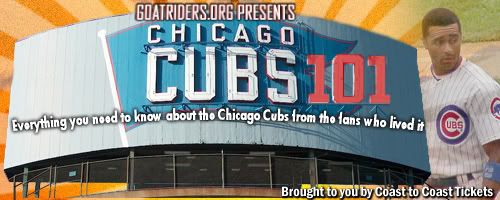 Back in 1998, in the midst of a surprisingly feel-good season, the Chicago Cubs found themselves with the 3rd pick of the draft. Still available at the time of the Cubs pick were players like J.D. Drew -- who had refused to sign with Philly the previous year -- Carlos Pena, Brad Lidge, and C.C. Sabathia.
Patterson was an athletic center fielder whose scouting report had fans asking each other if he'd be the next Willie Mays, or perhaps only the next Ken Griffey Jr. Some people thought we were still dreaming too big, though, and pegged him instead as the next Kirby Puckett.
What he was, though, was a free-swinging, somewhat speedy, power-hitting player who lacked discipline and who, take your pick, either let all or none of his coaches get in his head.
But he started out full of promise, batting .320 in his first minor league season in 1999. He hit 35 doubles, 17 triples, 20 homeruns, and stole 33 bases, all while drawing a meager 25 walks not that we were too worried about it. In 2000, Corey's batting average dropped by nearly 60 points in Double A, but he still earned an 11-game promotion to the majors where he batted .167 and struck out 14 times.
In Triple A in 2001 he'd do even worse, batting .253 with only 29 walks, but that still somehow justified 59 games in the majors where he batted .221 with 6 walks and 33 strikeouts. By the way -- 18 of his 59 games would be spent with him hitting 4th or better in the lineup.
Finally, in 2002, Corey landed in the majors for good. Apparently he'd proven himself. Looking back, though, it seemed more that he was green-lit throughout the minor leagues despite never really doing anything to earn it. But in '02, under the tutelage of Don Baylor, Corey would start 153 games -- 100 of them batting 1st or 2nd -- where he'd bat .253 with a .284 OBP. he only drew 19 walks that year, and he struck out 142 times. It's probably when he earned the nickname "Kory" from some Cub fans out there. He probably never realized he was doing badly, though.
See, that was the problem. Corey was athletic, he had a ton of promise, but he never learned anything. Baylor tried to teach him how to hit, Baylor's other coaches tried to teach him how to hit, but he didn't learn from them. But when Dusty stepped in, in 2003, Corey looked as if he finally figured everything out.
By July of that season, Corey was batting .298 (still with only a .329 OBP), he'd hit 17 doubles, 7 triples, and 13 homeruns while stealing 16 bases. He was making a bid for an All Star appearance. Then, he hurt his knee running to first base and was lost for the season. It was no big loss, though, as the Cubs replaced him with the sparkplug Kenny Lofton.
But in 2004, Patterson returned and, despite his 24 homeruns, 32 steals, and career "high" 45 walks, lost a lot of fans. It wasn't by anything he said, rather it was through what he did -- he made the same ridiculous mistakes as always. He didn't learn from his coaches. He batted nearly .20 points lower in the second half than he did in the first, and by the time September rolled around even I knew how to strike him out.
Basically the trick was to set him up with 2 strikes, and to then throw a pitch high and outside. I can't tell you how many times I saw the catcher practically stand up on the far corner of home plate and said "aw crap" as the pitcher smoked a heater past the helpless swing of Corey Patterson's bat. In September of that season he batted .190 with 45 strikeouts and that pretty much marked the ending of his career in Chicago.
In 2005, known also as the Death Rattle, Patterson was a .215 hitter who saw himself demoted to the minors at various points in the season as they tried to save his swing. Accusations came out of too many people giving him conflicting advice -- a ridiculous notion since, even if he talked with Dusty and some of Dusty's coaches you would've thought that they may have outlined and agreed upon a single strategy to help him -- although Corey said at various points that nobody told him anything.
At one point late in that season after being recalled, an embittered Patterson stranded base-runners in Colorado and was quoted as saying "it's just a game," something his teammates took to mean that baseball didn't matter to him. While Corey would insist he was misquoted, his time in Chicago ended and he was traded in January of '06 to the Orioles. So much for becoming the next Willie Mays, or Ken Griffey Jr., or even Kirby Puckett.
Humorously enough, though, Corey's career wasn't over at that point. Although he tanked in Baltimore just as he'd tanked in Chicago, he found himself in 2008 as the starting center fielder for Dusty Baker's Reds. In 135 games that year, he'd bat .205 with 16 walks. That wouldn't stop Dusty from batting him leadoff or second in the lineup in 46 games, where he was a .178 hitter, but it would pretty much be the final year of his disastrous career. He's spent parts of 10 major league seasons as an active big leaguer, and for the most part they have all sucked. It's perhaps fitting for that to have happened to a Cubs hope. It wasn't the first time, nor would it be the last.
Sponsored by MLB ticket broker Coast to Coast Tickets.