Cubs 101 - Pt 43 - Kid K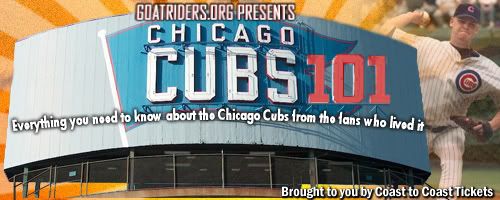 Rob
Unfortunately, I missed perhaps the best game ever pitched by anyone on May 6, 1998. It was an otherwise non-descript day, a mid-week day game against the Astros. Sure, Kerry Wood, the 20-year-old uber-prospect had made his debut with the Cubs a few weeks prior, with modest success up to this point. There was no real reason for a man with a job to go out of his way to follow the action that particular day. I did not even do my usual and customary frequent refreshing of a gamecast. All I know is, that when I got in my car to go home, and turned on the sports radio station, the announcers were speaking in the hushed tones of those who had just witnessed the Second Coming.
When I say "best game ever", this isn't just the Cub fan talking. The saberweens compile pitched games and give them a "game score", and even when compared to Roger Clemens' 20-K games, even no-hitters and perfect games, Kid K's game scores the highest of all time! I'm a little skeptical, but hey, numbers never lie, do they? Huh? Huh....ahem, well, enough from me, let's hear from someone who actually watched the game. Take it away...
Kurt
Kerry Wood's rookie card was the first -- and last -- baseball card I collected as an adult. I've still got it somewhere, a picture of a tall, chubby, clean-shaven kid who had no idea about what the future held for him in just a few short months.
Wood was drafted by the Cubs in 1995, the first pick of the MacPhail era, and he was heralded as the future of the organization thanks in part to a blazing fastball and also thanks in part to the fact that he was from Texas -- home of Nolan Ryan, possessor of another legendary fastball.
Wood was a strikeout pitcher. Always had been. He also had perhaps more thunder in his arm than his body was capable of handling -- the spectre of injury always loomed over him, from the day the Cubs drafted him. After all, Wood started both games of a double header for his high school baseball team that day, and if memory serves me, he tossed more than 180 pitches.
In his first full minor league season, Wood made 22 starts, posting a 10-2 record, a 2.91 ERA, and striking out 136 batters in 114.1 innings of work. The strikeout totals would never dip, even as his success became less astronomical, and in fact he would strike out a higher number of batters per 9 innings in his first trip to Iowa in 1997 than he'd struck out in his entire career up to that point.
Wood's first extended Spring Training took place in 1998, when the 20-year-old would cause one manager to famously remark that the Cubs would win the World Series in 1998. Granted, the reason he'd said that was because Wood started the year in Iowa and he was as incredulous as the rest of us about the Cubs having 5 starting pitchers who were better.
Still, he'd only pitch in one game that year in Triple A - a 5 inning, 11k affair -- after which point he'd be promoted to the majors. His first game was against the Expos, and like a lot of Cub fans I watched the game intently. How would the kid do? Predictably, he got roughed up a little. He surrendered 4 earned runs in just 4.2 innings of work, strking out 7, walking 3. I can still remember watching his nasty slurve ball, the combination slider-curve that would destroy his elbow, bounce several feet in front of the plate. He hit F.P. Santangelo with one of those bouncing slurves. We knew then that he had tremendous stuff, but he'd obviously not harnessed it. What we didn't know was just how quickly he'd figure it all out.
On May 6th, I'd gotten out of school at around 3:20, walked home, turned on the television, and found myself watching the early innings of a masterpiece. What people may not remember about that game is that it was nearly rained out -- it lightly drizzled even as they played, and the following day's game would be postponed, allowing WGN to replay it. It being the Kerry Wood 20 strikeout game. Yes, much as the '84 Cubs had the Ryne Sandberg Game, and the '89 Cubs had the comeback-against-Houston game, the '98 team was perhaps best defined by the day in which a 20-year-old rookie stepped up and came within one bobbled infield hit* of tossing a 20-strikeout no-hitter.
(*damn you Kevin Orie! It should've been ruled an error!)
After that, Kerry Wood became a household name. He turned down guest appearances on the Tonight Show (which wouldn't be done by David Wells, who'd toss a no-hitter in '98), he was still shy, pudgy, and his clean-shaven face was still littered with acne. And yet, with that one defining game, Kerry Wood became the ace of the Cubs team and propelled them toward the playoffs.
We all know how that turned out.
By the time August rolled around, the slurve had taken it's toll on Wood's arm. The future Rookie of the Year, our own Dwight Gooden minus the coke addiction, missed the month of September and returned just in time for the third and final game of the NLDS. I was at that game -- Cub fans were jubilent, they were thrilled, and nobody thought that the team might've been sacrificing the future health of their young ace for the momentary glory of a lost cause -- because that's what it was. The playoffs were done for the Cubs long before Game Three; they may have been doomed to lose since before the series began. And Wood, who we'd later learn pitched his 5 innings that night on fastballs alone, would blow out his UCL the following Spring and spend a year recovering from Chip Caray's infamous Tommy John Disease.
Wood returned in the 2000 season, and although he never elevated himself into the ace status we thrust upon him, he remains a compelling story in Cubs lore. He was the star that never rose, perhaps the best pitcher to never win even 15 games in a season, and his career has been littered with injuries and health problems.
Maybe in a way, that makes him perfect for the Cubs, a team of near-misses and heartbreaks -- just like Kerry Wood's career.
Sponsored by ticket broker Coast to Coast Tickets, with seats for Cubs games and more!