Cubs 101 - Pt. 68 - The Brief Ressurection of Kerry Wood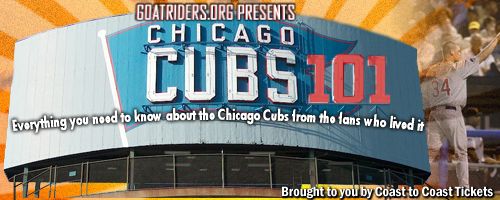 Some of the more practical Cub fans would be outraged by Kerry Wood garnering another piece of the Cubs 101 story. And yet, the modern-day Cub most-loved while doing the least deserves a final chapter.
By the time Lou Piniella arrived in Chicago, Kerry Wood's star had mostly set. In 2006, the 29-year-old Wood had managed 4 starts while dealing with rotator cuff issues, resulting in the Cubs exercising their option and buying out the final year of his contract.
But Wood and Hendry were baseball soul-mates. Kerry was one of Jim's first-scouted and first-signed prospects, and with a Chicagoan wife Wood was not inclined to leave town. The Cubs therefore offered him a deal to return in '07 as a reliever, which he accepted. The result in '07 wasn't even the death rattle of the Wood-Prior Double Ace Era (as Mark was still a Cub that year as well), but instead it was the stinky, raunchous, cadaver fart of the Double Ace Era corpse.
Dealing with his persistent arm problems, Wood didn't pitch until August 5th -- long after Piniella and the Cubs purged themselves of expectations. The result was 22 appearances of reliable relief, with Wood netting a 3.33 ERA and making an unprecedented third post season appearance for the Cubs.
The following year, Wood returned again to the Cubs in a sweetheart one-year deal, despite receiving multi-year offers from other teams, this time elevated to closer. Wood spent his swan-song mostly healthy and relatively effective, saving 34 games in 65 appearances. He posted a 3.26 ERA, striking out 84 in 66.1 innings of work, and would make his second All Star appearance as a Cub. Wood also made his 4th and final post season appearance as a Cub.
It was his 10th active season as a Cub (out of 11 chances, as he missed all of '99 due to Tommy John Surgery). He'd go from an unshaven, acne-riddled rookie who'd strike out 20 Astros in his 5th ever major league start to being a prolifically injured unmet hope, with only a few shining moments between the heartache. It would also be his last.
After the '08 season ended, Jim Hendry announced that the Cubs could not afford to pay Wood the money he deserved, and would therefore not pursue him. They then acquired closer-bust Kevin Gregg, leaving Kerry to sign a 2-year, 10-million-a-year contract with the Cleveland Indians.
When I found out about it, the signing reminded me of all the unspeakable Cubbie moments of my life. From the departure of Andre Dawson while he was a homer shy of 400, to the premature retirement of Ryne Sandberg in the midst of the worst season of his career, to so many other disappointments, Wood's exit served a reminder that baseball is a business above all else and the kind of hopes we have as children -- two decades of watching our favorite player win 'em for the Cubs, for instance -- have no place in the reality of adulthood.
And so, Kerry Wood is gone. Pound-for-pound, the memories he gave us came nowhere near outweighing the hopes we had for him -- anybody want to admit to fantasizing of the day he'd eclipse Nolan Ryan as the strikeout king? -- but over his 10 years he saw more wins in a Cub uniform than anybody else who's served as long, and he contributed to more than his fair share.
I guess that's something, isn't it?

Coast to Coast Tickets has great prices on Cubs bleacher tickets

online!