Cubs 101 - Pt. 55 - Kerry Wood: Big Game Pitcher to Bust in Two Short Years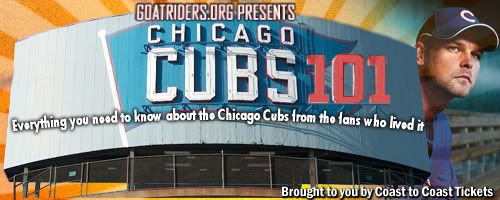 There probably isn't a pitcher who's done less to be loved as much as Kerry Wood. He was the face of the organization for almost a decade, although he never won more than 14 games in a season. He was compared favorably to legendary strikeout king Nolan Ryan, although he never even came close to displaying the kind of durability necessary to achieve Hall of Fame numbers. He was labeled an ace despite the many days where he just didn't have the ability to find the plate, and yet despite all of his flaws he was somebody that we all probably thought would retire playing for the same team he started out with.
He was also, for me, the first Cubs player I would actually lose sleep over. After his amazing rookie season -- and no matter how you cut it, the way he pitched as a 21-year-old was astonishing, if not abbreviated -- Wood would miss the entire '99 campaign while recovering from reconstructive surgery on his elbow. His return in 2000 was highly anticipated, and it would also serve as the worst year of his career. He'd make 23 starts, pitching 137 innings, striking out 132, walking 87, and posting an ERA of 4.80. Not that our hopes weren't high after his debut on May 2nd when he dominated Houston and hit a homerun. (One friend would later describe Wood's performance that game as being "like watching the Natural.")
Still, I knew that a lot of pitchers struggled their first year back from Tommy John surgery. I knew that Wood's road would not be an easy one. And yet watching him pitch -- and often get his ass handed to him -- was an anxiety-causing event. After all, he'd been the first real Hope of the Franchise of my life.
The following three years would be more like the Wood of old, but still not like the Wood we'd hoped for. He'd pitch well in '01 through '03, giving two 200 inning seasons, winning between 12 and 14 games each of those three years, and leading the league in strikeouts in 2003. Realistically speaking, it probably wasn't Wood's fault that he only went 12-11 on the 2002 team. The Cubs sucked that year. If Wood had pitched for a better team, with his 3.66 ERA, it's conceivable that he wouldn't have struggled to win nearly as much. And in '03, while supporting the next Hope, Wood's reliable pitching and 14 wins were beyond anything we could ever have complained about.
The only problem was that Wood was still a young pitcher, he was a guy with questionable mechanics at best, and maybe we should have been a little more worried about the ridiculous pitch counts he ran in order to achieve his 200+ innings of work. We'd often spend time hoping that he would someday grow into a smart pitcher (rather than simply a power one), and we hoped that the addition of Greg Maddux to the rotation in 2004 would help him on his way. But it was too late by then. Wood's arm -- in particular his shoulder -- began to disintegrate.
In 2004, as a fifth of the "greatest rotation in modern history," Wood would only pitch in 22 games, throwing 140.1 innings of work, and he'd go 8-9, missing two months due to a strained tricep. He'd miss even more time in 2005, as he'd go from being incapable of starting to being relegated to the bullpen until the Cubs finally gave up on the season and shut him down. Wood would have surgery in August of that year, after going 3-4 with a 4.23 ERA. He'd then sign a sweetheart deal to remain with the Cubs in 2006 and would repay their faith in him by making only 4 starts and going 1-2.
In other words, by 2007 the first great Hope of the Franchise would be diminished and relegated on down to mop-up duty in the bullpen. But his arm problems continued and he wouldn't make his debut for the Cubs that year until August, when he stepped in and gave the Cubs two months of reliable relief pitching. And still, this man who was once seen as a future Hall of Famer, loyal to Chicago as the Cubs were loyal to him, returned for a final season in 2008 where he served as a closer and pitch reliably-but-not spectacularly in the 9th, saving 34 games for the 97-win team.
I guess Wood's greatness just wasn't meant to be, nor was his opportunity to spend his entire career as a Cub. At the end of the 2008 season, Jim Hendry announced that the Cubs would not have the money to pay Kerry what he deserved, and he'd instead give Wood a chance to earn the most money possible by signing with an interested team as a free agent. He did just that, signing a $10 million deal to pitch for the Indians, and 10 years after his debut as a fresh-faced, acne-riddled rookie, Wood was gone.
For a long time Cub fans had extremely thick skin when it came to their team because a history of losing will have that effect. If you've lived 40 years and your team has never even made the playoffs in that time frame, it's probably tough for fans of other teams to get under your skin about losing -- you've probably heard it all before. Kerry Wood was partly responsible for changing that mentality. We no longer thought the Cubs were born to lose. He gave us hope that the team could not just win, but win definitively, and that perhaps the playoffs shouldn't be hoped for but expected.
Then his arm fell apart, he proved to be fragile, and our mentality changed again. It's very unlikely that a Cub player, no matter how well-touted, will be as anticipated as Kerry Wood was; it's unlikely that any player will be followed and supported as was he and Mark Prior. I think we now know that the Cubs can win -- and they will, if not this year then some time soon -- but we will be cautious any time we hear about that 19-year-old kid with the blazing fastball burning up the minor leagues.
All that said, I have a friend in Chicago who remains baffled by the Cub-fan love that remains even now for Kerry Wood. He just can't understand why Wood is so admired for having done so little. What he fails to see is that beyond the wins -- or lack of them -- and the strikeouts -- whether they came in bunches of 20 or far less -- was that Wood is a rare modern-day player as loyal to the fans as the fans have been to him. He almost literally pitched his arm off for the team, accepting sweet-heart contracts to remain there even after his body began to fail him, and most of all there was probably no person out there more upset by his 2003 Game Seven evaporation than he was. "I choked," he would say after the game -- this coming from a guy who would hit a 3-run shot that game. He was a rare man who owed up to his mistakes, who took on more blame than he deserved, and who loved the city of Chicago and the fans. That's why we'll remember him and think of him fondly ... even if there isn't a whole hell of a lot there to remember at all.
Sponsored by Coast to Coast Tickets, where you'll find the cheapest Cubs tickets anywhere!