Cubs 101 - Pt. 51 -the 2003 Chicago Cubs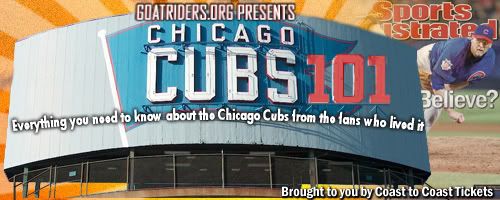 The 2002 season marked the end of the Don Baylor era in Chicago, and also served as the year of Andy MacPhail's resignation from the General Managership position of the team -- although he'd stay on as president, and in retrospect it's difficult to say how much actually changed.
MacPhail's replacement was long-time front officeman Jim Hendry, who'd essentially served the role of Co-GM during '02 before assuming full duties. Hendry immediately won the respect of a lot of fans by making some blockbuster trades. First, he actually managed to dump Todd Hundley for legitimate talent! Crazy, I know! But for Todd Hundley and a relative nobody, Hendry was able to acquire a starting first baseman and second baseman (Eric Karros and Mark Grudzielanek), two players who would play huge roles in 2003.
Hendry also signed the former manager of the defending NL champs, Dusty Baker. That's right -- the Cubs went from the busted Don Baylor straight to a renowned winner in Johnny B. Baker, a multi-time NL manager of the year winner. Baker had just led the Giants to the World Series but was let go anyway -- a warning sign we all blissfully ignored -- and in his first press conference as Cubs manager asked a question that has stuck with me ever since: why not us?
Seriously. Why not us?
The acquisition of Baker, coupled with the amazing cast-off of Hundley, were the two biggest moves Hendry made that winner. Sure, he also delivered to the Cubs Sean Estes (guh) and the catching duo of Bako and Miller, but amazingly the same core group that almost propelled the Cubs toward 100 losses in 2002 would take the Cubs almost to the World Series in 2003. It must've been because of Dusty.
Make no mistake -- the team still had holes. First base was a battle between Korean sensation Hee Seop Choi (hint: he'd be a bust) and the aged Karros. Third base remained a gaping hole, for the umpteenth year since Ron Santo retired. And Antonio Alfonseca would never get another chance to blow a Cubs game as the Cubs closer, leaving them to rely on untried journeyman pitcher Joe Borowski. But unlike Cub teams of other years they were not defined by their weaknesses, but rather they were defined by their ability to fill those holes and compensate for under-productive players.
Still, they were a team in-or-around first place for most of the year. The reason was simple -- Kerry Wood, Mark Prior, Carlos Zambrano, and Matt Clement -- a young rotation of so much win. These four pitchers, remembered through the glass of time for many other reasons, stayed healthy all year long and dominated. All four pitched 200 innings or more. All four won 13 games or more. All four at times resembled aces. And because of those four pitchers, it was the Cubs' season to lose.
They were never worse than 5.5 games out of first, with that day falling on July 26th. At around that time -- actually just 3 days earlier -- Jim Hendry was making the team better. Due in part to the continued weakness at third, coupled with the season-ending injury to would-a-been All Star Corey Patterson, Hendry dealt three more nobodies, this time to the Pirates for Kenny Lofton (who was an unheralded MVPesque player in his time with the Cubs) and Aramis Ramirez, a then-25-year-old who would bloom into the best third baseman the team has had in 30 years. Then, adding icing to the "thank you Shittsburgh" cake, Hendry added Randall "The Big Sausage" Simon to the mix in early August, and the Cubs never looked back.
By the time August ended, Chicago was 2.5 games out of 1st, and as September rolled on the Cubs flat-out crushed the Cardinals (taking 4 of 5 games early in the month) and clinched things for good during a Pittsburgh double header on September 27th (thanks again, Pittsburgh!).
In other words, they went from losing nearly 100 games in 2002 to winning the division in 2003. Their stars delivered -- including Moises Alou, who drove in 30 more runs in '03 than in '02 -- and their backups played their roles. Eric Karros played an essential part, a leadership role, even after his starter's job was lost to Randall Simon. Kenny Lofton stepped in and served as a better leadoff man than Corey Patterson ever could have. Aramis Ramirez provided another lumbering bat in the lineup to supplement Sammy Sosa and Moises Alou.
Side note -- Sosa, by the way, was perhaps the only negative in the whole mix. From his infected toe to his shattered helmet to his corked bat (which we will get into down the road), it was not Sammy's best year. As his God-injected talents finally began to diminish, the underlying ego and attitude that had always been their resurfaced, but with the fresh face of Aramis Ramirez and the young arms of Prior, Wood, and Zambrano, I don't think Cub fans ever really cared.
Speaking of Prior -- of all the pitchers - and players - to propel the team, he was the best. When the Cubs drafted him, he joined Chicago with expectations surpassing even anything Kerry Wood ever faced, and in his first full season with the team he delivered. He won 75% of his games, going 18-6, missing time only due to a freak collision with Atlanta's Marcus Giles. He would pitch 8 games in which he struck out 10 or more (including 16 on June 26th) and in his final 3 starts he struck out 37 in 23 innings. I thought then -- and I feel now -- that he should have won the Cy Young that year.
All of those factors, all of those things culminate into an 88-74 season, with the Cubs finishing 1 game ahead of the Astros for the division. They would enter the playoffs against the 101-win Atlanta Braves, and unlike 1998 there was, without a doubt, a sense that the Cubs would have a chance to win it all...
More on that heart-breaker next time.
Sponsored by Coast to Coast, where you'll find event tickets to every game!