Cubs 101 - Pt. 65 - Jim Hendry Saves His Ass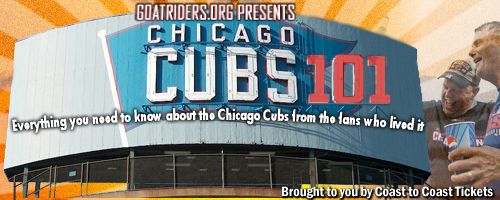 After the Cubs combined to lose nearly 180 games in the last two seasons of Dusty Baker's ridiculous tenure in Chicago, more than a few fans wanted to see a total douching of the organization. Clearly, the coaches were crappy. Dusty was not alone in failing to "fix" Corey Patterson, nor did we feel he was alone in his inability to get the most out of his pitchers -- or keep them healthy.
At the same time, we were angry at Cubs General Manager Jim Hendry for his failure to, in any way, shape, or form, build an organization set to win for years to come. He didn't sign a manager smart enough to win, he didn't assemble a coaching staff capable of keeping players fresh on simple baseball defensive and base-running fundamentals, and he also failed to grow a farm system.
Think about it. If you're a Cubs fan, name the last Cubs drafted and developed hitter to have long-term success. The short answer is that the last successful Cub hitter was drafted and signed at around the same time the Challenger blew up. The final crop of Cub hitters with names worth mentioning include guys like Joe Carter, Raffy Palmeiro, and Mark Grace. All of those guys are old enough to be grandfathers now.
Jim Hendry, meanwhile, had been working in the organization for more than 10 years by the time the '06 season ended. He'd been in charge of scouting and minor league operations until 2001, when he'd been promoted to assistant GM and player personnel director until 2002, when he was made general manager. In other words, he's either directly been responsible for the drafted and developed players, or he's played a big part in the approval process for a very long time.
Over that span, Hendry had given the Cubs studs like Corey Patterson -- drafted on Hendry's third year on the job, and his first offensive pick to play 1,000 or more games in the majors -- David Kelton, Eric Hinske, Luis Montanez, and more recently Geovany Soto and Ryan Theriot. What's wrong, most of these names only vaguely ring a bell at best? That's because they suck!
While Theriot looks to be an average shortstop at best, and Soto may or may not be a one-year-wonder, Jim Hendry has essentially demonstrated a totally failing ability of developing a successful hitting strategy for his franchise. He's so focused on aggressive hitters and athletic prospects that he has failed to pick up on the need for disciplined players with the ability to discern the difference between a strike and a ball.
For that reason, the minor league system had fairly dry cupboards after the '06 season. (It may also have had a bit to do with Dusty's failure to use the few hitters he had who'd displayed a hint of talent, but I digress.) Therefore, in order to justify his continued employment even as his boss took the bullet of resignation, Hendry used the one option he had remaining. He spent a shit-ton of money.
First, he let go of some of his busts -- Juan Pierre in particular, who takes about 60 walks too few to be a legitimate leadoff hitter, no matter how many bases he steals. Second, he led an intense hunt to replace Baker with an actually competent manager. With plenty of options available, including the presently-appreciated Joe Girardi, he settled on a 60-something veteran manager named Lou Piniella. I'll not lie -- I was flabbergasted. Mostly because I thought Lou would be another Dusty, an old-school skipper set in his ways and ignorant to the value of walks and fundamentals. Luckily, mostly, I was wrong about that.
Then, he relieved Cub fans everywhere by re-securing Aramis Ramirez. A-Ram had signed a long extension just a few years earlier, but he'd asked for -- and received -- an opt-out clause which he chose to exercise. We were convinced that he was off for greener pastures, but Hendry managed to broker a deal to keep him in Chicago.
After that, with Cub fans rending their garments over the loss of their "legitimate leadoff hitter," he threw the coffers wide open and signed the biggest name free agent on the market -- Alfonso Soriano. He did it in a way that left many of us wailing with despair, as the 31-year-old Soriano signed an 8-year deal that would pay him $136 million dollars. While none of us were excited at the prospect of a 39-year-old, $18-million-a-year, 16-homer, .240 AVG left fielder, I have to admit that most of us were looking forward to Years One through Four or Five.
Following that move, during the Winter Meetings Hendry signed from a hospital bed free agent lefty Ted Lilly to a 4-year, $40 million deal. Then, to top it off he grabbed free agent righty Jason Marquis and injury-prone Cliff Floyd. Again, feelings were mixed about these moves. Lilly wasn't necessarily "the best lefty" out there, Marquis was a 5th pitcher making around $10 million, and Floyd once hurt himself while falling onto a mound of fluffy pillows.
Still, it was unlike anything we'd ever seen. This was not what the Cubs did, oh no. They did not go out and sign the top free agents. They didn't grab talented pitchers. Oh no, not the Cubs. But here Jim was, battling illness, signing not just one of the top free agents but in essence the top two in Ramirez and Soriano. Then he stepped it up a notch and picked up what turned into the best free agent pitcher ever signed by Chicago in Ted Lilly.
In essence, Hendry fooled us. He tricked us into forgetting about his unforgivably mediocre track record at drafting and developing prospects. He conned us into ignoring the back-end of some of the deals he made, essentially hand-cuffing the wrists of a future Cubs GM. He fooled us. But in the process he saved his ass from getting fired and gave us the short-term sweet joy of multiple years of good baseball ... in a row.
The Cubs still aren't champions, but it's hard to be mad about that.

Sponsored by Coast to Coast Tickets, your reliable Chicago Cubs ticket broker

!