Cubs 101 - Pt 24 - Harry's Stroke & Steve Stone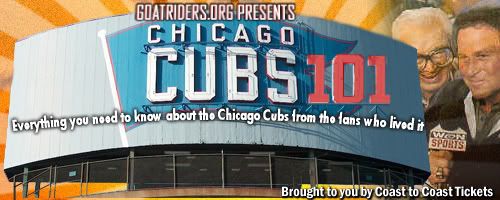 When Harry Caray shocked Chicago by signing with the Cubs, probably not everybody realized how much of an institution he would become for the Cubs in the booth. Entire generations of Cub fans would grow up hearing Caray call games, including me. In fact, up until my 17th birthday, Harry's voice was the only one I heard; his and Steve Stone's.
Stoney was a brilliant pitcher who'd retired from baseball a year after ruining his arm on tossing curveballs while winning 25 games in 1981. He was a former Cub and White Sox player who, it turned out, was a perfect compliment to the man who was more than 30 years his elder. It's hard in retrospect to describe the team, except to say that for the passion Caray brought to the booth, Stone brought a tremendous dry sense of humor mingled with uncanny baseball knowledge.
As kids my friends and I would try to predict the next pitch or the next play -- maneuvers we'd learned from Stone, who was far better at it than we were. He was smart and perhaps just a little smarmy, a trait that would get him in trouble years later. But in the beginning -- especially before Harry died -- Steve Stone was practically loved by everybody.
He probably came into his own the most when Harry wasn't there. In 1987 the legendary broadcaster suffered a stroke and, in his place, Steve Stone worked with a handful of celebrity commentators, most memorably Bill Murray whose performance can sometimes still be seen on You Tube.
But Harry wasn't gone for long. He worked diligently to regain his strength and timber and was greeted back into the booth in May of 1987 by none other than President Reagan.
Interestingly a whole generation of Cub fans -- and probably most of the people who read blogs like GROTA -- never heard Harry before his stroke. We grew up listening to a man who sounded slightly drunk when he was tired, who often stumbled over difficult names, who at times wasn't even sure which team was on the field, but it never detracted from our love of him. It made the Cubs unique -- in an era in which baseball's broadcasters increasingly sounded more and more alike, the Cubs had a duo that sounded like no other. They also sounded like the best of friends, to the point where whenever Stone was spotted on the road by Cub fans he'd inevitably be asked "where's Harry," to which he probably wanted to reply "how the hell would I know?"
Around 1994 I did something I probably should've done sooner -- I popped a tape into the VCR and recorded portions of a game against Hideo Nomo and the Dodgers. I realized by then that Harry was already ancient and wouldn't be around forever. I still have that tape somewhere, although it's been a few years since I played it. I've now lived my entire adult life without Harry and Steve in the Cubs booth, with my only bridge to them a game in which Hideo Nomo worked the Cubs over as though they were a punching bag.
One thing I ask myself on occassion is if I would've been as much of a Cub fan without those two. Imagine instead growing up to the barfing voice of Chip Caray and the (un)analysis of Joe Carter. Chicago would become a White Sox town within five years. And yet, years later people will tell you that Harry was an embarassment to himself after his stroke and Steve was always too much of an asshole to be likeable. But don't let them fool you -- the Cubs were an unforgettable team even in the years where the play was less interesting than the scenery, and Harry and Steve were the reason why -- even if Steve is remembered now for his departure rather than his tenure after the 2004 season.
Sponsored by Coast to Coast Tickets, where Chicago sports tickets are our specialty!