Cubs 101 - Pt. 58 - The Return of the Mad Dog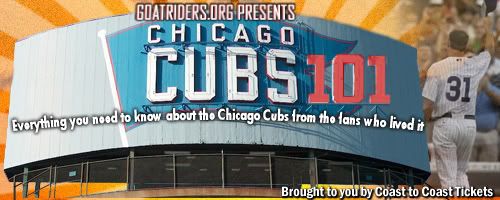 Rob:
For a franchise convinced that Joe McCarthy couldn't manage; traded Billy Herman for spare parts; sent away Lou Brock for dead arms; swapped Bill Madlock for someone with half his talent and twice his salary probably because of his deep dark tan; gave up on Raffy Palmiero because he a) didn't have enough power or b) wasn't very selective on which teammate's wives to sleep with; and most recently, bid against themselves en route to signing Alfonso Soriano to a contract equal to the GDP of half of Asia, there is one filthy, lousy, miserable, low, stinking travesty of a mistake the Chicago Cubs have made in their long, pathetic history of General Managing.
Your favorite team let the best pitcher of the last half of the 20th century walk away over less than $5 million, which in today's dollars, equates to Carlos Zambrano's annual Red Bull allowance.
I was 28 years old when it happened, but even now I do believe the day Greg Maddux signed the first of his contracts with the Atlanta Braves was the day that my boyish enthusiasm about baseball in general and the Cubs in particular was crushed to death. It was like finding out your parents had another family on the other side of town that they loved more than you.
Now, Jim Hendry will deny that he was trying to do psychic surgery to the gaping metaphysical wound that remained when he spent most of the winter of 2003-04 pursuing the then 38-year-old Mad Dog, who was non-tendered by the Braves after three Cy Youngs and umpteen straight divisional titles. In fact, I myself wondered if Hendry shouldn't have been spending more time going after a true leadoff hitter, rather than simply settling with the healing Corey Patterson, who was (rather inexplicably) preferred over Kenny Lofton, a late-2003 acquisition who was not retained for 2004.
That vacancy, the leadoff man, is still with us to this day. But Jim's attempt to bring the Mad Dog in to finish a five-man rotation already boasting Kerry Wood, Mark Prior, Carlos Zambrano and Matt Clement, came to fruition right before Spring Training 2004. I have to admit, I loved it! Even guys like me who are not superstitious, and who have seen generations of moves such as this one in the past (Robin Roberts, Dizzy Dean, Fergie Jenkins part deux, Ken Holtzman part deux, Rick Reuschel part deux, Jon Lieber, Hoyt Wilhelm, help me out, Has Been Cubs Pitchers is a bar game that just keeps on giving) were estatic to welcome Greg Maddux Back Home.
Kurt
And, fittingly, Maddux responded by elevating himself to staff ace. Cub fans were expecting him to be the 4th or perhaps even the 5th starter -- an aging veteran without a fastball, dependable for 200 innings and an ERA around 4.00, but surely And, fittingly, Maddux responded by elevating himself to staff ace. Cub fans were expecting him to be the 4th or perhaps even the 5th starter -- an aging veteran without a fastball, dependable for 200 innings and an ERA around 4.00, but surely he would not deliver the best performance of any starter on the team. What we didn't know at the time was that Dusty had burned out multiple arms on his quest to World Series glory in 2003 and Maddux would be one of only two healthy pitchers on the team in 2004.
Maddux led the team that season in wins and innings pitched, being one of only two pitchers to even make it to 200 innings that season. He would also spectacularly walk only 33 -- or, on average, 1 player per game. Thanks to his unspectacular reliability, the Cubs were in competition for the wild card until the final week of the season. He also accomplished something no Cub fan could've dreamed possible once he'd left for Atlanta -- he won his 300th game in 2004 as a Cub.
I got to watch him pitch that year in Montreal. He looked old and he was small compared to many players out there, but his pitches still buzzed when he threw them and, of the 5 games I saw in person in 2004, his was the only one where the Cubs won.
In a lot of ways, it felt right that he was back with the Cubs. We don't admit it aloud very often, but I think it's a pretty common baseball fan fantasy that your favorite childhood star, long since departed, return to your favorite team at the end of his career to deliver a few more seasons of glory. It almost never happens, and with Maddux it almost did. The problem was two-fold. Maddux was used to pitching for winning teams -- he made nearly a dozen trips to the playoffs before returning to Chicago, and the inept managing of the team resulted in him playing again for a losing organization. Second, Dusty Baker didn't seem to love him. After Greg's poor showing in 2005 -- he went 13-15 with a 4.24 ERA for a really bad team -- Dusty implied that Greg might just retire. He seemed to not love the veteran ace, maybe because Maddux had seen good managers and had a better understanding of how to play the game than his so-called skipper.
And so, half-way through the 2006 season the Greg Maddux Retires a Cub dream came to an abrupt end. The Cubs traded the four-time Cy Young and future Hall of Famer to the Dodgers for an offensively mediocre shortstop named Cezar Isturis. Greg would go on to pitch until 2008, bouncing back and forth between the Padres and Dodgers, eventually elevating his career win total to 355. Maybe he should have retired a Cub -- maybe he should have never left to begin with. But his return, while bittersweet, was still extremely fulfilling for this Cubs fan. It felt right when a lot of things about the Cubs started feeling wrong, and I'm glad that, as a grown man, I got to see a boyhood hero don a Cubs uniform for a few more times.
Get good deals on tickets to Cubs games through sponsor Coast to Coast Tickets!