Cubs 101 - Pt. 71 - The Chicago Outfield Free Agent Bonanza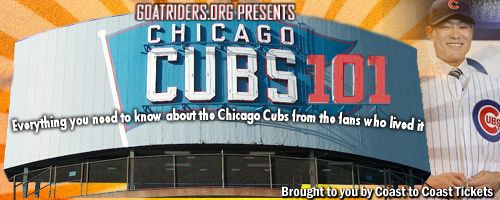 In the grand history of the Cubs, Chicago has only gone out, pursued, and snatched perhaps half a dozen star free agent outfielders from the clutches of the free agent market. Ever. (Maybe there's a reason this team is 100+ years dry of a World Championship.) Of the handful of star outfielders signed to patrol the green fields of Wrigley -- Andre Dawson, George Bell, Moises Alou -- three of them have been signed to massive contracts in just the past three seasons. They would be Alfonso Soriano, Kosuke Fukudome, and Milton Bradley. All three are making f*ck-you money, and all three have brought more negative with the positive than anybody would have hoped for. This is their story.
The first to sign with the Cubs -- a strong-armed left fielder named Alfonso Soriano -- began his career as a 40 and 40 second baseman with mediocre defensive skills. Despite his droves of talent he bounced between New York, Texas, and eventually Washington D.C. where he threatened to sit out rather than be moved from second base to left field. He also had a long-standing reputation of being unhappy with batting anywhere but leadoff, despite having 40-homerun capability. And despite playing only one season in left field, and having a reputation as being somewhat of a headcase, Jim Hendry saw fit to sign this 31-year-old to an 8-year deal worth in the neighborhood of $130 million.
My reaction at the time was a mixture of joy, shock, and dismay -- Soriano was the greatest Cubs free agent signing of my lifetime, except for the fact that he'd be raking in the bread for years after he'd stop earning it.
He was joined a year later by Japanese sensation -- and living FCC violation -- Kosuke Fukudome. Fukudome was a high-impact, high-average power hitting defensive marvel back in Japan. His potential to make an immediate impact in the States netted him a 4 year deal, paying him something better than $12 million per on average.
Then, before the start of the 2009 season, the duo became a trio when Jim Hendry signed volatile, high OPS stud Milton Bradley to a three year, $30 million deal. Bradley was injury prone and had a legendary attitude, but nobody could deny that his offensive ability could serve as a huge upgrade over the band-aids of 2008 -- Jim Edmonds and his ilk.
Naturally, all three have, to varying degrees, gone to shit.
In his first two seasons with the Cubs, Soriano put up some massive numbers while healthy -- only he spent both years missing big chunks of time due to leg injuries. He also went from being at times a defensive secret weapon to being a defensive heart-attack-waiting to happen. In the third year of his contract -- in other words, with five years to go -- Soriano managed to play in 117 games, where he batted .241 with 20 homeruns and 118 strikeouts while committing 11 errors (more than his '07 and '08 totals combined). His year finished early and he has had his first knee surgery.
In Fukudome's time with the Cubs, he's had hot-as-hell months, and then he's had cold-as-ice months too. He began 2008 batting .327 in the month of April, with a declining batting average in every subsequent month -- his production bottomed out in September when he batted .178 and looked completely lost at the plate. In 2009 it was much of the same. He'd have good months and bad months, with his good ones being a sight to see and his bad ones being absolutely atrocious. Regardless, his overall numbers between his first two seasons are both remarkably similar, and a far cry from his .305 career average in Japan and his 24 at bats per homerun in his home country have declined to once per every 47 at bats.
And as for Milton Bradley -- well, we'll have more on the poster child of disappointment sometime soon, but his single season in Chicago was mired by hostility, slumps, nagging injuries, and a bad attitude.
So here's my question: is there something so broken about the Chicago Cubs that their only solution is to acquire damaged players and hope for the best? Soriano, who hardly had the best reputation in baseball, was overpaid-for. Fukudome, who has not met the expectations we had for him, had missed half his final season in Japan before signing with Chicago and has, at times, expressed home-sickness and (dare I say it) remorse. And Bradley proved to be a total nutjob.
It's either a bad sign that the organization can only sign damaged players, or that they appear to be at the top of Jim Hendry's list. Regardless, in retrospect the free agent bonanza has turned into a bit of a bust, even though the Cubs might be competitive for years to come.
Need a Wrigley Field seating chart? Check Cubs 101 sponsor Coast to Coast Tickets!