Cubs 101 - Pt. 63 - Derrek Lee's Inhumane Season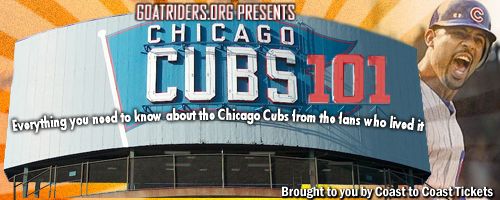 Following the Cubs 2003 grasp at glory, Jim Hendry made some swooping moves to make the team even better in 2004. One of the best of these moves was a deal with the always-money-conscious Marlins for a then-27-year-old first baseman who had, in Rob's words, been the least-threatening member of a dangerous Florida lineup in the 2003 NLCS.
Still, it turns out that Derrek Lee's acquisition was one of the best moves Jim Hendry ever made. He gave the Cubs a bat as potent as -- but more useful than -- Fred McGriff's, and he also brought with him Gold Glove caliber defense. In 2004, he delivered on both promises -- hitting 31 homeruns and narrowly missing his second Gold Glove crown -- but his real achievement as a Cub came in 2005.
See, the problem with Derrek was that he was legendary for his slow starts. Even in '04, he'd be a .233 hitter at the end of April and a .257 hitter by the end of May before exploding with a .385 AVG in June. But in 2005, Derrek started the year by swinging hard and he entered May with a .419 AVG. In fact, his wost month of the season was August, when he "only" batted .284 with 7 homeruns.
Lee would have eight 2 HR games, including on back-to-back days in May against the Rockies. He'd hit no fewer than 7 homeruns in a month and as many as 9, with April being his most productive in terms of RBI (he knocked in 28). Assuming the best, it was the finest non-drug-influenced season we've ever seen by a Cub.
All told, Derrek led the National League with 199 hits, 50 doubles, a .335 AVG, a .662 SLG, and a 1.080 OPS. He also hit a career high 46 homeruns and drove in 107 RBI (more on that another time). Lee would win the Silver Slugger for first basemen that year, along with the Gold Glove Award, and yet he would somehow lose the MVP award to a player who batted 5 points less, who hit 12 fewer doubles, 5 fewer homeruns, and played the same freakin' position as him. Yes, Albert Pujols, that MVP trophy in your closet should have a different name on it.
Part of the ridiculousness of Albert's victory was that, in voting for MVP, some of the writers who chose Albert over Derrek noted that Pujols was pound-for-pound the most dominating hitter in baseball while Lee merely had an aberrant year. How does that make sense? Answer: it doesn't.
Nevertheless, although being recognized as having an offensively and defensively superior year to Pujols, Lee finished third in the MVP vote -- third! -- and would never be able to duplicate his offensive success.
Still, as far as the Cubs -- and their long history -- goes, Lee will likely leave Chicago having played just a bit under 1,000 games at first base for the team. That will put him at about half the total games played in a Cubs uniform by Mark Grace, but he will also be the second-most played first baseman on the team in the past 30 years. He will also have quietly achieved some very respectable post season number for Chicago, assuming either that they fail to reach in 2010 or Lee completely fails to produce if they do. But for me, and many Cub fans, he will mostly be remembered for being the first player to have ever led the league in average, doubles, and damn-near in homeruns only to barely pass the 100 RBI mark in the same season. That's Dusty Baker's influence for you, and we'll have more on that in the coming days.
Need a Wrigley Field seating chart? Check Cubs 101 sponsor Coast to Coast Tickets!