Cubs 101 - Pt 35 - The End of a Cubs Era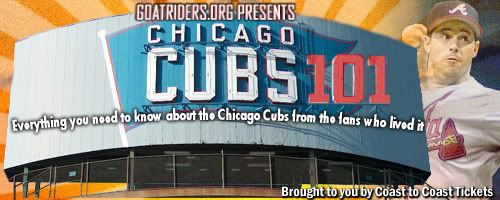 At this point the departure of Greg Maddux has been covered ground. Still, before we step into the wondrous realm of the MacPhail Rebuilding With Hope years, the loss of the greatest right handed pitcher in decades deserves one final reflection.
Greg Maddux was amazing. Overlooked early in his career because of his size, by the time he was 22-years-old he went from his auspicious 8-18 start to an 18-8 season. It wouldn't be until he was 39-years-old that he would have fewer than 15 wins in a season.
In his final season with the Cubs, 1992, Maddux went 20-11. How he lost 11 games is a mystery perhaps solved through an in depth look at just how terrible the Cubs offense was.
Put it to you this way -- his ERA in wins that year was 1.69. His ERA in losses was 3.29. For comparisson, in 2008 Cubs pitcher Ted Lilly won 17 games with an ERA of 2.96 -- a scant .33 runs lower than Maddux's. And most pitchers -- Lilly, for example -- have extremely high ERAs in games they lose. That Maddux suffered 11 losses with a 3.29 ERA is absurd.
So, maybe it's not a shocker that he left. As a 12-year-old kid, I felt betrayed by the departure. Worst of all, whenever the Cubs played him he'd kick their asses. Maddux would retire with a 12-4 record against the Cubs, including a 2.65 ERA. There would be other teams he'd win more games against, but against teams in which he'd throw 100 or more innings, he'd never win as often as he did against the Cubs -- 75% of all decisions, in fact.
In some ways, Maddux is the ace the Cubs have never replaced. They've had flashes of brilliance from pitchers like Wood (who never even managed to win 15 in a sason) or Prior (pretty much a one pump chump), but nobody -- including Carlos -- has been able to pitch as reliably as he.
It's hard to imagine what the 90's would've been like with Maddux in a Cubs uniform -- maybe they would've never drafted Wood, perhaps Sandberg would've never quit -- but it's hard to believe things would've been worse for them.
Find the Chicago Cubs schedule at Cubs 101 sponsor Coast to Coast Tickets!