Cubs 101 - Pt 18 - The Dallas Green Era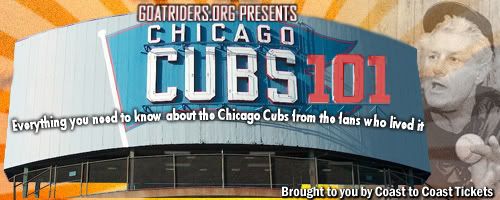 You've got a pretty sad baseball organization if you can count the number of well-reputed baseball men that they've had in the past half century on one hand. Leo Durocher was quite possibly the first since Wrigley and Veeck died and lord knows he had his faults. The second was Dallas Green and his hiring was just about the only think the Tribune ever did right.
Green came to Chicago from Philadelphia where he'd managed the Phillies to their first World Championship since they became a team in 1883. In other words, if ever there was a guy who could turn around the Cubs 70+ years of losing, then it probably would be the guy who turned around Philadelphia's 90+ years of losing.
Green promptly began to shake things up after joining the team following the atrocious '81 season. As he went forward in "building a new tradition"* he did so by severing the team's ties with their players of yore**. It obviously cheesed off a lot of fans to see their heroes of the '69 Cubs lose their jobs as coaches but Green wasn't in Chicago to make friends. He was there to win. And his chosen route toward victory was twofold - he'd stock the major league team with his Philadelphia favorites and he'd build the team toward tomorrow by developing a wildly successful farm system.
(*hint: the "old tradition" equaled losing
**all of whom by default were "losers")
Among the former players Green would first acquire from Philly were Keith Moreland, Dickie Noles, and Dan Larsen. These three players were acquired for the best Cubs pitcher Mike Krukow. The fans and press practically revolted over this trade, which was kind of ridiculous in retrospect considering that the "best Cubs pitcher" was a career 45-50 with an ERA of 4.17 when Green unloaded him. Nevertheless, fans were pissed.
Green followed that trade with another highly-contested move. He dealt fan favorite Ivan DeJesus to the Phillies for Larry Bowa -- a shortstop seven years older than Ivan -- and a throw-in prospect named Ryne Sandberg. (Again, the press and fans were not pleased.)
The first year off Green's tenure as General Manager did not yield much fruit. Then again, in Leo the Lip's first season as manager the Cubs lost 103 games. Dallas's Cubs didn't do that badly, but they hardly set the league on fire in '82 with their 89 losses. The following year Green continued to tinker with his team, acquiring guys like "over-the-hill" Ron Cey, along with Steve Trout and Warren Brusstar from the White Sox.
The result? Even more losses in 1983 - 91 in total. Not exactly change Cub fans could believe in, not that many of them cared about the results so much as they cared about being dissed by a guy who called them losers while averaging 90 losses in his first two years of running the team.. You have to remember that by the time 1983 rolled around, it had been 38 years since the Cubs reached the playoffs and more than 10 years since they'd even threatened to get back to October play. Cub fans in 1983 were conditioned even more than Cub fans in 2009 to loveBeautiful Wrigley Field and not horrible Dallas Green who crapped all over the traditions that made the Cubs America's lovable losers.
Of course, we all know how 1984 turned out. We'll have more on that in the near future, except I'll say this now: they were entirely Dallas Green's team. Five of the eight regulars on the offense came from the Phillies organization -- Larry Bowa, Ryne Sandberg, Gary Matthews, Bob Dernier, and Keith Moreland. Not to mention ex Phillies Dick Ruthven and Warren Brusstar, both of whom ate a lot of innings -- to varying degrees of success -- for the Cubs that year.
Think about it. Within three years, Green had taken the laughingstock of baseball and gotten them to a few outs from reaching the World Series. Then the Cubs blew it, fell flat on their faces in 1985 when every starting pitcher went on the DL at the same time, and by 1987 he'd resigned from the team due to "philosophical differences" with the Tribune.
In other words, the short of it was that Green failed the Cubs -- or more accurately that the Tribune failed Green. The Tribune hardly became the P.K. Wrigley of the modern day but they were far from George Steinbrenner, too.
But upon reflection, there's an awful lot of evidence that had Green gotten a little more support and had the Cubs stayed his course then the 1990's may have been entirely different for Chicago. After all, among the list of players Green drafted and didn't stick around to develop...
Greg Maddux, arguably the best right-handed pitcher of all time. Jamie Moyer, still pitching at 46 and recent member of the 250-win club. (Imagine a Cubs team topped by Maddux and Moyer for the last 20 years, with their 600 wins between them.) Mike Harkey, whose career was derailed because of an idiotic injury. And those are just the three pitchers developed by Green who went on to have any hint of big league success -- he'd already displayed the ability to acquire other talented arms through trades.
As for the bats, a Green-run 1990's Cubs may have included would-be Hall of Famer Rafael Palmeiro and RBI machine Joe Carter to compliment the already reliable Mark Grace (home-grown), Ryne Sandberg, Shawon Dunston (home-grown too) and Andre Dawson. (Then again, maybe not Palmeiro since he was chased out of town because he chased the skirt of the wrong future Hall of Famer's gal). Come to think of it, since Green left the only hitter drafted and developed by the Cubs with any degree of success is Geovany Soto --and Green left more than 20 years ago.
Something said in an earlier chapter was that the first two moves made by the Tribune were perhaps the best they ever made. They gave us Harry Caray and Dallas Green. Unfortunately, Green wasn't there for long enough to change the tradition. But he gave Cub fans a taste of what things would've been like if the organization wasn't run by bumbling, ineffective, non-caring douchebags. Sadly that's all it's been for us ever since ... just a taste.
Buy Chicago sports tickets at Coast to Coast Tickets!