Cubs 101 - Pt. 74 - Cubs 102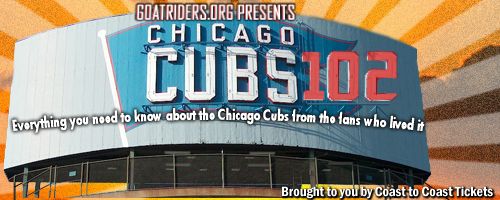 So, what does the immediate future hold for us?
The long delayed sale appears to be finally imminent. We are fortunate that this time, the buyer is motivated out of love for the Cubs and a desire to see them do well, rather than a source of cheap programming, then later, a profitable cost center within an enterprise, as they existed under the Tribune banner. But make no mistake - the Ricketts are businessmen first, and they did not become billionaires throwing bad money after bad.
We believe that the Milton Bradley sunk cost is a primary concern, and that we will not have to deal with him anymore in our uniform. That having been said, it is unlikely that the new owners are going to eat any more contracts, namely Soriano's, Fukudome's or Zambrano's, in the interests of "addition by subtraction". Since nobody in their right minds, or even the Royals, are going to offer us anywhere close to market value for any of these three gentlemen in a trade, we must assume that the 2010 Cubs will include them.
Alfonso Soriano is in his mid-thirties, and as such can be expected to be on the decline, even IF his knees heal and his leg muscles that have been bothering him since joining us are well. We had high hopes for him going into 2009, since it was the first spring in the past three that he reported no muscular pain in his legs. It figures, though, that when he was signed to the 8-year contract at 29 years of age that towards the end he would barely be able to drag himself around. At the time, most of us were ready to take that risk. We just didn't think the day of reckoning would be quite so soon.
Aramis Ramirez is also into his thirties, and this is a big year in his life as well as ours. He can opt out of his deal at the end of the year, and while that may represent potential savings to the Ricketts, please never forget the 100 or so bodies that have passed through our doors between Ron Santo and ARam at third base. Top prospect Josh Vitters plays third base, I believe. But not only is he still a ways away, we all realize that many of our 'top prospects' the past ten years have failed, miserably. Our club has a poor track record of farm system development under Hendry's tenure. I do not believe it is in our best interest to let Ramirez walk after 2010, or to trade him unless we can make an exceptional deal, and off the top of my head, there aren't many players out there that fall in that category.
Derrek Lee will play first base, and hopefully his career renaissance is genuine and will carry over to similar production next year, when it might mean something. Geo Soto will almost most certainly improve over this year's .220 average and bad practices behind the plate. It is unlikely he will return to his 2008 production, but even something in the middle will work at this position with little depth in talent league-wide. After a miserable performance when he was asked to catch every day for a month-plus, Koyie Hill has shown, with rest, that he is decent enough as a backup, once again considering the lack of catching talent out there.
The pitching staff, which most days was our strength in 2009, will return mostly intact in 2010. Carlos Marmol is expected to grow up and close our games, and Guzman, Marshall, Grabow, Heilman and Caridad will assist. Aaron Heilman bears mentioning, for while he asserted at the beginning of 2009 that he considers himself a starting pitcher, because "all of his pitches" don't seem to work in a relief setting, and although he was lit up at times, publicly he kept his mouth shut, and there were no reports of bad behavior in the clubhouse. Heilman was given a largely thankless job this year, and although he isn't the best pitcher in the world, he managed to get through 2009 without too many of us wanting to hang him by his ankles over hot coals. That's as high praise as I can give him.
The starters will be largely static, as well. Ted Lilly has proven himself to be the best of Hendry's free agent signings, famously from his hospital bed. I vote Lilly to be our opening day starter next year. He has the mental toughness and focus that our supposed ace, Zambrano, seems to lack. Dempster should have a better year, now that his infant daughter is successfully battling the disorder she was born with. Randy Wells will be given the chance to show that his rookie year was no fluke. The league has adjusted to him, and like a tough chess game, it is his move to re-adjust to gain the advantage he had the first time through the league. Tom Gorzellany (aka Gorgonzola) and Jeff Samardzija (aka Shark) will battle it out for the last spot, with the loser occupying the coveted Sean Marsall Memorial SwingMan spot.
Now, that all of the certainties are accounted for in Cubs 102, we've put off the hard work long enough. What will become of the middle infield, and center and right field?
In the infield, on hand we have slick-fielding, little-hitting Andres Blanco, slick-hitting, little-fielding Ryan Theriot, middle-of-the-road Jeff Baker, useless-in-2009 Aaron Miles, almost-useless-in-2009 Mike Fontenot, and oh yeah, the Ghost of Mark DeRosa. Now, I know what I would do - but what will the Cubs Braintrust do? I wager that they will claim to know more about the shortstop position than we do, and assert that Theriot is adequate in the role, with Blanco sticking as his backup against tough righties. Lou's opinion of The Riot is higher than ours is, and that is key. I also believe Baker has impressed since his acquisition, and that he will be given the initial nod at second in the spring. Miles and Fontenot will battle for the backup role at second.
That seems boring though - what of DeRosa, who is a free agent? What about the annual pursuit of Brian Roberts, or at least a Roberts-esque figure, who can lead off and provide basepath speed, a component of the game we rank dead solid LAST in currently? Lou would love some speed, as well as an answer to the perpetual question "Who will lead off?" This is where Milton Bradley rears his ugly head. I do not believe that, based on the tasty $21 million that Ricketts will have to choke down to rid us of Bradley, that he will have the inclination to pursue a free agent leadoff man, especially if we still have to address right field.
And once again, right field will need to be addressed. It's not quite a Catch-22, but this is not a simple act of filling in a hole. If Soriano, Soto, and Ramirez return to previous productivity levels, and if Lee can continue in 2010 his current levels, then the Cubs can opt for 'defense', plug plus-fielder, mediocre hitter Fukudome in RF, and go after someone like Chone Figgins to play center. That will go a long way towards shoring up a poor 2009 defensive effort. If, however, we do not want to count on these three big guns, then we need to find an RBI man for RF. This is the stated preferred option of Sweet Lou, but not only will this be more costly, but it is a much more complicated task. There are more fine center fielders out there than slugging right fielders. We have been trying to plug a slugging right fielder in since Sosa left town, and at this point, the quest is beginning to rival the problems we had filling the hot corner before Ramirez came to town.
The initial thought I had was "Who plays RF now for Pittsburgh?", because that seems to work often. We always seem to have a Kevin Hart to dangle in front of THEM. Too bad Jason Bay was traded a while ago - he would be ideal. Bay may be a free agent, though. What will Matt Holliday want to do - will he want to stay in CrackerTown, or will he go for the money? Either way, both these guys will also cost our #1 draft pick. Brad Hawpe, Raul Ibanez and Andre Either aren't available - how about Hunter Pence? That sumbitch would mean five more wins for us, even if he sat on our bench and spit seeds all year. Of course, Pence is not a free agent, and who would we trade for him? It is easy for us to sit here and wager that somebody would give us a Pence-like figure for our spare parts - Fontenot, Jake Fox, and Gorzellany. That ain't going to happen.
What happens to fill this spot will go a long way towards determining our 2010 success. Most likely, it will be a free agent, and will it be a Type A like Bay, a Type B like Mike Cameron, or someone like Austin Kearns? Cameron and Kearns bring in their own "Ifs", which would be run up the flagpole and flown alongside all the other "Ifs" for Cubs 101. If Zambrano can focus, If Soto gets in shape, If Ramirez' shoulder and Soriano's knee hold together, If the new right fielder works out better than the last six we've tried...
Every team has "Ifs" in the winter. It just seems like the Chicago Cubs have had more than their share the past 101 winters, and if it were me, as the new owner of the franchise, I would direct my efforts towards eliminating "Ifs" and establishing a solid core of near-certainties to build on, regardless of what my ledger sheet said. Of course, that's why I'm here, and Tom Ricketts is up there.
Sponsored by Coast to Coast Tickets, featuring best prices on Cubs tickets.