Cubs 101 - Pt. 36 - Enter Andy MacPhail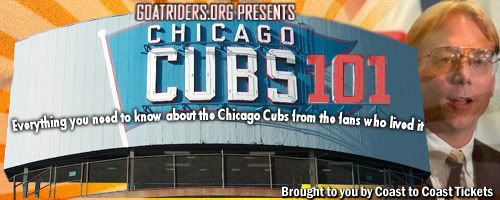 (with some editorial contributions by Kurt)
Being a huge baseball geek since 1979, I was aware of the Twins' two World Series titles and was immediately suspicious of them. I may have been one of the few who, when Andy MacPhail was hired by the Cubs in 1994, was unimpressed with him. History would prove me right - MacPhail did nothing in his twelve seasons to make me think my instincts were wrong.
He is a fraud. Tell your friends. Tell your neighbors. And it is just our dumb luck as Cub fans that we had to suffer through twelve years of this fraudulent management.
As for MacPhail's Reign of Terror in Chicago, well shoot. Where do you start? He burned through three general managers, one of whom was himself, who signed a thirty-one year old Todd Hundley to a four-year deal. His teams compiled a woeful 916-1011 record. MacPhail's teams finished above .500 only five times in his twelve seasons, which is also the same number of seasons in which his teams lost at least 94 games. In those twelve seasons, the Cubs failed to develope a legitmate, blue-chip offensive starter. They've wasted #1 picks on such forgettable names as Todd Noel, Ben Christansen, Luis Montanez, Bobbie Brownlie and Ryan Harvey. Most of these players are out of baseball, and some are still flailing away in obscurity, apparently no closer to real major league sucess than they were when they were drafted by Andy MacPhail's "braintrust".
When they have drafted well (usually because their own godawful seasons landed them a Top-5 pick), they haven't had any organizational skill at bringing players along. Mark Prior was gift-wrapped and, on Andy MacPhail's watch, was used, abused and put away wet by Dusty Baker and Larry Rothschild. Nobody in the organization took a proactive approach to refining Kerry Wood's delivery until it was far, far too late. They drafted Corey Patterson, rushed him to the bigs, then sent him out of town for a case of Rawlings after they successfully jerked him around. One of the few bona fide big-leaugers that the MacPhail regime did draft --Jon Garland -- was allowed to be dealt by a panic-stricken Ed Lynch -- MacPhail's right-hand man -- for a middle reliever who was out of baseball by the time Garland had arrived in the bigs.
The plan, as it appears to have been during the MacFailed Era, was that there was no plan.
The sick part of this is that the bar had been set so low for MacPhail when he arrived. His two predecessors, Larry Himes and Jim Frey, did their best to drive the franchise into the ground and yet -- and YET -- MacPhail still managed to underperform each of those bozos. With the help of a clueless Stanton Cook, Himes ran off Greg Maddux while Maddux was in his prime, and rationalized it by idiotically asserting that in acquring Jose Guzman, Dan Plesac, Randy Myers, Willie Wilson and Candy Maldonado, he was being more efficient than he would have been had he re-signed his reigning Cy Young Award winner. Sheer stupidity. Himes also fired his first managerial hire -- Jim LeFebrve -- after LeFebrve had led the Cubs to only their third above-.500 season in 21 years. Having alienated pretty much everybody in the organization, Himes was shown the door after three seasons in 1994.
Himes was preceeded as general manager by Jim Frey. Frey, who managed the aforementioned 1980 Royals to their first-ever American League pennant, and led the Cubs to their first postseason in 39 years when they won the NL East in 1984, turned out to be disastrous general manager. One of the first moves Frey made was dealing his '84 closer, Lee Smith, for Calvin Schiraldi and Al Nipper, two pitchers whose contributions to the Cubs would be minimal, at best.
Sure, Frey's 1989 Cubs team won the NL East, but this was almost entirely due to the outstanding, young nucleus that his predecessor, Dallas Green, had assembled -- Ryne Sandberg, Rick Sutcliffe and Scott Sanderson had been Cubs since Green traded for them, and Shawon Dunston, Greg Maddux, Mark Grace, Les Lancaster, Damon Berrhill and Joe Girardi were Green draft picks. Like Andy MacPhail's pickup of Jeff Reardon in 1987, Jim Frey's one helpful move was the acquisition of a closer -- Mitch Williams. However, in acquiring Williams, Frey dealt two other talented picks of Green's--Rafael Palmeiro and Jamie Moyer. While Palmeiro went on to hit 500 home runs (with a little help, of course) and Jamie Moyer went on to win more than 250 games, Mitch Williams was dealt out of the Cubs organization two seasons after he was acquired.
By the time Jim Frey was canned in 1991 -- his ill-advised free agent signings of oft-injured Danny Jackson and over-the-hill Dave Smith were the last straw -- all of the work that Dallas Green had put into the farm system had turned to dust. Suffice to say, Jim Frey only required four years to quash any momentum that the franchise had built under Green. Larry Himes merely shovelled more dirt on the mess.
And yet as bad as Jim Frey and Larry Himes were, even they were not as bad as Andy MacPhail has been. MacPhail has managed to do worse than both Himes and Frey. No easy task, to be sure.
As general manager, Larry Himes' winning percentage was .483 (211-226). Jim Frey's record was actually above .500, as his teams, bolstered by the '89 club, went 324-322. Combined, in seven seasons (or, a little more than half the time that MacPhail has been in charge) the Frey and Himes regimes collectively went 535--548, for a .494 winning percentage. Andy MacPhail's Cub teams went 916-1011. A .475 winning percentage after twelve seasons work is hardly the work of a genius. The fact that he cannot measure up to proven losers like Frey and Himes is bad enough -- but the fact that he has had more resources to spend than not only Himes and Frey, but Dallas Green as well, and underperformed them all is beyond appalling.
But not nearly as appalling as the fact that he remained in charge of the club for as long as he did.
Had he not been fired after the 2006 season, it would have taken MacPhail until 2008 to notch his 1,000th victory with the Cubs -- two years after he'd gotten his 1,000th loss. Perhaps some of the inert fatheads at Tribune Tower (*cough**dennisfitzsimons**cough*)-- should have asked the question:
"If Jim Frey could be fired after four seasons, and Larry Himes after three, how on earth can Andy MacPhail still be employed by the same organization for twelve seasons?"
It's a legitimate question but one that, apparently, was never asked by anybody in power as he never was fired; rather he resigned.
Clearly during his tenure Andy was a popular guy at Tribune Tower. Thanks to the Cubs' carnival barker John McDonough, who had been with the organization since those halcyon Dallas Green Days, the Cubs were able to make money in the marketing department to mask the failure of the front office. Still, shouldn't that have been painfully embarassing to Andy MacPhail? That this third-generation baseball man will go down as a more valued advertising executive than a baseball man? That he's proven to be nothing more than a latter-day PK Wrigley?
It never mattered to Andy, though. Where there should have been pride, there was only blinding arrogance. He was more secure than any executive with his track record had a right to be -- and his departure from Chicago merely landed him into a cushy job with Baltimore.
And the Cubs, desperate to cover the steaming pile that he left behind, took the only route available to them -- they threw piles of money at a handful of players, buying short term success but failing to fix the long term problems. That's the legacy MacPhail left -- failure, losing, and continued disappointment.

Post sponsored by Coast to Coast, where you'll find the Chicago Cubs schedule and more.