Cubs 101 - Pt 25 - The Hawk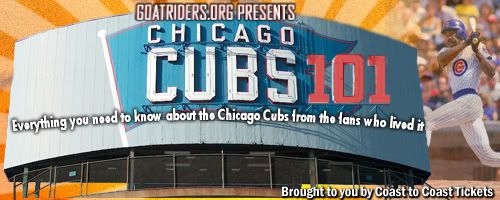 You might say it all began with a blank check. Or possibly even slightly further than that, it all began with an all-advised attempt by big-league ownership to keep player salaries down. Or even take it one step further, it all began by the cheap, chintzy management in Montreal, and their attempts to keep facility costs down by employing a rock hard, unrealistic, and eventually destructive artificial turf surface in their cavernous, oft-empty stadium.
Because, if all these otherwise unconnected factors were not in place, one of the bravest warriors in all of sports, Andre Dawson, would never have worn the pinstripes for us.
Over the years, Willie Mays and Mickey Mantle became the prototypes for the do-it-all, 5-tool outfielder - Run, Hit, Hit for Power, Throw, and Catch. Since then, dozens of "Next Willie Mayses" have come and gone, falling short of expectations due to a variety of circumstances, physical, mental, and sometimes it was something as innocuous as a carpet.
The Montreal Expos eventually became a laughingstock franchise with a completely inglorious past, but they employed exemplary farm system directors and scouts who could beat the bushes to find developable talent. The Expos outfield of the mid-70s would absolutely make the geeks at Baseball Prospectus quiver with pleasure. First there was Warren Cromartie, who could hit, outrun anything and anybody. There was Ellis Valentine, a true man who had one of the three best outfield arms I have ever seen (re; Roberto Clemente and Jesse Barfield). And in center was a true five-tool player named Andre Dawson, he of the V-shaped torso and the perpetual scowl.
Like most Florida boys, Andre played football in high school along with baseball, and came away with (by today's standards) minor knee damage. Well, fine, it dropped him down to the 11th round of the draft, but he became a real steal when less than 2 years later, he was hitting over .250 in Montreal during a late season tryout. He won 8 Gold Gloves in his time with Les Expos, was a multiple-All-Star, and was considered by many experts to be the best player in the game, even with the lack of publicity that goes along with being an Expo.
Enter the first bad guy in the Andre Dawson story: Olympic Stadium with its hard, crappy French AstroTurf, which battered his knees, robbing him of nearly all five of his baseball tools. It first forced him to move out of center, then to consider abandoning the Expos all together after the 1986 season. Now, one would think that teams would be crawling over one another for a man who was a lock to provide 25 homers, 100 RBIs, a .280 average, 20 steals, and to catch everything hit in his general direction.
Ah, but this was the lovely off-season of 1986-87, more commonly known in baseball lore as The Collusion Era. For Dawson picked the absolute worst year to be a free agent. Eventually, Dawson and his peers would end up with millions in settlement money from courts ruling against the owners for banding together and refusing to sign free agents, but at the time, this wasn't helping the Hawk any. He considered all factors, and decided that it wouldn't be a bad thing to join a team that had a gaping right-field vacancy, that played on grass, in the sun, on TV every day of the season. He wanted to be a Cub so bad that he famously handed Dallas Green a standard Players' Contract with the amount left blank. Green scribbled in 500k for one year, with 250k incentives for making the All-Star team, making the All-Star starting lineup, and winning the National League MVP.
Even for 1987, that was a pittance for a guy who was worth maybe 20 wins a year, singlehandedly. Here's the thing, though: between the time Andy Messersmith signed the first true Free-Agent contract in 1975, until Jim Hendry signed Alfonso Soriano in 2007, the Cubs only ended up with the "top free agent in the game" one other time, and that was only because he knees could not stand another year on AstroTurf, and because his agent handed us a blank check. The Cubs simply did NOT end up signing guys like Dawson.
Whether he was pissed off at the world for his lousy timing, or whether he was just happy to be out of Olympic Stadium, Andre Dawson put on a clinic the entire 1987 season, from Day 1 to Day 162, when he homered in his last at-bat in Wrigley. I always compare the 1958 and 1959 Ernie Banks seasons with Dawson's 1987 and Derrek Lee's 2005 when I think about Cubs clean Offensive Excellence. Banks won the MVP both years, Dawson won his, and Lee could have won his, finished third to Grampa Pujols (whose stats were identical to Lee's) and a swollen Andruw Jones and his 51 dodgy homers. Lee was truly great in 2005, do you remember how much he carried us? I would say Dawson's "carrying power" in 1987 was Lee's times three.
People who did not watch the Cubs every day in 1987 (re: the rest of baseball) always point at Dawson's MVP as one of the true misnomers in baseball, because the Cubs finished last that year. Here's a couple of reasons why they can stick it up their ass: number one: the 1987 Cubs were probably one of the BEST last place teams in baseball history, winning 77 games, and being in first place at the end of May and in second at the end of June. Number two, putting aside his 49 homers and 137 RBIs in an era where those stats were simply unheard of; watching the 1987 Cubs day in and day out, it seemed to me that every single game was a battle, with Andre Dawson at the point of the charge, and everyone else on the team (including Ryne Sandberg) falling in behind him. It seemed that every one of the 49 homers and 137 RBIs were critical, he threw himself around the outfield, base-paths, and batters box with complete abandon, and played his game with (mostly) controlled ferocity.
Here's a thing: these days, it seems like the umpires have legislated away any kind of inside pitching; any kind of brush back, purpose pitch automatically brings at least a warning, sometimes an immediate ejection? You have 1987 to thank - the last of the big purpose pitch seasons. Dawson was a particular target, since he was pretty much wearing pitchers out all season long. You probably have Dawson to thank, too, for the trend of batters going after pitchers who throw at them that was prevalent in the 90's and early part of this decade.
Now, there are some of you who may hate pitcher Eric Show, and you may not even know WHY! Well, on July 6th, 1987, the Cubs were still in the race, and they beat San Diego 7-0, thanks to a double and two 2-run homers from Dawson. The next day, Eric Show was given a 1-0 lead (over Greg Maddux!) in the bottom of the first, which he promptly gave up, thanks to an Andre Dawson homer. So the next time Dawson came up in the third, the sniveling little punk Show had a little present - a fastball right in the face! A true act of cowardice, this triggered one of the great brawls in Cubs history, and perhaps all of baseball.
Thing is, the whole park went silent for about two seconds, like a great WHOOSH sucked everyone in the place into the same hole - OMG - THEY KILLED HAWK!! THE BASTARDS!! And Dawson had dropped violently and was lying in the dirt.
Then rose a cry of righteous anger, and the Cubs, led by Rick Sutcliffe, charged the mound and pummeled Show. This, bizarrely, went on for several minutes while trainers tended to Andre near home plate. They got Dawson to his feet about the time umpires were able to separate the two teams - and then Dawson charged Show, who was already bloodied, and wailed on Show himself.
Quite possibly the coolest thing I ever saw on a ball diamond. Dawson was out a couple of days, but strangely enough, the team dropped out of contention pretty much from that day forward. By the end of the year, the only reason to watch was to see if and how Dawson would win the game for us that day. He did hit his homer on the last pitch he saw that year, the fans chanted M-V-P, and perhaps it was the 'blank check' story that helped the writers overlook the team's standings placement.
The next year he played nearly every day yet struggled mightily, and we were introduced to the term "bone rubbing on bone" when announcers home and away described his knees. He was a part of the wacky 1989 team that won the East Division, but he did miss over 40 games to knee pain, and he was a complete non-factor (.105 average) in the NLCS. Surgery that off-season (he had surgery EVERY off-season) seemed to help him the next two years, where he averaged 29 homers and 102 RBI. His last season in Chicago was 1992, when he was 37, and the whole "bone-against-bone" thing because an issue again as he visibly struggled to stay in the lineup while playing right field, which in Wrigley Field is as difficult as position to play as exists in baseball, due to the close side wall, the sun in late afternoon, and the ridge in the infield that cut off full visibility from the outfield.
He still managed to go .277/22/90 for a team that finished above .500, but do you recall that off-season? Yep, that was the same one where our GM let reigning Cy Young Award winning Greg Maddux go to Atlanta...so what chance do you think a 38 year old outfielder with no knees had of getting a contract? We will cover the human pecker track that is Larry Himes on another day, but Andre Dawson deserved to retire as a Cub, and we deserved to have him retire as a Cub. All of us were cheated of that last chance, and to this day, Dawson has never really felt welcome back, even withstanding recent attempts by Cubs management to reach out to him.
Now we know Dawson as "that guy who is getting only 65% of the votes for the Hall of Fame". Maybe he'll make it, maybe not. Signs say he will, someday, but if it weren't for his knees, and that damn Le Turf in Montreal, Andre Dawson would have been a first-ballot guy. He doesn't have first-ballot joints, but he has a first-ballot heart, that's for sure.
Kurt Evans
The first Cub name I ever learned was Andre Dawson's. I was exiting kindergarten the summer he came to the Cubs and my best friend was a huge Cub fan. In fact, I still remember being over at Margeson's house, watching Andre Dawson step forward out of the dugout to wave after hitting one of his 49 homeruns in 1987.
I immediately began to mimic the Hawk's batting stance, to admire him for his perseverence from his "bone-on-bone" knee injuries, and to follow his stats religiously. My favorite number became "8." My favorite position, right field. My favorite middle name, Nolan ... well, maybe I didn't go that far. But I collected Dawson's cards, I perked up any time he stepped to the plate during a game, and I quickly discovered that he would be my all-time favorite player.
My best memories of 1989 -- Andre Dawson playing against the Dodgers, going 4 for 4 with 2 homeruns before disappearing from the scene for more than a month while battling his recurring knee problems.
My second best memories of the Hawk -- discovering by proxy (thanks, Baseball Weekly) that Dawson hit grand slams against the Pirates two times in three days, despite the fact that the Cubs failed to win either of those games.
When he left the Cubs after the '92 season, I was heartbroken. How could they possibly have denied Andre Dawson the chance to hit his 400th career homerun in a Cubs uniform? What were they thinking? But if you were a fan of Cub players back then, the early 90's were rough on you because the Hawk was just one part of an exodus of tears.
Sometime probably during the '99 season, I made an order from Wrigleyville Sports for a Dawson jersey. It was the third I owned -- the first two were Sosa and Banks, bought during the '98 palyoffs -- and I cannot describe how excited I was when it arrived in the mail. It had been half a decade since he left, I'd only been a kid when he exited, and yet I was giddy to see the number 8 with his name hanging over it.
It has since become one of my pet peeves that most #8 Cubs are backup catchers or sloppy middle infielders. None have lived up to the player who made that jersey number famous in the eyes of this man when he was just a boy. As I've grown up, I've come to accept that the Cubs will never retire it in Dawson's honor and, should he make it to the Hall of Fame, he will likely go wearing an Expos cap. (Not that it's a problem, I bought my second Dawson jersey -- an Expos #10 -- a few months ago. I'm covered.) But regardless of what hat the Hall makes him wear, like Sutcliffe before him, Dawson is a Cub. From the highs of the 49 homerun season to the lows of the '89 struggles, Andre Dawson belongs to Chicago and Chicago belongs to him. He is a Cub and he always will be.
Looking for Cubs tickets in Chicago? Check Coast to Coast's online MLB marketplace!