Cubs 101 - Pt. 69 - The 2008 Chicago Cubs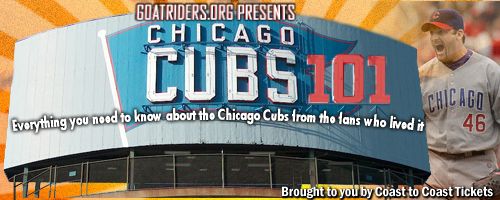 The prelude to the 2008 season was not marked by as much excitement as the '07 season had seen. This happened in part because so many important roster spots were already filled, and also because Jim Hendry was running out of the funny money he'd been tossing around like Matthew Lesko. Still, he managed to complete a long-time quest to sign Japanese hitting sensation Kosuke Fukudome to a long-term deal, while also picking up key contributor Reed Johnson for next-to-nothing early in Spring Training.
2008 also marked the move of Ryan Dempster into the rotation, with Kerry Wood making his previously-mentioned ascension into the closer's role. Many of us thought it would be a disaster. The Brewers were looking like a talented young team, the Cubs didn't have a definitively effective center fielder, and the last time Ryan Dempster started for the Cubs he only lasted 6 games, going 1-3 with a 5.35 ERA in 2005. It turned out that we were in for a lot of surprises, though.
First and foremost, the Cubs had a surprising Rookie of the Year in Geovany Soto. The previous season he'd played in the final month of the season, batting close to .390 and earning the role of starter in the playoffs. Then in '08 he delivered an undeniably solid bat, hitting 23 homeruns, knocking in 83 RBI, and batting .285 en route to his well-earned trophy.
But beyond Soto, the Cubs received surprise performances from a handful of players. Mark DeRosa, who'd played an essential role as a super-sub in '07, had a career year in '08 batting .285 while hitting 21 homeruns as he played multiple positions around the diamond.
After DeRosa came the performance of Ryan Dempster, who shocked everybody -- especially me -- by being nearly unbeatable at home. He won 17 games, 14 of them in Wrigley Field, and finished the year with a 2.96 ERA. He was complimented by Ted Lilly, who won 17 games of his own and would've had an ERA below 4.00 had the Reds not owned him all season long.
But beyond those three, Jim Hendry made two huge moves along the way that paid off. Noticing that his team had crappy-at-best performance from Felix Pie in center field, and becoming increasingly aware of the rapidly-fading performance of Fukudome -- who started off red hot in April and faded into dust by mid summer -- Hendry signed former Cub nemesis and aging center fielder Jim Edmonds on May 14th. At the time, the Cubs were 24-16, and in first place by 1 game. They were also conveniently playing the Padres, Jim's former team.
Edmonds, an 8-time Gold Glover and 4-time All Star, had faded rapidly from his former glory as a 40-homer stud. As mentioned, he'd been released earlier in the season by the Padres, after batting .178 in 90 at bats with them. But the Cubs thought he had a hole in his swing they could fix, and they were right. In his 4.5 months with the Cubs, Edmonds managed to play in 85 games. He batted .256 with 19 homeruns and 49 RBI, and helped contribute at times dramatically to a boomingly successful Cubs offense.
Then, on July 8th Hendry dealt four young players to the Athletics for fireballer -- and Mark Prior clone -- Rich Harden. This occurred within a week of Milwaukee swinging a huge deal for ace lefty C.C. Sabathia. While Sabathia received all the press and glory as he pitched his ass off in Milwaukee, an injury-plagued Harden managed to make 12 starts for the Cubs. He went 5-1 in Chicago, with a 1.77 ERA, striking out 89 in 71.0 innings of work.
Harden's addition filled out an already-deep rotation. The Cubs were already 3.5 games in first place when they acquired him, and while Milwaukee pressed to surpass the Cubs toward the end of July, Chicago managed to upgrade enough to not only hold them off but to also go on a torrid second-half run despite losing effectiveness from Carlos Zambrano and watching long-time staple Derrek Lee become a double-play king.
From the moment the Cubs and Brewers were tied on July 27th, Chicago would win their next 5 straight and 15 out of their next 17. By September 1st, they'd be up by 6.5 games, and on Septembers 14th and 15th something incredible would happen.
Thanks to a miserable hurricane season that resulted in some delayed games in Houston, the Cubs played the Astros on the road in Milwaukee. Houston served as the "home team" in a park filled by Cub fans, and on September 14th Carlos Zambrano threw the first no-hitter of my lifetime. To gain a better understanding of how shocking this was, you have to understand that Carlos had pitched in all of August without a win, with diminishing velocity, and had received a cortisone shot before the game. Lou Piniella had intended to limit him to 90 or 100 pitches, but instead held off and witnessed Z. toss 110, striking out 10, walking 1, and otherwise being perfect. Then, the following day, Ted Lilly and the bullpen combined to toss a 1-hitter, with Houston's 1 hit not coming until the 7th. In other words, the Cubs went 15+ innings against the Astros without allowing a single hit. It was brutal.
By the end of the year, Chicago was the winningest team in the NL with 97, barely failing to win 100. They became the first Cub team in a century to reach the playoffs in consecutive years, they'd had productive performances from nearly every player, and they did it all while making it look easy. Of course there were rocky moments, and there were times when players looked lost -- like Marmol for about a month -- but in many ways it was the first non-dramatic successful season that we've ever experienced. Starting in mid April, and except for a week and a half in early May, the Cubs owned first place all season long. That sort of success is about as rare as Haley's Comet making an appearance.
Then they got swept in the playoffs, again, but we'll have more on that next time.

Sponsored by Coast to Coast Tickets, where you can find tickets to Cubs baseball games and more!