Cubs 101 - Pt. 67 - The 2007 Chicago Cubs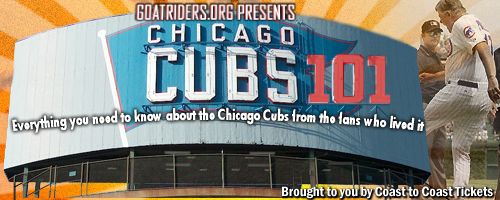 It was June 3rd and as the cliche says, the Cubs were going nowhere fast. Lou Piniella had joined the team with promises of better play and improved fundamentals, but even his best attempts appeared to be fruitless. Two days earlier, Carlos Zambrano had been sent home by his skipper after busting his catcher Michael Barrett's lip in the clubhouse. Then on June 2nd, Lou threw an epic tantrum and was ejected.
Cub fans everywhere -- including this one -- were ready to throw in the towel. The team was at 22-31 on the season, a ripe 9 games under .500, and were nowhere near competing for the division. And being the short-sighted dope that I am, I was ready to toss Piniella under the bus. After all, he had clearly lost control of his team and himself, or so I thought. Man, was I wrong.
On that day in early June, the Cubs came out swinging and finally ended their slide. They beat Atlanta 10-1 thanks to the bats of Mark DeRosa, Derrek Lee, and Alfonso Soriano. The following day they'd beat Milwaukee 7-2, and after a loss to the Brewers they'd go on to rattle off 3 straight definitive wins, outscoring their opponents 17-4. It doesn't sound like much, but it was the beginnings of an unprecedented turn-around.
From June 3rd until the end of the season, the Cubs would lead the National League in wins, going 63-46. In the process they would overtake all the teams in the weak NL Central and slide into the playoffs.
But if you aren't already impressed by this huge, epic turn-around, then permit me to spend a moment reminding you of the terrible team Lou Piniella had inherited. He took over a 90-loss team, and thanks to a few epic signings by Jim Hendry -- Ramirez, Soriano, Mark DeRosa, Ted Lilly, even Jason Marquis -- the Cubs turned around and became a world (or at least an NL Central) beater.
It wasn't obvious at the time, especially not in the early hours of June 3rd, but Lou Piniella was a genius. He was a man with an impossible task, an inheritor of a dysfunctional clubhouse, and it turned out that his epic ejection -- in which hats were kicked -- may have been as contrived as a celebrity improv session.
But most impressive of all, Piniella did something Dusty wouldn't have done in an eternity of baseball. He trusted the kids. He took a handful of young, unproven players who'd been floating around Dusty Baker's 40 man roster for years and he actually played them. From Ryan Theriot, who hit 30 doubles and stole 28 bases in his first season as the starting shortstop to Mike Fontenot, who had several months of intense contribution followed by a tepid August/September, to Geovany Soto who set the team on fire in September and earned a roster spot in the playoffs, Lou was not afraid to play the kids. And it paid off. It all paid off.
All told, right up until the October playoff sweep against the Diamondbacks, the Cubs were a good and surprising team. And as sucktastic as their playoff loss was, we knew at the time that they'd be back for more in the near future. Lou's success with managing the Cubs was not a one year carny-trick, it wasn't done with sleight of hand or abuse of starters, it was done through making good decisions and turning to the most talented players.

Sponsored by Coast to Coast Tickets, home of the best Cubs ticket deals!