Cubs 101 - Pt. 50 - Prelude to Awesome: The Craptacular 2002 Cubs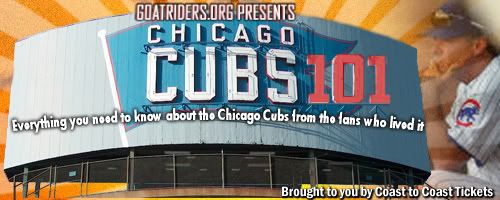 Rob
2002 was, in every sense of the word, a "transition" year.
If nothing else, one only had to look at the incumbent manager, Don Baylor. As you recall, Baylor's hire was Andy MacPhail's attempt to bring in a "name" to manage the Cubs. Baylor, known throughout his career for his clutch hitting, frequent appearences in playoffs with different teams, and a positive attitude, crumbled before our eyes like a grasshopper trapped inside a jar filled with formaldehyde. The man who started his Cubs reign by bringing in upbeat "life coaches" to lead calesthetics was reduced, at the end of his tenure, to a stooped stick figure who could barely speak during interviews, like someone was standing squarely on top of his testicles with metal cleats. No doubt the fizzle at the end of the 2001 season took a lot out of him. He was expecting old warrior Fred McGriff to come in and provide the offensive boost that would put us into the postseason.
Instead, Baylor was served a plate of ass to eat, and 45 beat reporters and talkshow hosts standing around with their digital recorders, wanting him to describe every miserable bite.
Naturally, Cubs fans hopes were high after a relatively successful 2001 season. (And if it seems like I am simply following an outline in writing each of these chapters, like a broken record, I guess in a way I am. For the majority of Cub fans, the smallest grain of success always forces open a gusher of unconditional hope, like a small grain of sand could cause the dikes in Holland to burst.
This year's hope was brought to you by the following: a healed Kerry Wood, a massive 2001 Sammy Sosa Season, power-hitting Fred McGriff at first, a possible return to form by expensive catcher Todd Hundley, he couldn't possibly be as bad in 2002 as he was in 2001 (.189 BA)? Free agent Moises Alou, a proven commodity, was now in left field. Young touted prospect Corey Patterson, and please remember, he was a top Baseball America prospect at this time in his life, would man center field. Equally highly touted prospect Bobby Hill was slated to play second.
In the rotation, besides Wood, we returned 20-game winner Jon Lieber, Jason Bere and newly acquired Matt Clement. In the bullpen, we were returning last year's three-headed-monster, Kyle Farnsworth, Jeff Fassero, and Tom Gordon. Of course, in keeping in tradition of saving the best until last, 2002 was the highly anticipated debut of the so-called "best college pitcher in history", Mark Prior of USC. He fell for us as the second pick of the 2001 draft, because the team picking first decided to go with a local boy for signability reasons. The team was the Twins, their pick was catcher Joe Mauer, and you know the rest of that story.
Our story concerned Prior, who went most of 2001 before signing a last-minute deal that is still as of this writing a record for a draft pick from college - a four year, $10.5 million package. Because of his holdout, Prior did not throw for us until 2002. His first few minor league starts were spectacular - not only did he mow guys down on the hill, but he hit something like .750 with a slugging percentage close to 2.000!! There was no way we could keep him down on the farm in 2002, so ready or not, here came Mark Prior, and most league observers felt our pitching staff was loaded.
Kurt
Picking it up from there...
In June of 2001, thanks to the terrible 2000 season in which the Cubs lost nearly 100 games, Andy MacPhail's Hendry-driven front office made a move that would titalate Cub fans everywhere: they selected Mark Prior, the "greatest college pitcher evar" with the second pick of the amateur draft.
Actually they had a pretty interesting overall draft that year. They also selected future major leaguers Andy Sisco (known for his legendary immaturity, who'd be stolen in a Rule V by the Royals and have a single good year before fading away), Ryan Theriot, Ricky Nolasco (who'd win 15 games in 2008 for the Marlins), Brendan Harris (currently a jack-of-all-trades infielder for the Twins), Sergio Mitre (a starting pitcher for the New York Yankees presently), and Geovany Soto. They also drafted -- and failed to sign -- three other future major leaguers that year. But the story was Mark Prior.
Prior was Kerry Wood with maturity and perfect mechanics. His selection heralded great things for 2002. Supposedly at the encouragement of Sammy Sosa, the Cubs went out and signed Dominican Moises Alou, a talented left fielder and hand-pee-er, they acquired a decent young middle infielder named Mark Bellhorn, along with shortstop Alex Gonzalez, and perhaps biggest of all they acquired starting pitcher Matt Clement and closer Antonio Alfonseca for a bunch of nobodies, including future Rookie of the Year Dontrell Willis.
In other words, MacPhail created the appearance of progress. With talented young players coming to fruition, mixed with the proven arms and bats of guys like Gonzalez, Alou, Clement, and Alfonseca, it wasn't uncommon for dopes like me to proclaim the second-coming of the '98 season in 2002.
Except ... well, they sucked. A lot.
Between the continued employment of McStiff, who ate even more ass despite his 30 homeruns and 103 RBI, and injuries to guys like Bill Mueller, and under-performing seasons from guys like Jason Bere, Corey Patterson and Moises Alou, along with undeniable player mis-management by Don Baylor and his eventual replacement Bruce Kimm, the Cubs were nowhere near a playoff season. Instead, they were almost a 100 loss team ... again.
Among the most incompetent acts -- Jon Lieber, a 20-game-winner in 2001, was pitching against his former team the Pirates when it started to rain. He'd sit through the near 2-hour delay, return to the mound, and pitch his arm into oblivion.
There was also Kimm's insistence of giving Prior his first complete game, a 135 pitch effort for a team far out of contention by that point in the season.
So, things didn't turn out so swell. In his first full season, Corey Patterson only batted .253 with a .284 OBP. Mark Prior would not have a Rookie-Wood-like-year. He'd start 19 games, go 6-6, and miss the end of the season due to a sore hamstring. Young pitchers Carlos Zambrano and Juan Cruz would combine to go 7-19. Moises Alou would only hit 15 homeruns while batting a mediocre .275. And yet, all of those players would be key contributors to the 2003 campaign, which remains the most successful -- and ultimately most unfulfilling -- of my life so far.
Find quality deals on baseball tickets at Coast to Coast Tickets!