Cubs 101 - Pt 21 - The 1984 Cubs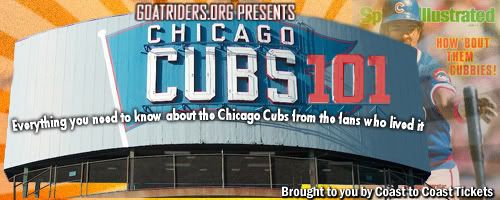 And so, it came to pass, mere months after Lee Elia launched into his foul tirade about the Other Fifteen Percent, that the Chicago Cubs reported to spring training exercises in Arizona, to prepare for the 1984 season. Even though Dallas Green was trying the New Tradition, he paid inadvertent homage to a longtime Cubs tradition by dredging up a retread to manage in 1984. Jim Frey, whose previous claim to fame was a AL Pennant-winning Kansas City Royals team in 1980, only to be canned before the end of the 1981 campaign, was put in charge. Hey, at least Ernie Banks said "we're gonna soar in eighty-four!" Things appeared to be "business as usual" at Wrigley.
Green's answer for fixing his 1983 team of underachieving ex-Phillies (including thrown-in par excellence Ryne Sandberg) was to get even MORE ex-Phillies! Now Gary "Sarge" Matthews, an on-base machine, was in left field, and hard-playin', harder-livin' Bobby Dernier now roamed center. Green's plan was to establish a 1-2 punch at the top of the order with Dernier and Sandberg - if only Dernier could successfully hold things together, and if Sandberg would somehow learn to handle the bat. Matthews would then hold his own in the three-hole, setting the table for the previous year's best hitter, Leon "Bull" Durham.
Problem was, though, Matthews' installation in left meant that Bull would have to move to first base, which would dislodge longtime fan favorite and former batting champ Bill Buckner. Left without a position for the first two months of the season, Buckner made things somewhat provocative for the press, and uncomfortable for his teammates. He had help in that regard from similarly dislodged Mel Hall. The club hung tough those first two months of 1984, even with the sourpusses taking up roster space. Of course, fast starts were not unheard of - even though the team had suffered nearly five years of utter abject failure, the 1977-79 Cubs teams did themselves get off to fast starts. But, there was always the June Swoon to look forward to.
Only, it was right THEN when Dallas Green made his Name in Chicago Sports Lore.
On May 25th, he was able to turn the gimpy Bill Buckner into Dennis Eckersley. Three weeks later, on June 13th, he turned the sulky Mel Hall and the promising yet untried Joe Carter into Rick Sutcliffe. From that point forward, the true Cubs Renaissance was conceived, and we didn't have to wait long for the birth.
June 23rd, 1984. Cubs. Cardinals. Saturday, national Game-of-the-Week. For once in our life, we were actually on top of the Cards in the standings, but it sure didn't look that way when the Satanic Fowl jumped all over Steve "Rainbow" Trout for 6 in the second inning. Your intrepid report was THERE, kids, and if it were left to me, I would have walked out right then and drowned my sorrows across the street. Fortunately, my girlfriend at the time was the type who wanted to stay until the last dog was hung. No early getaways for me. But THIS was precisely the kind of game the Cubs always lost. We hung tough for two months, we made the trades, but when the pressure was on, when everyone in the country was watching, we always took it up the ying-yang.
So I was still kind of pouting as we chipped away in the fifth, making it 7-3. Just prolonging the inevitable, and Willie (E.T.) McGee hit a 2-run dong to answer. Had to be held back, again, and then I was pouting, again, as we answered back in our half of the 6th to make it 9-8 Cards. I was still looking at the game with cynicism as the rest of the innings whizzed by, because I knew Bruce Sutter now wore red, and going into the bottom of the ninth, we were still down a run, with Sutter on the mound to close.
And then, he hit IT.
Ryno, of course, led off the ninth with a bomb off of Sutter. This was Just Not Done. The Cubs never came back against the good teams, not off the best relievers, ever. That first homer, I am convinced that nearly everyone in the park was just like me - SHOCKED! It was not a cheer of exultation; more of a reaction to a shocking event, like if home plate suddenly sprouted 39,000 beer hoses that squirted right into our mouths! Incredible news, yes, but totally unexpected. Ryne Sandberg had blossomed in 1984 into a great all-around player, but power was not part of his game (he only had 19 homers that year, his MVP year. Of course, he also had 19 triples!!)
In the meantime, the rally continued, and Matthews got as far as third before Sutter shut us down, and then Lee Smith came in for us and promptly coughed up the lead in the 10th. So once again, we go to our last at-bats in the 10th, with Sutter still in the game, and he mows down the first two hitters. CAN WE GO NOW? I ask my first-ex-wife-to-be, and she agrees until Dernier solved Sutter for a walk, which brought up You-Know-Who, again. It was at this point that I realize that Sutter had pitched 2 2/3rds that day, that he might be tiring, and hey, Ryno already tagged him once today, maybe he'll do it again...
...you can have the 1998 Wild Card clinching crowd, or the 2003 Central clinching crowd, or the crowd when Sammy Sosa won game one of the 2003 NLCS. When Ryno took Sutter deep, again, I do not believe there has ever been a happier bunch of people inside of Wrigley Field in its history. It really was like the little kid beating up the big bully after 40 years of misery! Sheer rapture, it was so loud I couldn't hear for a week.
For the one or two of you who don't know, neither of Sandberg's homers won the game; that didn't happen until the 11th inning, but after what Ryno did to Sutter, on NBC, no less, the game, and the rest of the season was anti-climactic. The June 23rd game was NOT the best time I ever had at a game. Recall I spent most of it stewing because the Cubs were losing, and once they did catch up, they gagged up the tie, and then did it again. What Sandberg did hit me like a totally unseen, unexpected tidal wave. No, the best time I ever had at a Cubs game was on August 8th that year, the final win of a 4-game sweep of the second place Mets, which put us up 4 1/2 games. It was beautiful, being on top like that, getting off to an early lead, and every time Keith Moreland came up that day, there were RISP and we needed a hit to stay ahead, and he came through time after time, and we SWEPT and I got Darryl Strawberry to flip ME off, and I was smashed and life was beautiful....
...you might be thinking what had occurred to me: 4 1/2 games, to the Mets, with a month-and-a-half to go? Yeah, but this wasn't 1969, they didn't have Seaver and Koosman and Gentry and Nolan Ryan. No, we had Sutcliffe, who came at a dear price (ask any Blue Jay fan about Joe Carter) but by August 8th, he had gone 10-1 for us, and he would win six more regular season games without a defeat, including the clincher in Pissburgh (suck on THAT, Joe Orsulak) and the first game of the NLCS, and he would have won the 4th game if Frey had the GUTS to run him back out there.
Ah, the 1984 NLCS. The first postseason of most of our lives, and the first of several where we lost to an inferior opponent, the Taco Bells of San Diego. We destroyed the Padres 13-0 in Game 1, with Sutcliffe pitching seven stress-free. Then Trout threw a gem in Game 2 - all we had to do is win one of three in San Diego and our first pennant in 39 years was ours!
Even to write this now, 25 years later, makes me shake my head. Everything that could go wrong did. Murphy's Law in Murphy's Stadium? WE should have had Game 5 at home, but MLB in its wisdom gave it to SD because we didn't have lights! Frey decided to piss away Game 4 by starting Sanderson when Sutcliffe was ready to go. Mike Royko, the Sun-Times columnist, decided to piss off the entire city of San Diego by an article he wrote calling Padres fans "laid back" and "not deserving". Lee Smith decided to be macho and blow a fastball by Steve Garvey, who hit the pitch like he'd been waiting for it his whole life. And, of course, you know of Leon Durham and his Glove of Gatorade in Game 5. Except that Durham's error occurred in the 7th, it only tied the game, and the Padres only went ahead when a ball hit to Ryno skipped over his grasp. It took a monumental effort for the Cubs to blow the 1984 NLCS, but unfortunately, they were "up" to the task.
No pennants were won that year, or since, but life in Wrigleyville has never been the same. The Cubs drew over 2 million fans to Wrigley Field that year, and only once (1986) has the figure dropped below that since. You can debate about the caliber of baseball management we have employed since that time, but nobody can debate the Cubs have enjoyed the world-class efforts of their marketing staff and advertising partners since that year. 2 million plus guaranteed fans means business owners puring money into the bars, eateries, and rooftop establishments encircling the ballpark, and success begats success as other shops, galleries, and dwellings took residence within the most vibrant neighborhood in the city. Young people from throughout the Midwest made Wrigleyville a destination for starting out their post-collegiate lives. The product on the field may come and go, but the momentum in Wrigleyville rolls unabated to this day, and has become the model for all the retro-parks being built in every other major league city not named Boston or L.A.
Cubs 101 sponsored by MLB playoff ticket broker CTC Tickets.