Cubs 101 - Pt. 39 - 0 and 14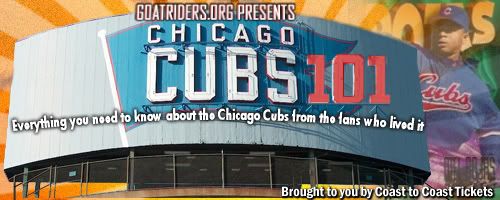 After the thrilling, unexpected run at the playoffs in 1995 and the return of Ryno in 1996, hopes were high for success that year. But the big free-agent signing, Jaime Navarro, backslid somewhat, as well as several of the performers that had, for them, career years in 1995. Hindsight being what it is, it is pretty sad that it took career years from Dunston, Grace, Navarro as well as a 30-30 year from Sosa just to win two more games than they lost. Time has also shown that the Andy MacPhail/Ed Lynch era was notable for their lip service to winning, and creating an on-field product that was competitive enough to sell tickets, yet not potent enough to actually WIN anything, thus opening them up to the risks of having to actually reward a winning team.
Nevertheless, placing ourselves in the offseason between 1996 and 1997, it was easy to believe that the spark of 1995 could return and lead to success the following year.
Moves included letting Navarro sign a free agent contract with the Sox, thus removing a clubhouse prima donna. In "return", the Cubs signed former Sox hurler Kevin Tapani. Young pitchers Steve Trachsel, Frank Castillo, Kevin Foster and Jeremy Gonzalez (aka Geremi) were given starting roles. Sosa was returning from a season-ending knee injury. The offense, which had 8 double-digit home run hitters (not counting Grace, who had 9), was expected to have punch.
The biggest off-season hole, that of closer, was addressed by the free-agent signing of Montreal's 36-save All-Star, Melaquadies "Mel" Rojas. (cue anguished screaming)
What could POSSIBLY go wrong?
The Cubs started the 1997 season with home-and-away series against Atlanta and Florida. The Braves, of course, only boasted the finest pitching staff this side of the 1970 Orioles - Smoltz, Maddux and Glavine in their ultimate prime. The fifth-year Marlins had what was called the best "young" staff in the league, with Kevin Brown, Al Leiter, Alex Fernandez and Livan Hernandez. The Fish, of course, won the whole magilla that year.
As for us, we lost all ten games in the home-and-away, only coming close twice against the Braves. We were overmatched in every game. Maddux was particularly ruthless in his start against us, dispatching us 4-0 on 91 pitches in an hour-forty-seven. We had three hits and four errors that day. We then lost two to the Rockies and two more in Shea before Kevin Foster broke through for our first win of the year. That's oh-and-fourteen to start out, and while it is true that pennants are not won in April, they sure as hell can be LOST, and by April 20th, the patient was declared dead, already 10 1/2 games out of first.
Our big expensive free-agent closer, sMel Rojas? By the time he entered a game in a "save situation", it was April 24th. At that point, Rojas owned a 7.20 ERA, which WAS down from the 27 ERA he started the season with. Of course, sMel blew his first save, giving up three hits, two runs in an inning and a third. If yer really sharp, you will note that his ERA went DOWN that day, to 7.11.
Since the season essentially ended in Mid-April, many Cubs decided they no longer had to "play nice", which led to an ugly, dysfunctional clubhouse. Brian McRae took a page out of his (more talented) daddy's playbook and threw manager Jim Riggleman under the bus for his lineup decisions. Shawon Dunston had hurt his back a few years before (allegedly by picking his child up out of a car seat) and was having serious problems moving around at short, as well as staying in the lineup. His bat was one of the few potent ones, though, and Riggleman asked him to go play center for McRae. Perhaps it was teammate loyalty, but Dunston would have no part of the outfield for most of the season, before finally submitting, playing out there for 7 games, and then getting dealt to Pittsburgh. Of course, the next year, he went to San Francisco, and had a successful run in THEIR outfield.
Trachsel turned out to be one of the first "modern" pitchers, in that he would give up 5 runs and lose a game, only to come out in the papers as saying that he "made good pitches, and only make a few mistakes." He was probably the slowest workers in the game, and as a result teammates actually performed more poorly behind him (he did have more than his share of unearned runs). Wendell always fashioned himself as a "poor man's" Bird Fidrych, brushing his teeth between innings, along with his many other ideosyncracies, which would have been cute if he was the least bit successful on the mound. And, of course, this was all topped off with Sammy Sosa Boombox of Death, with he himself seething because he wasn't as well paid or famous as he thought he should be. His contract negotiations became a major distraction that year, yet he was rewarded with a four-year deal which was one of the top two in the game.
By the time the sMel Rojas Era was over in Chicago on August 7th, he had saved 13 games, blown 8 other saves, and only once (on July 14th) did his ERA dip below 4. The crosstown Sox made headlines that year for what was called their "White Flag" trade at the July 31st deadline. They dealt the heart of their staff to the Giants for six prospects, all while they were only down 3 1/2 in their division. We, on the other hand, made our big deadline move, claiming someone named Dave Stevens off the waiver wire. We were in last place, 17 games out, and we'd be sellers, if we had anything worth selling.
Our big move came on the 7th of August, and keep in mind that all participants in this trade had to clear waivers, so it was junk-for-junk, and indeed it was: Rojas, McRae and Turk Wendell to the Mets for Lance "One Dog" Johnson and Mark Clark. And you wonder why some longtime fans of the Cubs are cynical. Our one big move of the year came after the trade deadline, when teams exchange one headache for another.
And, just to spread an extra layer of misery on an already putrid sandwich, it was obviously the end of the road for legend Sandberg. Although 1997 was Ryno's worst full year, statistically, as well as on a team record basis, he actually seemed to have better timing at the plate than his first year back. In 1996, he crushed pitchers' mistakes, but was overmatched often. By this point, however, when he caught up to a mistake pitch, he hit it for doubles.
At the end of this gawd-awful season, the only reason to watch was to follow the great man in the final leg of his run, to see if he was going out with enough dignity that Hall of Fame voters would not hold his comeback against him. A few of those suckholes did in fact cite the last two years of his career as a strike against him. Of course, time has shown that Hall of Fame voters will grab ahold of any reason to avoid voting for particular players.
When he did officially retire again, and the smoke had cleared on this abortion of a season, only three Cubs had double-digit homers, and one had just retired. Tapani pitched well when healthy, which was a rare thing in 1997. Castillo was given away, Foster suffered another of the unfortunate injuries that plagued his career (and his life, as it turned out). Crowd favorite Dunston was essentially let go, and the spark of hope for 1995 was squashed, and uncertainity and gloom yet again hovered over this franchise.
Yet on the farms, seeds were planted that would bear fruit. A young Venezuelan named Carlos Zambrano was signed in 1997. A young fireballer from Texas by the name of Kerry Lee Wood had been drafted in the first round a few years earlier and was already pitching in Triple A Iowa as a scant 19-year-old. A change in direction was slowly taking shape, and a traditionally pitching-poor franchise was about to become the strikeout capital of baseball.
Sponsored by Coast to Coast Tickets, featuring best prices on Cubs tickets.