The Apocalypse may happen at the end of 2010
From Paul Sullivan of the Tribune via MLB Trade Rumors: if the Cubs blow it this year, there very well be a major restructuring of the Cubs this off-season.
What Sully has done is gathered some of the legal facts about Cub contracts, compared them to some of the statements that have been made, and thrown in some wishful thinking on his part, and come up with the following: if the Cubs suck this year, we will have a new manager, GM, third baseman, first baseman, no Ted Lilly, and tons of money to spend.
If you want to know what he thinks about it, go click on the links. But do you know what I think? First of all, I do not hope we suck this year. I hope we win the World Series. I do not think we will, not without a true Ace starter, a true leadoff man, and what has to be regarded as total uncertainty about the health of Alfonso Soriano. I think we will suck this year. But if you read this and come away with the notion that I WANT us to tank 2010 so we can rebuild, forget it. That's stupid, just plain stupid, to wish for us to waste a whole year in the careers of Zambrano, Soto, Theriot, Marmol, etc.
But what if 2010 turns out to be another typical year of frustration at Clark and Addison, only with the majors' third largest payroll, and new owners burdened with stifling debt in an uncertain economy? If we don't win the NL Central this year, here's what might happen:
- Jim Hendry - Sully thinks he won't be back in 2011. I think he will. I don't think the Ricketts want to look for another GM, and with the farm system looking better than it has for many years, Hendry isn't going to be held responsible for the failure. Jim can just blame the 'go for it now' edict from Sam Zell as a twisted sort of justification for saddling us with our nastiest contracts - "it wasn't my idea, it was his".
- Lou Piniella - Lou will most certainly be back in 2011 if we play well this year, and will most certainly will NOT be back if we do not. Fact is, even though this lineup is not built to win a pennant, it could and probably should finish on top of the Central, unless crippling injuries and/or clubhouse strife take place. If it does, it will be another trying season for the manager, and I was surprised Lou lasted all of 2009. He won't make it another year like that.
Who takes his place? Sadly, it won't be Ryne Sandberg. I am cynical enough to believe that Hendry and Crane Kenney have been stringing Ryno along this whole time, in a perverse PR move to boost minor league attendance. Somehow, I believe Joe Girardi has been the plan all along amongst the braintrust. The fact that the Yankees won it all last year just made it all the more convenient to give Lou one more year. Chances are, the Yanks will not repeat, Girardi will take the fall, and end up in our pinstripes in 2011.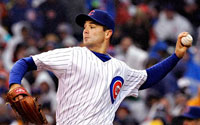 - Ted Lilly - his contract is up this year. Sully thinks he won't be re-signed if the Cubs tank. Based on his past 4 years, he will be paid handsomely. Yes, he is rehabbing at the moment, but unlike some other recent Cub hurlers, he will not look back at the winter of 2009-10. It would be a mistake not to retain him.
- Derrek Lee - his contract is also up this year. Sully also thinks he will not be asked back, perhaps under any circumstances. Lee is the leader of this team. That works AGAINST him if we do not win this year. What also works against him is the bumper crop of first base free agents available next off-season. In my honest opinion, if you love Derrek Lee, enjoy him now, while you can.
- Aramis Ramirez - he has a player option for 2011. Sully thinks that if we suck, ARam will not exercise his option to return. I disagree entirely. His option is for over $14MM next year. No way he gets that anywhere else. Plus, you never hear about his desire to play anywhere else. You don't hear about any friendships with any other players in the league. He is a Cub, folks. We are not going to get his money to spend on someone else.
- Kosuke Fukudome - Sully doesn't mention him at all, but he has one more hefty year left after this year. However, if we suck, it will most likely be due to his inability to repeat his Japanese success here. Cubs fans have turned on him, as bad or worse than they ever turned on Milton Bradley. I don't think he comes back for one more year of this, even for the last huge payday. Ichiro comes back year after year, because although his team sucks, he himself performs at an all-star level. There isn't any dishonor in his game. The Fooker has not been as advertised. I can see him retiring, turning his back on his last $12 million. So maybe we save some money there.
- Carlos Zambrano - as big as his contract is, he is not untradeable. If the Cubs are not leading the division or close to it by the deadline, the media pressure on him will be intense. Last year, he made statements that he wouldn't deal with that kind of pressure from the Chicago media ever again. He just might demand a trade, putting us in the unenviable position of weakness. If I have judged the Ricketts correctly, I don't think they will appreciate Zambrano doing that to them any more than once. They will accommodate him if this comes up again.
So, although the lava on my volcano pours down differently than on Sully's, the Apocalypse may come this winter. The parts are all in place.