How do you feel about the 2010 season?
Predictions, Projections, and Psychotic Bloggers. In the shortest month of the year, the month in which Pitchers and Catchers report, predictions, projections, and psychotic bloggers go together like peas-n-carrots, or pro athletes-n-Kardashians.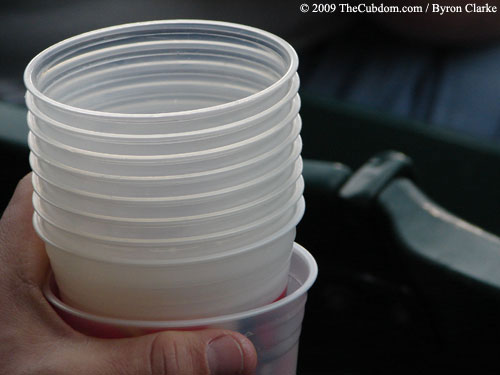 Like the rest of you, I've had a long, dreary winter to think about the State of the Cubs. Actually, probably more than the rest of you, since I have been functioning as a ward of the state since New Years' Eve. And what conclusion have I drawn with my massive chess club brain, and all the time I've had to sit here and compile? Well, in 50 words or less:
The soulless corporation sold the Cubs to actual people. The new owners seem more interested in Wrigley Field than the Cubs. Their biggest moves, so far, have been the wacky hire of an expensive coach, the trade of a discontented yet talented black guy, and the refurbishment of the bathrooms. OMG!! We have returned to the P. K. Wrigley era!!
I tell you kind people that I don't even have my sarcasm key held down as I type all this. However, I understand the special financial circumstances the Ricketts are under at the present moment, and while I might and should expect them to chuck the general ledger aside and just Win, baby? It appears that they are digging in for the long haul as owners. It is clear that the Tom Ricketts does not share the same urgency for a winner as I do. It is obvious that he and his family will not go broke by winning at all costs. There seems to be a four-year period that they need to pay down a special loan that they hadn't counted on having to use when they first made the offer for the Cubs.
Just, coincidentally, this is about the same amount of time that the Cubs still need to pay Carlos Zambrano and Alfonso Soriano. I suppose if I were the billionaire owners of the Cubs, and although I am a fan, I am not as overwrought as the guy writing on that blog. And, if I had several all-star ballplayers that I had to pay eight figure salaries to, I would expect the players to go out, and win, with minimal help from me. And, when their contracts are finally paid off, and my special financial deal is finally satisfied, I will finally adopt the degree of urgency that the blogger has, and I will hire my own General Manager, and go after the players I really want, and win at all costs.
So, when all was said and done this winter, our roster is fairly static, so it ought to be fairly easy for us to Preview the 2010 Season, one Cub at a time! We pretty much know who we have, and what we have, and between now and Opening Day in Atlanta, we're gonna pass our sweet-and-savory flavor along to you in single player slices. So come back, early and often, because this is a fun time of the year - in fact, most years, it's the most fun time of the year.
Let's hope not, for 2010, though.