Game Recap: Marlins 8, Cubs 2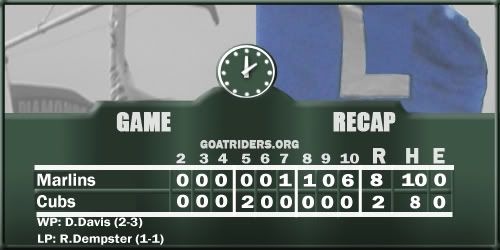 Flashbacks of October, 2003. The Cubs hold a tedious lead on the pesky Marlins. Then, things start to go awry. Very awry. One 6-run inning later and it was all over, with Aaron Heilman playing the Mark Prior role.
Now for the good news. Milton Bradley got another hit today while drawing a walk. It's his second homerun as a Cub and, for a guy with 4 hits in his first 34 at bats, Bradley has a surprisingly decent .333 OBP so far as well. Also among the offensive contributors - in fact, the only other guy to score a run - was Mike Fontenot, who hit his 4th homerun of the season and his 3rd in 4 games. His batting average remains a thugly .232, but his OPS is a respectable .787.
More good news: Sean Marshall gave what is easily his best performance of the season. He threw 7 innings, surrendered 6 hits, 1 earned run, walked 2 and struck out 6. His ERA is now 3.32 on the year -- not bad for a guy who's supposed to be the team's 5th starter.
The bad news is the Cubs offense was again held to a mere 3 hits. Apparently of all the Cub players to fail to get a hit - Soriano, Fukudome, Three Finger, Aaron Miles, and Derrek Lee, fans are only worried about D.Lee's 0-fer performance. Apparently when a guy misses several games due to a sore neck, if he returns and fails to get a hit then it's a sign that he's lost the ability to play at the major league level.
So let's break it down for a second and look at this team. At the moment, the regular offense looks like this:
Geo Soto - 5 for his first 46, .109 AVG. Anybody really think Soto is a .109 hitter all year long? Or even a .200 hitter? Is anybody certain he'll finish the year with an AVG below .250, or even .275? Just checking.
Derrek Lee - 14 for his first 74, .189 AVG. Lee is my favorite example of fan idiocy. In 2004 on the first of May Derrek was batting .233, incidentally. But if we can outline his season so far, it looks like this: Began the year 2 for 25 (.008). Went 12 for his next 42 (.286). Hurt his neck, didn't play for 2 games. While still possibly not at 100%, has gone 0 for 7. Nevertheless, with a .189 AVG fans are basically saying that Lee - who has a complete no-trade clause and is earning 13.5 million this year - is going to get traded.
But imagine for a moment that your apparent hopes are right. The Cubs decide to trade Lee. My questions for you are the following: 1. Why would Lee accept a trade anywhere if he's happy playing for the Cubs? 2. Why would the Cubs try to deal Lee when he's batting below .200, meaning that he has absolutely 0 value to anybody else in the league? 3. Speaking of "anybody else in the league," why the hell would they trade for a guy making 13.5 million a year who YOU like to point out is on the dramatic decline? Who is this magical Idiot GM who WANTS a guy making that much money playing that poorly?
Just asking, but back in reality even if Lee is on the decline he is a much better than .189 hitter. I'm not expecting him to wake up and bat .300 this year with 20+ homeruns, but based on his age and his trends it's probably safe to say that he'll give the Cubs better than .280, better than 15 homeruns, and more than 60-70 walks on the year. Those are entirely acceptable numbers ... for a #6 hitter. Lou needs to move him there NOW.
Mike Fontenot - 16 for 69, .232 AVG but with 4 homeruns already. Fans have been lamenting for the versatile Mark DeRosa, although I'm not sure how his versatility makes him that much more desireable when he's batting .236 and has only 1 more homerun than Fontenot this year. Here's the funny thing - the Cubs actually have a ton of players in their system who are exceedingly versatile. It's not an issue that they need a DeRo to fill 5 different roster spots. The issue is that they're not using them. So instead you've got Fontenot poorly filling in for Ramirez when he's hurt and Aaron Miles - the most versatile player on the bench - starting at second base. Dumb move by Piniella. Anyway, I fully believe that Fontenot will continue to put up as-good-or-better numbers than DeRosa over the course of '09. So far they're pretty much on par with each other. But I ask you the same question I asked for Lee and Soto - is Fontenot really a .232 hitter? Or will he begin playing better?
Milton Bradley - 4 for 34, .118 AVG, 2 homeruns. Same question. Is Milton Bradley a .118 hitter? Is he a .200 hitter? Is he a .250 hitter? Unless he lost an arm and isn't telling anybody, his numbers are much better than they appear.
So look at that. 4 Cubs starters who are presently 223 at bats into the '09 season with a meager 39 hits between them. They're batting .175 with 7 homeruns. This is half of the Cubs offense right now. Batting .175. HALF THE CUBS OFFENSE. No fricking KIDDING they're going to be playing like a .500 team when HALF THE OFFENSE is batting .175!!!!
Therefore unless you REALLY believe that these four Cubs are coming by their terrible numbers honestly; in other words, if you believe they can't possibly - or even probably - do better than they're doing right now, then I can understand why you think this is a 4th place team that is not pennant bound. But I also think that if you really believe that their current level of performance is indicative of how they'll play once the offense actually gets consistent, then I quit you. If this team is still playing around .500 once the offense actually starts coming anywhere close to meeting it's potential, then - AND ONLY THEN - that is when they are screwed and buried.
But we all know that they're a better team than their current record. So for gawd's sake relax already!
Quick Links
Series Preview - Marlins at Cubs
GameCast: April 30th Marlins vs. Cubs